In a surprising turn of events, Scott Fauble, a prominent American marathon runner, has chosen to participate in the 2023 Berlin Marathon, despite initially not planning a fall marathon this year. His decision is a response to the intricate and somewhat perplexing qualification process for the 2024 Olympics in Paris, which has left many athletes, including Fauble, grappling with uncertainty.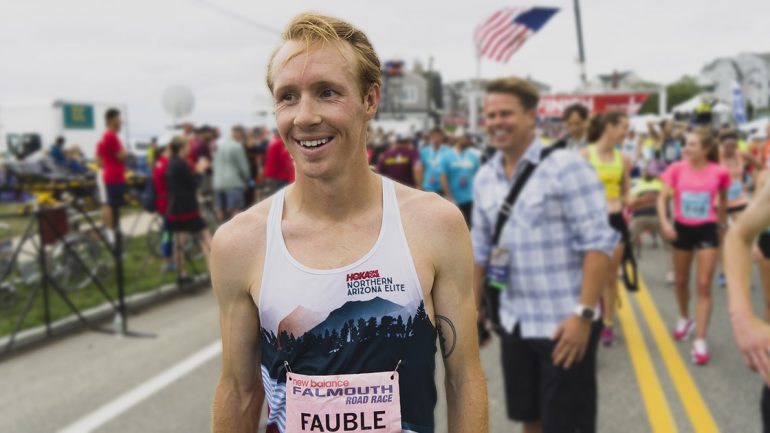 Fauble had initially not intended to run a fall marathon in 2023 after securing top American honors by finishing seventh at the Boston Marathon on April 17. This marked the third consecutive time he had achieved this distinction, matching his performances in Boston and New York in 2022. His finishing time of 2:09:44 represented his fourth sub-2:10 marathon, putting him in the elite company of just seven American runners who have achieved this feat. The illustrious list includes Ryan Hall, Galen Rupp, Meb Keflezighi, Khalid Khannouchi, Alberto Salazar, and Mbarak Hussein.
Traditionally, a top-10 finish at a World Marathon Major event would automatically secure a spot in the Olympic marathon. With three consecutive top-10 finishes to his name, Fauble felt confident about his prospects for Paris and initially shifted his focus to the US Olympic Trials in February 2024.
However, the qualification system for the 2024 Olympics has introduced a level of complexity not seen in previous years, with fluctuating world rankings and unfamiliar terms like "quota reallocation places." This complexity has led to widespread confusion among athletes and fans alike. According to the current criteria, any athlete ranked within the top 65 on the "Road to Paris" list by January 30, 2024, is considered qualified. The challenge, however, is that the "Road to Paris" list does not yet exist. In an attempt to understand his position, Fauble embarked on a meticulous analysis, involving spreadsheets and projections that factored in time qualifiers, the three-athlete-per-country limit, and potential changes after the 2023 fall marathon season, only to find himself overwhelmed.
Reflecting on this process, Fauble humorously remarked, "I felt like the Pepe Silvia meme from It's Always Sunny in Philadelphia…It was like, this is complicated and stressful, and I can just get the standard. This doesn't need to be an issue."
Given the complexity of the situation, Fauble reluctantly made the decision to participate in the Berlin Marathon. Despite his initial reservations, he now approaches the race with renewed enthusiasm, driven by an intensive training regimen in Boulder.
Fauble's strategy for the Berlin Marathon represents a significant departure from his usual approach. In previous races like Boston and New York, he relied on assessing race-day conditions, his physical condition, and competitors' paces before determining his strategy. Berlin presents a different challenge: chasing a specific time, the Olympic standard of 2:08:10. Fauble believes he is more than capable of achieving this time, given his personal best of 2:08:52 in Boston last year.
While the final pace groups for the Berlin Marathon remain uncertain, Fauble anticipates running alongside a highly competitive field of athletes, all aiming to reach the Olympic standard. This includes runners with personal bests ranging from 2:08:00 to 2:11:00, all in pursuit of the coveted qualification time.
At present, no American male marathoner has met the 2024 Olympic standard, either through the time qualification or a top-five finish in a Platinum Label Marathon like Berlin. Fauble's quest for the standard carries broader implications due to a provision called "quota reallocation." This rule allows any country with three qualified athletes to send any three athletes of their choice to the Olympics, provided they have achieved a minimum time standard. This means that Fauble, should he meet the standard, could potentially open up an additional Olympic spot for another American athlete at the Trials, should they outperform him.
While Fauble aims to secure his own spot at the Olympics, he acknowledges the reality that sports often reward athletes who shine on the grandest stages. His journey to Berlin, despite the complexities of Olympic qualification, reflects the dedication and determination of professional athletes striving to represent their country on the global stage.
In another context, Fauble has expressed concerns about the start time of the Olympic Marathon Trials in Orlando, scheduled for February 3, 2024. The midday start has raised concerns among athletes due to potential high temperatures. Fauble has called for transparency from the U.S. Track and Field Association (USATF) regarding their decision-making process, emphasizing the importance of athlete safety.
As the marathon season unfolds, American athletes like Scott Fauble will continue to face challenges, navigate uncertainties, and push themselves to achieve their Olympic dreams.