Witnessing Jakob Ingebrigtsen's remarkable 2023 season was akin to experiencing an athletic revolution. In Eugene, he capped off his year with back-to-back victories at the Prefontaine Classic, etching his name in the annals of distance running history. In a dramatic mile race, he crossed the line in 3:43.73, narrowly outpacing Yared Nuguse in a classic showdown. Less than 24 hours later, he engaged in a nail-biting contest with Yomif Kejelcha, securing his second Diamond League title with a mere 0.01-second victory.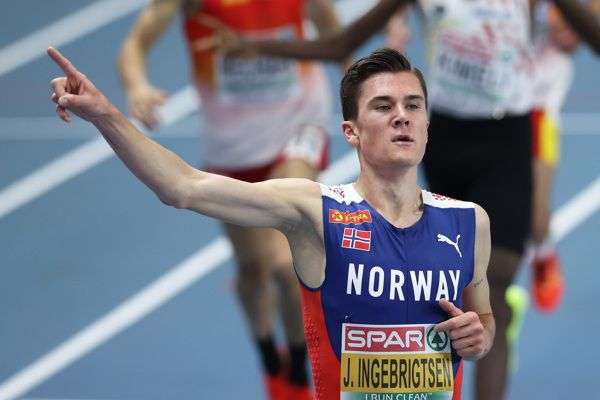 Ingebrigtsen's individual performances were monumental. His mile and 3,000-meter times shattered decades-old records, solidifying his place as the third-fastest runner in history in both events. The credit for his astonishing vitality goes to the innovative foam-packed super spikes that have redefined the sport in 2023. Nevertheless, running at a relentless pace for four laps took its toll, and Ingebrigtsen admitted feeling the effects of his previous day's efforts. Remarkably, his commitment extended beyond personal glory; he propelled six of the top seven finishers to personal bests.
Defining Greatness in 2023
In 2023, Ingebrigtsen's unique racing style propelled him to one of the most remarkable seasons by a male distance runner in recent memory. Comparisons to past legends like Joshua Cheptegei, Mo Farah, and Bernard Lagat underscore the distinctive nature of Ingebrigtsen's achievements. For sheer dominance and fast times across an entire season, one must look back to the mid-2000s, with athletes like Kenenisa Bekele and Hicham El Guerrouj. Ingebrigtsen's incredible accomplishments in 2023 included:
World records at 2000 meters and two miles.
Fastest mile and 3,000 meters since the 1990s.
A season's best of 3:27.14 in the 1500 meters, ranking him as the fourth-fastest performer ever.
The second man to break 3:30 five times in a year.
Diamond League titles in the mile and 3000 meters, a historic achievement.
An impressive season record of 12 wins with only one loss.
Eight Diamond League victories.
Second consecutive 5,000-meter world title.
Second consecutive World Championship 1500-meter silver medal.
Despite these accolades, Ingebrigtsen remains driven by a relentless pursuit of perfection, acknowledging that his defeat in the World Championship 1500-meter final still gnaws at him. His competitive spirit is matched only by his quest to reach his full potential, and he believes he fell short in Budapest due to illness.
Innovative Training Approach
In the world of distance running, when a 20-year-old Norwegian like Ingebrigtsen becomes an Olympic champion through a groundbreaking training approach, others take notice. Ingebrigtsen's self-coached journey, founded on the double-threshold technique passed down from his father, Gjert, is not shrouded in secrecy. He encourages others to explore this approach, emphasizing its effectiveness. However, he underscores that success in distance running hinges on practice and unwavering consistency, with many different paths leading to excellence.
Ingebrigtsen's training regimen spans eight months, from October to May, encompassing two double-threshold sessions each week, hill work, and a high volume of running, totaling 110-120 miles per week. During the racing season, his training adapts to maintain flexibility, a testament to his deep understanding of his own needs and a reminder that there's more to success than just high mileage. Ingebrigtsen's philosophy centers on building a strong base during the winter and spring months, which provides the necessary flexibility to tailor training during the competitive season.
Ingebrigtsen's ambitions extend beyond his 2023 accomplishments. He aspires to break world records at every distance from 1500 meters to the marathon, challenging the norms of specialization in distance running. His audacious belief that he can surpass existing records is embodied in his statement, "If some people can do something, I believe I can do it better." While the marathon presents a formidable challenge, history has shown that versatility can lead to remarkable accomplishments. Ingebrigtsen's remarkable range, untested beyond 5,000 meters on the track, positions him as a potential trailblazer in the marathon world.
The Road Ahead
When asked about becoming the first man to run under two hours under legal conditions, Ingebrigtsen expressed that it would be "a lot of fun." However, he prefers action over speculation, letting his performances speak for themselves. With unwavering determination and an unrelenting pursuit of excellence, Jakob Ingebrigtsen has indelibly marked the world of distance running, and his journey is far from over.