By David Monti, @d9monti
(c) 2017 Race Results Weekly, all rights reserved
(30-Mar) — The world's fastest 5 km road race, the Carlsbad 5000 in Carlsbad, Calif., returns on Sunday for the 32nd edition, and will feature USA Olympians Shannon Rowbury, Paul Chelimo and Brenda Martinez facing a strong intentional field, organizers announced today.  The race, which will be run on the original course which was not used the last two years, is the home of both the men's and women's Association of Road Racing Statisticians (ARRS) world records of 12:59.5 and 14:46, respectively.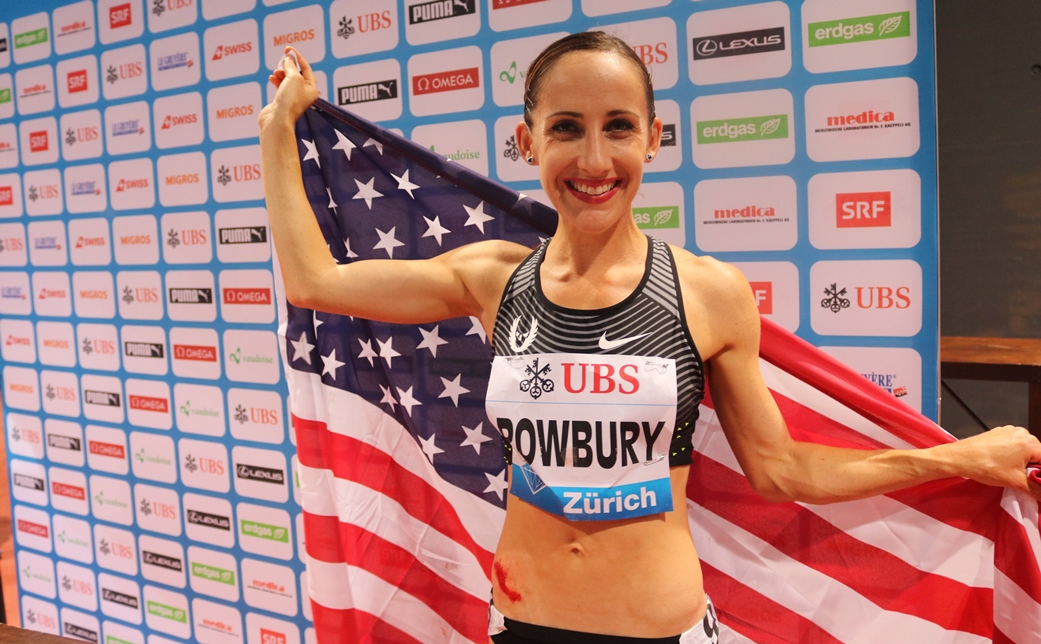 Rowbury, 32, who finished fourth in the Rio Olympic 1500m, will make her third Carlsbad appearance, and her first since 2013 when she finished sixth.  She could have her eye on Molly Huddle's USA record of 14:50 set at the B.A.A. 5-K in 2015.  Rowbury already holds the USA 5000m record of 14:38.92 set at the Brussels Diamond League meeting last September.
"San Diego and Carlsbad are just stunningly beautiful," said Rowbury, who grew up on San Francisco and now lives in Portland, Ore.. "To be able to race in front of a U.S. crowd, I love it. And the course is stunning. I'm excited to open the outdoor season with a road race. This is a fun opportunity to start the season on a beautiful course that I've enjoyed in the past."
Although Martinez, 29, is more of an 800/1500m runner, she is well known for her hard road workouts near her home in Big Bear Lake, Calif., and is a veteran of four Carlsbad 5000's.  Her best mark at Carlsbad is 15:24 from 2014, which was good for fourth place, and her 5000m personal best is a respectable 15:30.89.
Other top American women entered are Lauren Paquette (5000m PB of 15:14.45), Neely Gracey (15:25.34), and Christy Cazzola (16:21.49).  From overseas, Sweden's Sarah Lahti (15:10.76 PB) has the fastest 5000m time, but Olympians Viola Lagat of Kenya (15:35.12) and Dominique Scott of South Africa (15:25.10) are also threats to make the podium.
On the men's side, the 26 year-old Chelimo won the silver medal in Rio at 5000m last summer and has a career best time of 13:03.90.  However, he is not the fastest, or most decorated, man in the field, a distinction which belongs to Ethiopia's Dejen Gebremeskel, the 2012 Olympic 5000m silver medalist who has a personal best of 12:46.81.  Gebremeskel has already won Carlsbad a record four times.
"I'm excited to be coming back to Carlsbad to race over 5000m," Gebremeskel said through a statement.  "It's one of my favorite races in the world and I have won there many times.  As always it will be tough (to win) as the competition is always strong, but I hope that I can add another title to my collection."
Other contenders for the podium include Britain's Andy Vernon (13:11.50 PB) and Tom Lancashire (13:34.44); Australia's Collis Birmingham (13:09.57), Brett Robinson (13:18.96), and Sam McEntee (13:20.72); Dutchman Jesper van der Wielen (13:29.02); and Americans Will Leer (13:21.55) and Mac Fleet (3:38.35 1500m PB).
Since the inaugural edition in 1986, the Carlsbad 5000 has seen 16 world records, eight U.S. records, along with numerous national and age-group marks.