Strong Track Events Highlight National Championships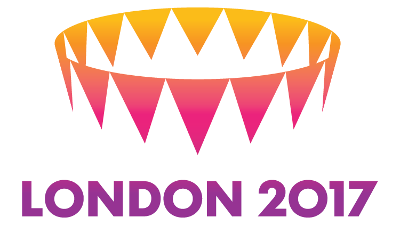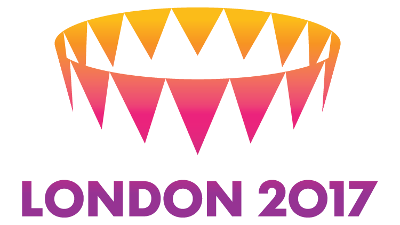 Running your eye over the start lists for the women's events at this years Australian Athletics Championships, it's hard not to notice some fantastic depth and quality – especially within the track events.
The head to head match ups across the 100m hurdles, 800m and 1500m events will provide some great highlights – as well as answering some very interesting questions.
Could we actually see three Australian women break the 13sec barrier in the 100m hurdles in one race?
Can anyone match the amazing times being posted by 15 year-old Keely Small in the women's 800m, and can we see our first sub 2.01.00 performance from an Australian since Zoe Buckman ran 2.00.93 back in 2013?
Can anyone match the brilliance shown by Linden Hall over the past 12 months and snatch gold in the women's 1500m – in a field that boasts so many internationally ranked athletes?
These are just some of the questions that will all be answered over the next 4 days of competition. We will also get to see so many Rio Olympians in action, from Morgan Mitchell in the women's 400m right through to one of our best ever women's throwers in Dani Stevens (nee Samuels). Another fantastic Championships is upon us!
Athletes to Watch Out for in Sydney
As was the case with the Australian men it's always difficult to isolate just five athletes, but we have come up with a list – with all five athletes coming into the Championships with very different stories.
[TS_VCSC_Title_Flipboard title="#1 Brianna Beahan (100mH)" size="medium"]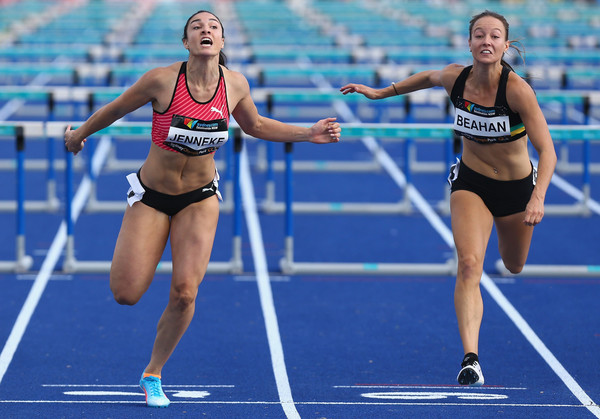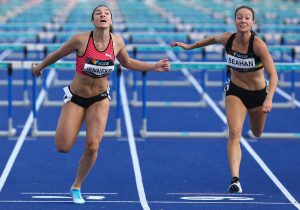 25 year-old Brianna Beahan hasn't exactly been the 'star of the show' in recent years, especially in her pet event which boasts and Olympic and World champion, Sally Pearson, and Australia's second best sprint hurdler in history, Michelle Jenneke.
Beahan has been happy to follow her own path to success, and was agonisingly close to making it to her first major championships – when missing the team for Rio by only 3/100ths of a second. Her 13.03s at last years National Championships has been backed up this year with a recently acquired SB time of 13.09s in Perth. This all points to the fact that a sub 13 second performance is just around the corner.
The Race
A recent trial from Sally Pearson in 12.91s (mixed race) sets this 100m hurdles final up perfectly. Jenneke has already posted a 12.99s in 2017 (just 0.01sec shy of the WQ of 12.98s), while Beahan looked great last Friday back in Perth with a super quick 13.09s. If the rain stays away there isn't anything to suggest that all three can't go sub 13sec, and maybe we could have two athletes go sub 12.90s.
Did You Know?
Fastest time at the Australian Championships since 2000: Sally Perason 12.59s (+1.3) in 2015
Pearson amazingly won her first Open title way back in 2005 (still as a junior), when she tied for first place with Fiona Cullen in 13.41s.
Pearson has won 7 National titles in total, while former National record holder, Pam Ryan, won 9 titles in a row from 1963 through to 1969.
[TS_VCSC_Title_Flipboard title="#2 Georgia Griffith (800m)" size="medium"]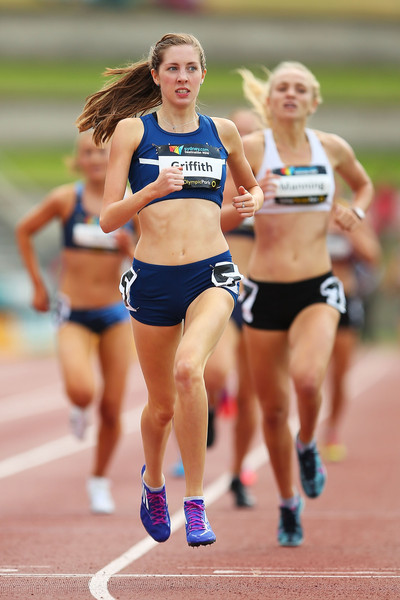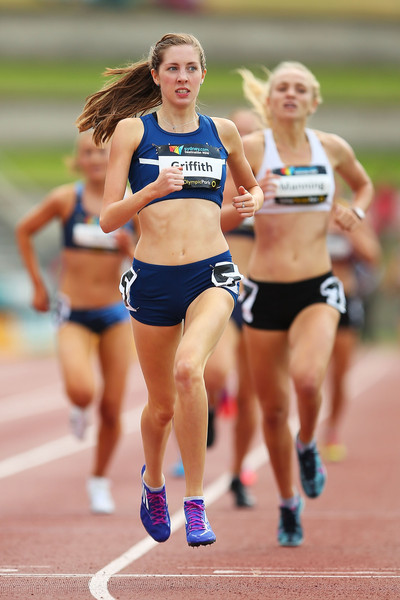 After a brilliant 2014, in which Georgia Griffith placed 4th at the World Junior Championships and ran a PB of 2.04.00 (in her semi final in Eugene), not everything has gone exactly to plan. As with any junior athlete it's not easy to continuously make big steps forward, and in 2015 and 2016 her PB remained at 2.04.00. In 2015 she did manage to win the National U/20 title, while last year she placed 7th in the final of the Open Championships.
At the end of 2016 things did look to be changing for the better, with a solid 2.04.06 in Melbourne just prior to Christmas. Then in early 2017 she Griffith went 2.03.88 in Newcastle and 2.02.5h in Melbourne. Then the real breakthrough came, when she placed third behind the incredible run from Keely Small in Canberra – pushing all the way to the line to PB in 2.02.09. That run has now placed her right in the mix for a medal at this years Australian Championships, and if she can find one full second a WCQ of 2.01.00 is well within reach.
The Race
What an absolute gem of a race. Griffith (2.02.09), Abbey de la Motte (2.02.19), Small (2.01.46), Lora Storey (2.01.90), Anneliese Rubie (2.03.27), Alicia Keir (2.03.45) plus Brittany McGowan could all push their claims for a win in Sydney. Actually the only disappointment is that we couldn't see Heidi See, Zoe Buckman, Melissa Duncan and Selma Kajan join in on the party. What a race that would be! It will likely be a tactical affair, so who has the finishing speed necessary to take home the win? We will just have to wait and see!
Did You Know?
Fastest time at the Australian Championships since 2000: Tamsyn Manou 2.00.71 in 2007
Manou won an amazing 11 National titles from 1999 through to her final one in 2012.
In 2000 Manou won a magical final in her second fastest time of her career, 1.59.29 – defeating the very talented Kiwi in Toni Hodgkinson (1.59.39) in the process.
[TS_VCSC_Title_Flipboard title="#3 Heidi See (1500m)" size="medium"]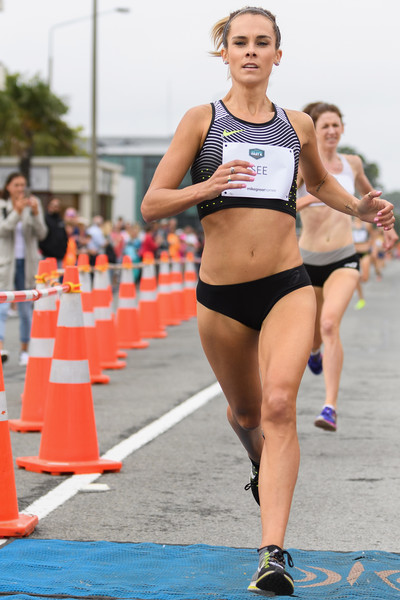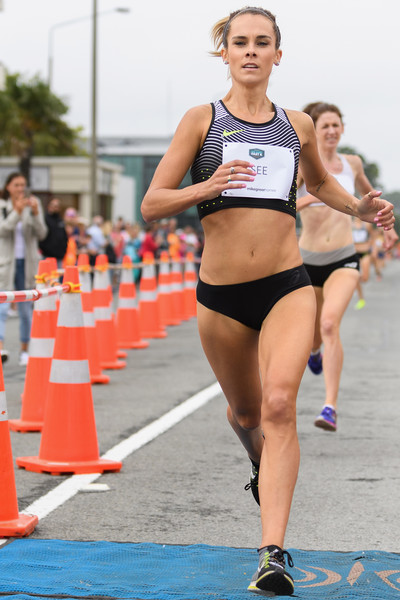 A change in scenery could just do the trick for Heidi See, as she tackles one of the best fields in recent years in the women's 1500m final in Sydney. See has come back to Australia to train with the Melbourne Track Club, and everything is pointing towards a positive 2017 – after a very challenging 2016.
In 2016 See started the year in perfect fashion, taking the National title (4.14.17) and gaining selection for the Rio Olympics if she was to gain the qualifying time required of 4.07.50 prior to the cut off period.
After a 4.08.45 effort in Eagle Rock CA, USA on May 20, See was to find out in her next race that injury was going to force her off the track for the rest of the 2016 season, and therefore miss out on the opportunity to represent the green and gold in Rio.
In 2017 See has produced a PB for both the 800m (2.03.51) and the 5000m (15.51.97), where she also took home the National 5000m title. Everything is set up for another tilt at a National title, which would be her third in a row. Maybe after this years win See can make it all the way to London for what would be her second World Championships.
The Race
Standing in the way of See and her third National title is arguably one the best 1500m fields for many years. To have Linden Hall (3rd on the Australian all time list at 4.01.78), Zoe Buckman (4.03.22, 4th on A/T list), Jenny Blundell (4.04.62, 5th on A/T list) plus See (15th on A/T list), is pointing to what should be one of the highlights of the championships. It would be hard to go past Hall, but if it's again a tactical affair it's hard to pick an obvious choice for the win.
Did You Know?
Fastest time at the Australian Championships since 2000: Sarah Jamieson 4.05.52 in 2006
Jamieson won 5 National titles, and was runner up on two further occasions.
In 2000 Georgie Clarke ran 4.10.59 to win the Open title at only 15 years of age. Clarke went onto make the semi finals of the 2000 Sydney Olympics in the same event.
[TS_VCSC_Title_Flipboard title="#4 Naa Anang (Long Jump)" size="medium"]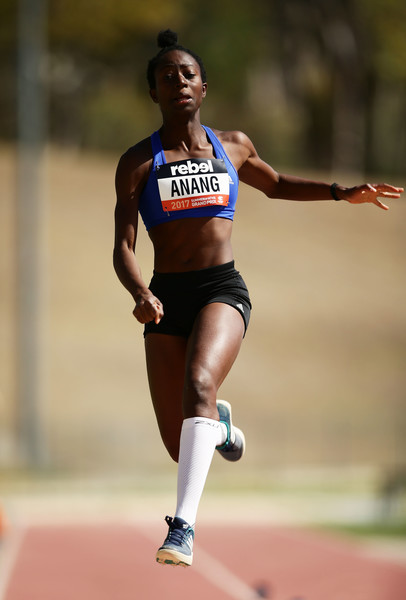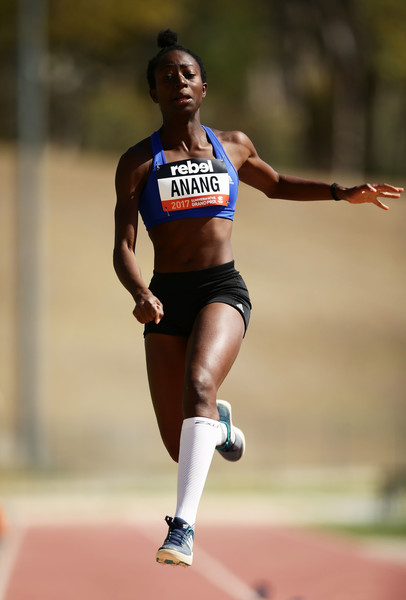 Naa Anang is an athlete on a mission, and she is well on her way to joining the likes of Brooke Stratton and Chelsea Jaensch in wearing the green and gold at the highest level.
It's already been a big year for the 22 year-old from Queensland, with a new PB of 6.65m and a world no.1 position on the current outdoor lists. It's a big improvement on her best from last year of 6.45m, and was well above what she had produced earlier this year (including a best of 6.14m at the Nitro series).
The impressive mark now has Anang only 10cm's below the World Championships qualifier of 6.75m, and her confidence will be sky high entering the Nationals. Even though she won't have Stratton and Jaensch pushing her all the way in Sydney, there is every chance that she will push even closer to the magical WCQ mark.
The Competition
There is a big gap between Anang and the next ranked jumper in Australia (Tay-Leih Clark at 6.38m), although there would be an expectation that both Clark and Jessica Penney will push Anang if she wasn't to jump up and around her best of 6.65m. Clark and Penney both being capable on the right day of jumping in and around the 6.50m mark.
Did You Know?
Longest jump at the Australian Championships since 2000: Bronwyn Thompson 6.77m (+0.2) in 2002
Nicole Boegman won 9 National titles, which started with a win at the 1987 National Championships.
Australian record holder Brooke Stratton has won 2 National titles, winning in 2014 after three consecutive silver medals behind Kerrie Perkins from 2011 to 2013.
[TS_VCSC_Title_Flipboard title="#5 Taryn Gollshewsky (Discus)" size="medium"]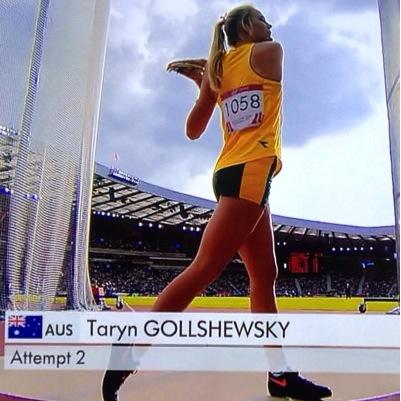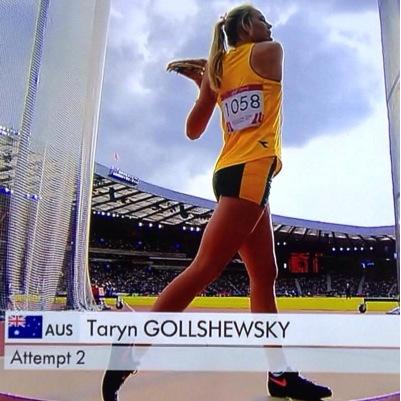 It's great to see another Australian female throwing the discus over 60m, with 23 year-old Taryn Gollshewsky throwing beyond the mark on two occasions in 2016 and will be hoping to push even further in 2017.
This year Gollshewsky has already thrown four times over 59m (including a 59.94m on January 14), showing the consistency that will hopefully lead to that 'one big throw' of 61.20m that would see her on the plane to London in August.
Gollshewsky has already represented Australia at the World Youth Championships in 2009 (12th), World U/20 Championships in 2010 (25th) and finished 9th at the 2014 Commonwealth Games with a best throw of 53.04m. She will be hungrier than ever to make her mark on the international scene, and Sydney will be a great launching pad for a positive 2017.
The Competition
Well there will be one local, namely Dani Stevens, who has a mortgage on the title, with Stevens already throwing an impressive 66.78m in 2017. Therefore Gollshewsky just needs to concentrate on her own throwing, and if the conditions are good, launch the discus well out past the 60m mark.
Did You Know?
Biggest throw at the Australian Championships since 2000: Dani Stevens 66.81m in 2014
Stevens has won 11 National titles between 2005 and 2016.
The biggest throw at a National Championships came when Kiwi Beatrice Faumuina threw 68.28m in 1997.
Our Other 'Big Watches' in Sydney – Women
Ella Nelson and Morgan Mitchell should dominate both the 200m and 400m respectively, it's just a matter of how fast they can go in what could be less than ideal conditions over the weekend.
Matt Beckenham coached duo of Lauren Wells (400m hurdles) and Melissa Breen (100m) will also be looking for continued improvement in Sydney, with Wells recently running a quality 55.97s WCQ in Canberra, while Breen has managed a very solid 11.33s (+2.0) performance back on February 19 to suggest that a WCQ of 11.26s is just around the corner.
Liz Parnov (Pole Vault) has finally bettered a long standing PB recently (4.51m in Perth), and will push Nina Kennedy all the way in the a top quality women's pole vault final (which will include 4.81m performer in Kiwi Eliza McCartney)