ARMORY FOUNDATION FOUNDER DR. NORBERT SANDER HAS DIED AT 74
By Walt Murphy (c) Walt Murphy's News and Results Service (Used with permission)
NEW YORK (17-Mar) — Dr. Norbert Sander, the driving force behind the rebirth of  NY City's Armory, passed away unexpectedly this morning at the age of 74.
No one had more passion for the sport than the native New Yorker, who worked tirelessly to convince New York City officials to restore the Armory, which had become a homeless shelter, to a first-class track and field facility. And, despite the objections of many traditionalists (like myself), he was responsible for moving he Millrose Games from its long-time home at Madison Square Garden uptown to the Armory, where the meet has had a succesful run since 2012.
He was his usual enthusiastic self at the Armory  last weekend for the New Balance Indoor Nationals.
Sander, who ran at the Armory for Fordham Prep and Fordham University,  was a member of Fordham's team that set a meet record in the 4-mile relay at Penn in 1963 and was a winner of the 1974 NY City Marathon in Central Park.   He was also a member of the New York Athletic Club.
Those of us who experienced first-hand what "Doc" had accomplished with the Armory often joked that he would go straight to T&F Heaven when he died. I'm sure he's already organizing his first meet there.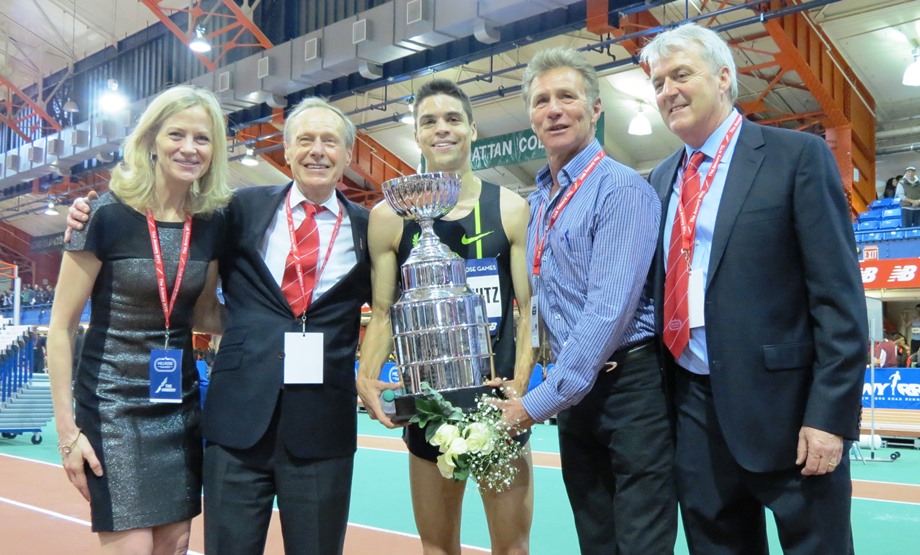 Some links:
http://olympics.nbcsports.com/2017/03/17/norb-sander-dies/
Here are just some of the articles written about "Doc" in recent years.
http://www.nydailynews.com/sports/high-school/milrose-games-held-168th-st-armory-young-athletes-nyc-marathon-champion-dr-norbert-sander-article-1.1021663
http://www.runblogrun.com/2013/12/track-field-visionary-dr-norbert-sander-armory-savior-by-david-hunter.html
http://ny.milesplit.com/articles/70580/armorys-norb-sander-presented-new-york-city-leadership-award
http://www.nyrr.org/media-center/press-releases/dr-norbert-sander-to-receive-abebe-bikila-award-for-outstanding-contributions-to-distance-running