By Chris Lotsbom, @ChrisLotsbom
(c) 2017 Race Results Weekly, all rights reserved
NEW YORK (17-Mar) — On Sunday, Emily Sisson will make her long awaited half-marathon debut here at the United Airlines NYC Half. She'll line-up alongside training partner and two-time defending champion Molly Huddle as one of the American favorites, joining international contenders like two-time world marathon champion Edna Kiplagat and 2015 Boston Marathon winner Caroline Rotich.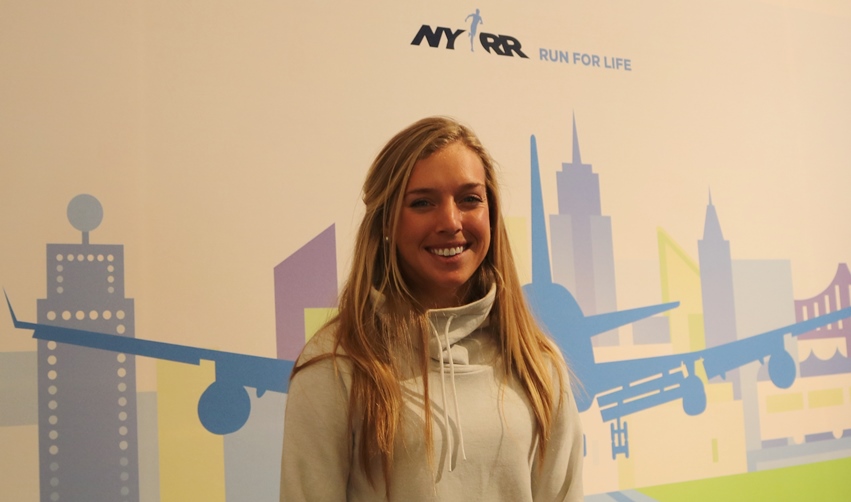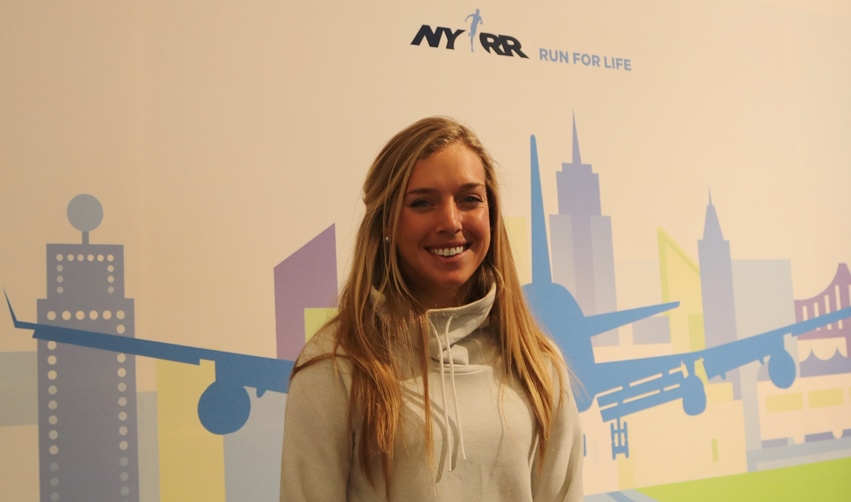 In advance of her first half-marathon, Sisson gave us a glimpse of what to watch for. Here are five takeaways from our chat with Sisson less than 48-hours before the United Airlines NYC Half.
STRONG TEAM IN HER CORNER:
Though she hasn't completed a half, Sisson has a pair of half-marathon aces guiding her through uncharted waters. In addition to close friend Huddle (PB 67:41), three-time Olympian Kim Smith (PB 67:11) has been a mentor to Sisson since her days at Providence College.
"Seeing how Molly trains, with Ray [Treacy] as both of our coaches, I love being able to just see how she handles things and learning off of her. Ever since I graduated college I've wanted to learn from the best, so learning from Molly and Kim, seeing how they do all of it has helped," she said. Sisson's enthusiasm for Sunday was visible as she spoke at the United Airlines NYC Half Experience, the race expo.
"I'm just really excited for it. I've watched Molly run it the past couple years and I've really been looking forward to it. I'm glad it's finally here. I just want to feel good coming out of Central Park and hopefully just have a good day and enjoy it."
KNOWING THE COURSE:
Speaking of Central Park, that was one of the key tidbits that Huddle said she passed along to her younger pupil: know that the first 10-K is hilly within Central Park, then parts of the last 10-K down the West Side Highway can be very fast depending on which way the wind is blowing. Also, Huddle noted there's added adrenaline when racing through Times Square and central Manhattan.
"Just feeling in control," Sisson emphasized, speaking of her goal during the race's first half. "More just seeing how they've handled things is how I've learned from them."
One other tip Huddle told Sisson was that the half-marathon is no different than the USA 20-K Championships in New Haven, a race that Sisson placed second at last year in 66:03. "I said you've basically run a half. It's the same thing – you won't notice the last K!" Huddle said with a laugh.
WEATHER WATCH:
More snow is in the forecast for Saturday, dropping one to three inches on Manhattan some 24 hours before the starting gun sounds. Harsh weather doesn't worry Sisson or Huddle, even though the pair are coming off a warm-weather training stint in Arizona.
"Training in Arizona went really well this winter. I feel like we both got really fit," Sisson said. "We're all in the same boat, though, so I'm not too worried about it."
IN GREAT FORM:
From their training camp in Arizona, Huddle was impressed with Sisson's ability and fitness. She believes Sisson will be one of America's best at the half-marathon distance soon, and noted Sunday could be her breakthrough race if things go well.
"I know she's in very good shape. The workouts we did do together, we were together for every step. She'll surprise a lot of people I think," Huddle said, speaking with true confidence.
"I'd say we did 40-percent of the workouts together, most of the threshold workouts together. Three tempo runs together in Arizona and one in Providence," she elaborated. The only time the pair didn't do hard sessions together was when travel got in the way. Both raced 5000m step-for-step indoors at Boston University on February 26, with Huddle winning in 15:01.64 to Sisson's 15:02.10 (Sisson's time was a PB and the fifth fastest indoors ever by an American). The race further proved that both are in great shape.
WHAT WILL THE CLOCK SAY?
When asked what time she's capable of running, Sisson hemmed and hawed. She didn't want to pin a time to her race, but rather chose to focus on the competition. "I don't want to put a time on it, but I want to run pretty fast and I'd like to be up there running with the leaders. I guess we'll just see. It is my first one – I'd rather focus on the race than the time," she said.
Sunday's race will be a family affair for Sisson, too. Her fiancé, former Providence College standout Shane Quinn of Ireland, will also be racing.