Ben Blankenship, a familiar name in the world of athletics, renowned for his stellar performance in the 2016 Olympics where he clinched eighth place in the 1500 meters, is embarking on an exciting new phase of his career. In the upcoming month, Blankenship is set to make his debut in the world of marathons, a challenging and exhilarating endeavor that promises to be a test of his endurance and determination.
The McKirdy Micro Marathon: A Unique Challenge
Mark your calendars for October 14, when Blankenship will take on the McKirdy Micro Marathon, a distinctive event unfolding amidst the picturesque landscapes of Rockland Lake State Park, situated about 30 miles northwest of the bustling hub of New York City. This marathon course has been meticulously crafted as a manageable 2.94-mile loop, tailored specifically to cater to athletes striving to achieve the qualifying times required for the 2024 Olympic Marathon Trials. Participants can look forward to receiving hydration bottles and the invaluable support of pacers. For male athletes aspiring to secure their spot at the Trials, the coveted sub-2:18 time is the golden ticket to the event scheduled for February in Orlando.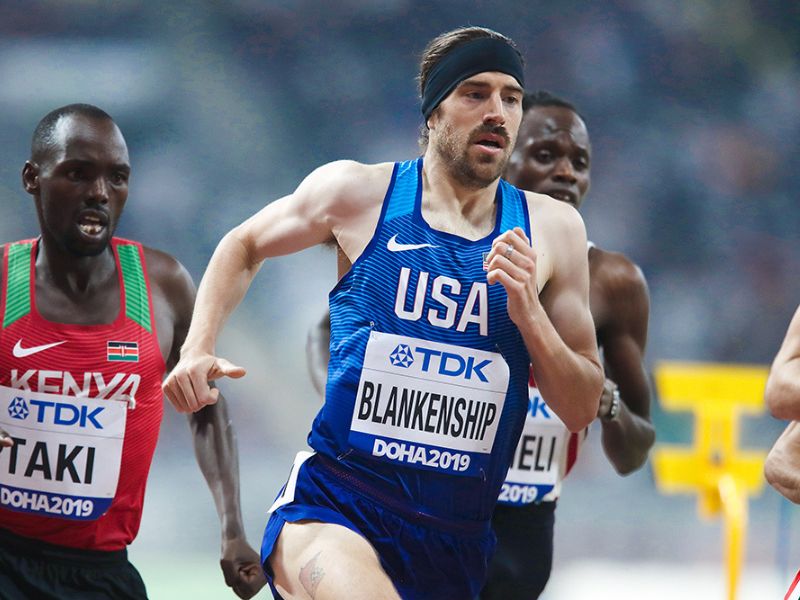 At 34 years of age, Blankenship boasts an impressive athletic career as one of the nation's elite middle-distance runners. His track record includes personal bests of 3:34.26 for the 1500 meters and 3:52.51 for the mile. Blankenship's journey in 2019 saw him earn a prestigious place on the U.S. team for the World Championships held in Doha, Qatar. However, subsequent years posed challenges related to maintaining his health, which hindered his quest to secure a place on U.S. teams.
A Unique Approach to Marathon Training
In his pursuit of success in the world of marathon running, Blankenship has embraced a unique training approach. Reflecting on his journey, he shared his perspective with Runner's World, stating, "This journey has been a thrilling one. Our marathon preparation hasn't adhered to the conventional path. Instead, we've placed our focus on successful, intensive training sessions, with a steadfast emphasis on maintaining a marathon pace throughout our preparations." Guiding him on this transformative journey is his coach, Ryan Hall, who has ensured Blankenship maintains a consistent weekly mileage of 85 miles, while also allowing for a day of well-deserved rest.
Blankenship's commitment to marathon training is palpable as he eagerly undertakes the long, steady efforts demanded by this discipline. In a lighthearted manner, he remarked, "I have a knack for losing myself in the run, allowing the miles to slip away effortlessly. However, I can also be somewhat optimistic, thinking, 'Yes, I can sustain a 4:55 per mile pace for this distance!' Then, the reality sets in, and I realize, 'Oh, this is becoming incredibly challenging.'"
View this post on Instagram
 In a recent training session, Blankenship accomplished the full marathon distance on a bike path situated south of Springfield, Oregon, his current place of residence. Remarkably, he completed the distance in an impressive 2:25, achieving a substantial negative split and signaling his readiness for the forthcoming marathon debut. He admitted, "It's reassuring to discover that I can complete a 2:25 marathon with relative ease. I wanted to test my body's response to the distance before the race, and it's truly an exploration into uncharted territory."
Navigating the Sponsorship Challenge
Despite enjoying over a decade of sponsorship as a Nike-sponsored athlete, Blankenship currently finds himself without sponsorship. He acknowledges the challenges associated with securing sponsorships in the realm of athletics, particularly as athletes age. He candidly expressed his thoughts, saying, "The world of running remains deeply traditional, especially on the men's side. As you reach a certain age, you can become somewhat of a relic, and running brands tend to say, 'Alright! You've had an incredible career!'"
Nevertheless, Blankenship remains undaunted by the absence of sponsorship, having reached out to numerous marathon race directors in an effort to secure a spot on the starting line, despite encountering a series of rejections. He explained, "We approached several major marathons and even some smaller ones, but the response has been lukewarm at best." Nevertheless, he maintains an optimistic outlook and expresses gratitude for the opportunity presented by the McKirdy Micro Marathon, emphasizing the importance of making the most of every opportunity.
A New Definition of Success
As Blankenship prepares for his marathon debut on October 14, his definition of success has evolved. He eagerly anticipates maintaining a positive mindset throughout each lap, building momentum during the race, and achieving the coveted sub-2:18 time required to secure a place in the Olympic Marathon Trials. He briefly summarized his journey by saying, "The marathon represents a significant departure from my previous endeavors, and I believe that success takes on different forms for each of us. When the race unfolds next month, I anticipate a delightful experience."