The Bolt All-Stars have won the second round of Coles Nitro Athletics Melbourne at Lakeside Stadium on Thursday night following a lengthy delay and review of a drama-filled final 4x100m event.
Usain Bolt helped his team to victory in the mixed 4x100m relay in the last event of the night while Team Australia were judged to have made the second baton exchange outside the changeover zone.
Initially it was thought that the Australian team would not lose any points for the indiscretion as they had already finished last in the race, but it was later confirmed that they would lose 50 points after being DQ's on review.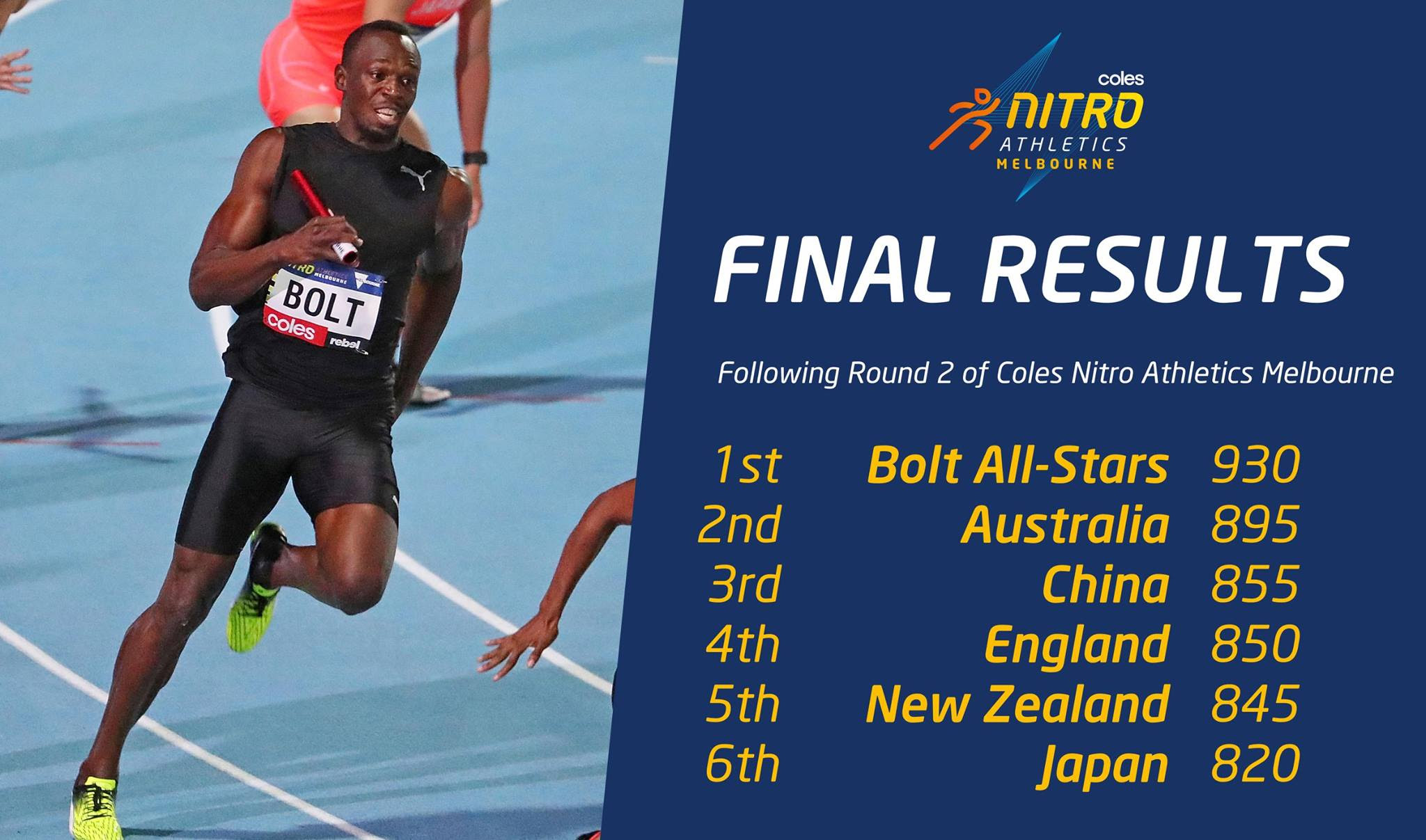 For full results click HERE.
For that relay Australia received -10 points, making their total for the night 895 – just short of the Bolt All-Stars who finished on 930 points – their second win of the series before the sell-out final on Saturday
The final decision took more than 30 minutes, with Bolt showing plenty of displeasure when speaking before the final result was determined.
"It doesn't make any sense if you get disqualified and you don't lose any points, it doesn't make any sense, that's doesn't add up," Bolt said before confirmation of his team's win.
"You can't not lose any points, so I've got to talk to the organisers and figure it out but I'm sure we won the night."
He was right, and now the All-Stars take a hand lead into the final night, where double points are on offer in the final standings.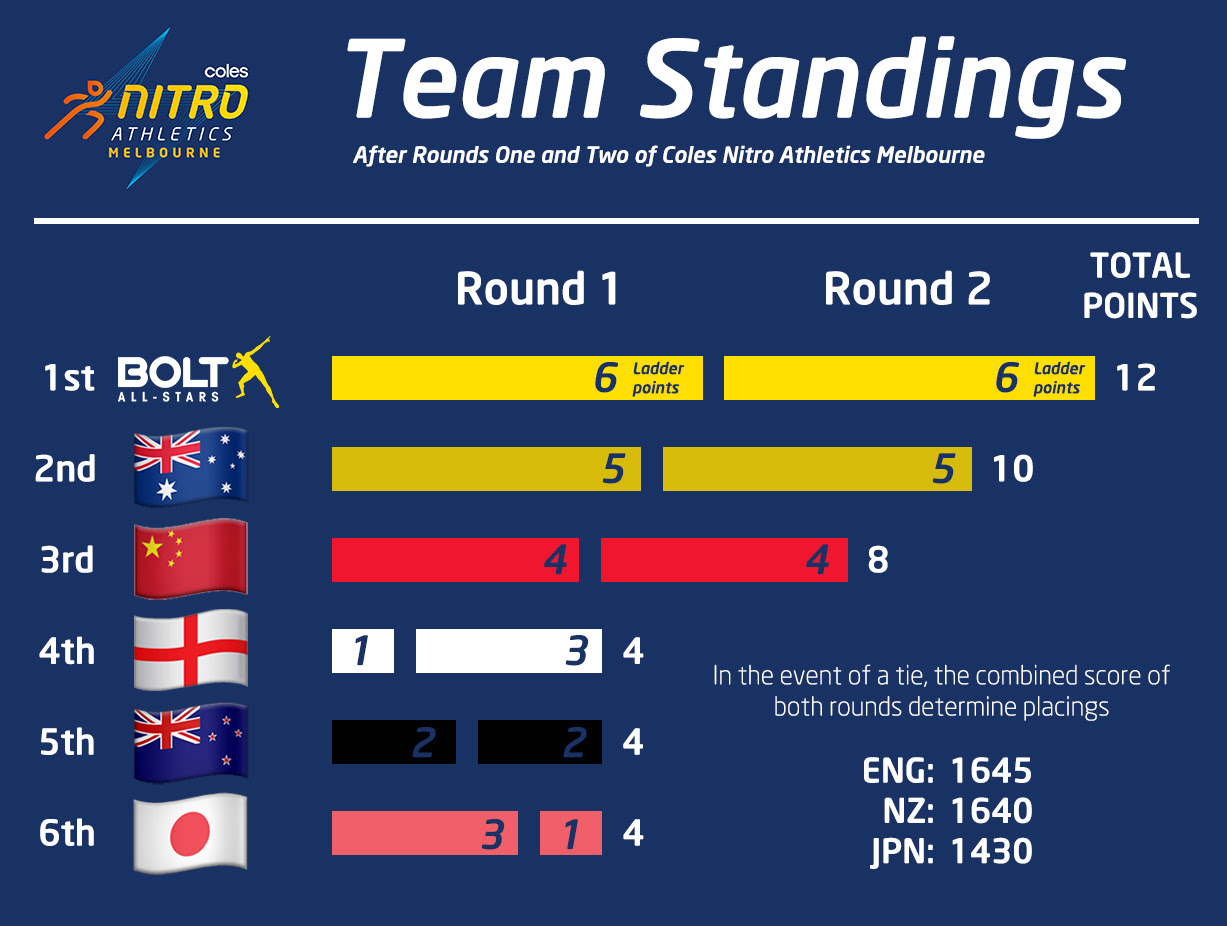 Looking towards the final on Saturday night, Bolt revealed that he may compete in the 150m to make sure that his team comes out on top in the inaugural Coles Nitro Athletics Melbourne series.
"A few of the guys weren't feeling good so we had to switch it up a bit but I think I've already told a few of the guys that we'll have to double up on Saturday, I'll probably have to double up," Bolt added.
"I don't like the fact we are leaving it that late every night, so we're definitely going to double up and try to get the points up early.
"If we need to do it I'll probably run the 150m."
Earlier in the night Team Australia sprinter Morgan Mitchell came home strong in the mixed 2x300m relay to win in front of a partisan home crowd of 6722 and a roaring packed home straight.
This was not long after Mitchell was just overtaken with metres to go while running the last leg of the mixed 4x400m relay to England sprinter Theo Campbell.
"It actually felt amazing," Mitchell said.
"I thought, I've got to win this I'm not finishing on a second, I hate that so to get the win for us I'm just really happy.
"They're amazing (the crowd) aren't they? The love is incredible, you feel so special and they definitely brought me home.
"That's what we practice for in training, a bit of lactic never hurt anyone – the energy was great and like I said they brought me home."
That relay also featured 2008 Olympic 400m champion Christine Ohuruogu who was thrilled that her England team got its first win on the board.
"I'm really proud of the team," the captain Ohuruogu said.
"One of the guys was proper cocky saying we're going to win this – and I thought, that's good but it's going to be tough because you don't know how the race is going to play out.
"I think his confidence is what drove him home, that may be the first relay he's ever done in his life."
The final of Nitro Athletics will be held on Saturday night and has already been declared a sellout by organisers with the Bolt All-Stars taking a slender lead into the final night.
Coles Nitro Athletics Melbourne is supported by the Victorian Government and will be broadcast on Channel 7, 7mate and PLUS7 Live app. Click HERE for the full broadcast schedule.
Fans can engage with Nitro Athletics via the event's social channels:
Twitter: @Nitro_Aths | Facebook: NitroAthletics | Instagram: Nitro_Aths