Our Aussie Women Set to Shine!
World Championship Preview – by Chris Wainwright (RT StatsCentral)
It's fantastic to see, a total of 30 individual Australian women will line up at this years World Championships in London. Then we add in another three relay runners (Jess Thornton, Ella Connolly and Anneliese Rubie) and you end up with one of the largest women's teams ever at a World Championships.
As with my men's preview (click here) I have rated each athlete below, and as I was completing this I realised just how exciting it is to not only have the senior stars of our team (such as Dani Stevens, Kathryn Mitchell and Sally Pearson) but also witness the birth on the main arena of athletes such as Riley Day, Naa Anang, Nicola McDermott, Georgia Griffith and Connolly. These are some of the athletes that Australia will be looking to lead future teams at the Tokyo Olympics in 2020 and beyond.
It's hard to single out any one athlete, but I will certainly be curious to see how the likes of 17 year-old Day (200m) handles all of the pressure that comes with a World Championships, along with all of the other World Championship debutantes. The other exciting events include the women's 1500m (Linden Hall (pictured right), Zoe Buckman and Griffith) – can a field be any stronger than what lines up in London? Even Laura Muir could miss a medal if she isn't careful! Then we have our big medal hopes in Stevens (Discus) and Pearson (100m hurdles). They have both won World Championship gold, so could they add another title in London? Also looking for a medal are our javelin stars in Kathryn Mitchell and Kelsey-Lee Roberts, both in form and ready for something special.
Outside of Stevens and Pearson I'm really looking forward to see how Jess Trengove goes in the marathon, and also seeing if both Buckman and Hall make the women's 1500m final. There will surely be so many special moments from London, and so many great Aussie stories that will unfold over the next 10 days of competition – good luck to all!
[wpdatatable id=41 table_view=regular]
* ER = IAAF Entry Ranking ** No mark in 2017
Thoughts on Our Aussie Stars – Women
Nelson (200m): Nelson has really struggled to stay on the track in 2017, and when she has, the performances haven't been up to her magical 2016 season where she just missed out on making the Rio final. Hopefully a sub 23sec performance is within reach, and with it a berth in a semi final.
Day (200m): Just sit back and watch the future of sprinting in Australia. The way she handled the pressure back at the Nitro Athletics meeting in Melbourne suggests that she has a very bright future in both the 100m and 200m. Day ran 23.42s to win gold at the Commonwealth Youth Games, and if she could get close to her 23.26s PB maybe making the semi finals is not entirely out of the question.
M.Mitchell (400m): It has been really hard to line up Mitchell's form in 2017. Started her season in great fashion with a 51.65s SB in Canberra and a really quick PB of 23.44s over the 200m. In Europe however she has yet to break 52 seconds, which is surprising after her bright start to the year. At her best she should easily make it through the heats, but definitely needs to recapture her 2016 form to make sure of advancing.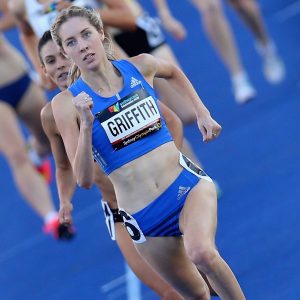 Griffith (800m/1500m): The 20 year-old has come from the clouds to run the fastest 800m time since Tamsyn Manou ran 2.00.78 back in 2011. Her 2.00.90 clearly has her ranked no.1 in Australia, but will soon find that such a performance is still not truly internationally ranked (currently sits at no.53 on the 800m list). This being said this is a perfect stepping stone to so much more in 2019 and beyond (note: she also lines up at the World University Games just after London). The 1500m will also be a tough assignment, and it's amazing to think that her two best times over the distance are a 4.07.32 PB in the US and a 4.13.55 in Geelong late last year – so much upside!
McGowan (800m): I have a good feeling about McGowan this year. Missed the domestic season, but looks super fit and ready for something string in London. Made the semi finals at the 2014 Commonwealth Games, and this year has run 2.01.72 and 2.01.77 over the 800m, as well as producing a PB over 1500m of 4.12.14. Sneaky chance at making the semi final stage in London.
Storey (800m): Such a great story, with the 27 year-old making her first major championships. Apart from her 2.01.90 SB in Canberra back in March, her performances haven't set the world on fire, but will be fighting all the way. Look for her again lining up at the World University Games.
Hall (1500m): As with a few other Rio athletes, Hall hasn't quite recaptured her 2016 form. Did find some good form with a terrific 4.23.96 mile in early July (London DL meeting), which included a split time at 1500m of 4.06.53. This all points to the fact that she will once again be in the mix if she can run tactically smart in her heat and semi final. It will be tough, but a 4.01.78 PB does tell you how much talent this young women truly has.
Buckman (1500m): Over the past 18 months I feel as though Buckman is starting to recapture the form that took her all the way to a World Championship final in 2013 (Moscow). Narrowly missed the final in Rio, and her 8th placing at the Rabat DL on July 16 (4.04.93) should provide the confidence necessary for something big in London.
Hills (5000m/10000m): The choice to move away from the 3000m steeple in 2017 has paid dividends for Hills. Her 10000m performance at Stanford (31.41.10) was full of merit, and was backed up with another solid 15.12.63 recently over 5000m. I feel as though Hills is at her peak of her powers, and could even push for her first ever sub 15 minute 5000m (current PB is 15.04.05). Top-10 in both events would not surprise.
Wellings (5000m/10000m): 34 years of age and still firing at the very highest level. Can she top her excellent results from Rio? Nothing to suggest that she couldn't. Has run sparingly in 2017 (3 road races and one 5000m in 15.14.54), but her last 10km road race was very encouraging – a 32:55 on the Gold Coast. Ran 31.14.94 for 10th over 10000m in Rio, and will be looking for a few places higher in London.
See (5000m): Has experienced her fair share of disappointments over the last 12 months (missing Rio with injury), but looks healthy and happy in 2017 training with her new team (Melbourne Track Club). Hard to know what to expect from her in London, but a good heat run should see her through to the final. A recent 4.10.42 1500m is encouraging, and will definitely be looking at bettering her PB of 15.22.36 come London.
Trengove (Marathon): Her efforts at Major Championships has been excellent – 38th 2012 OG, 11th 2013 WC, 3rd 2014 CG and 22nd 2016 OG. This time I would expect that she will be looking for a top-10 finish, especially after her terrific 10th placing at the London Marathon in April (2:27.01 PB). Really looking forward to seeing her race, as I believe that she is up for something 'special'.
Diver (Marathon): Another fantastic story, with the 40 year-old in career best form (2:31:37 PB in 2017). If she can keep that form going into London, then a top-30 performance is well within reach.
Clark (Marathon): Clark hasn't run a marathon since her 18th place finish in Rio (2:30:53). That performance was better than the time suggests, and a similar performance in London will have her pushing for a top-15 placing. In 2017 Clark has run four half marathons, including a 11th place finish in New York (72:22) and a SB of 71:15 on the Gold Coast. Both good lead in races for London.
LaCaze (3000mst): Impossible to know where LaCaze is at in 2017 after a frustrating season ruined by injury. Hasn't raced since a 9.37.10 in Doha way back in May, but prior to that did produce a 8.45.81 3000m PB indoors (Feb 18). At the end of the day she knows that she is a 9.14.28 steeple chaser at her best, and simply needs to believe that she can still deliver even after such a difficult season.
V.Mitchell (3000mst): Made her first appearance at the 2007 World Championships, and has always been in and around the mark ever since – including appearances at the 2008 and 2016 Olympic Games. Will struggle to make the final in London, but will certainly be looking for a time under 9.40.00.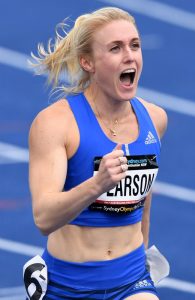 Pearson (100mH): Look out Harrison and co., Pearson is ready for another crack at a world title in 2017. Okay, maybe jumping the gun on this one, so I will simply settle for a medal of any color – now that would be very exciting! In all honesty Pearson hasn't looked this good since 2014. Her recent 12.48s SB was fantastic, and something similar will surely put pressure on the Americans. Pearson loves London (she won gold at the London Olympics in 2012), and this would be a perfect way for Pearson to win what could be her last 'big' championship medal.

Her main rivals in London will be Kendra Harrison (12.28s SB in 2017), Nia Ali (12.52 SB), Danielle Williams (12.56 SB) and Christina Manning (12.58s SB). She will however not have to compete against two other top Americans in Jasmin Stowers (12.47s in 2017) and Sharika Nelvis (12.52s SB) – such is the depth in American sprint hurdling!
Jenneke (100mH): It's hard to be excited with her recent performances, and she would be the first to admit that a 13.30sec performance will not let her advance to the semi finals. Would love to see her back to her early season form (ran 12.99s in Canberra), with that form placing her right in the mix for a semi final berth. As with Griffith and Storey, Jenneke will also compete at the WUG a week after the conclusion of the World Championships.
Wells (400mH): It's really hard for an athlete such as Wells at a major championships. She is always good enough to make it to the semi final stage, but trying to make the final is always a bridge too far. The 28 year-old (happy birthday Lauren!!) has made the semi finals at every major championships she has competed at since the 2011 WC's in Daegu, South Korea. Her best time in a semi final has been 55.75s, so that would be a great mark to better in London. The simple fact is that she would need to run a low to mid 54sec race to make the final in London, so instead I would be happy for anything under 55.50sec (closing in on her lifetime best of 55.08sec)
McDermott/L.Parnov/Gollshewsky (High Jump/Pole Vault/Discus): So excited to simply see three of these athletes wearing the green and gold in London, with both athletes receiving an invitation to compete via the 'roll down' process. All three athletes will certainly use this experience for bigger and better things next year on the Gold Coast.
Stratton (Long Jump): A late start to the 2017 season will probably make it hard for Stratton to produce her very best in London, although when I say her 'very best' I mean a jumper who is capable of jumping in excess of 7.00m! We know that a jump of around 6.65m will see her make the final, and that would be an excellent result based on the year she has encountered. Has jumped 6.79m in Europe recently, so will feel confident that she can still jump big distances.
Anang (Long Jump): A great personality and a great jumper! Has shown inconsistencies in her jumping, but her very best can mix it with the best in the world. A PB of 6.68m is what she will need to replicate to advance out of the qualifying round.
Stevens (Discus): Could this be the year that Stevens replicates what occurred 8 years ago in Berlin? In 2009 Stevens surprised many with a 65.44m throw, and the world title. Fast forward to 2017 and she is in career best form, already throwing over 66m three times throughout the year. London will require something special to take home the gold (Sandra Perkovic is clearly the one to beat throwing over 71m in 2017), but Stevens is ready for the fight after a frustrating 4th placing in Rio. Watch out for something special!

Mitchell/Roberts (Javelin): Both athletes are on fire in Europe, and are more than capable of coming away with a medal in London. At 35 Mitchell looks anything but an athlete ready to retire, and anything close to her 66.12m PB will have her asking questions of all of her competitors.

Lamble/Smith/Tallent (20km Walk): Lamble looks like the one to follow, as she has every chance of finishing inside the worlds top -10 in London. At her best Smith will not be too far behind, already boasting a very solid PB of 1:29:49. Tough event, but never write off the Australians in any racing walking event.

Women's 4x400m: On paper the team doesn't look quite as strong as the team that ran a very quick 3.25.71 in Rio. That was when Mitchell was running low 51sec, and Rubie has just run 51.92 and 51.96 in her heat and semi final respectively of the individual 400m. This year they could still make the final if they can run around 3.27.00, but will rely on big relay legs from Mitchell, Rubie and Ella Nelson, plus good solid runs from the likes of Wells or Thornton.