In an unexpected twist at the women's mile race, Faith Kipyegon, who had dominated the track in 2023, faced an astonishing upset at the hands of Ethiopia's emerging star, Diribe Welteji. The women's mile field was no pushover, featuring four of the top seven finishers from the Worlds 1500, including gold and silver medalists Faith Kipyegon and Diribe Welteji.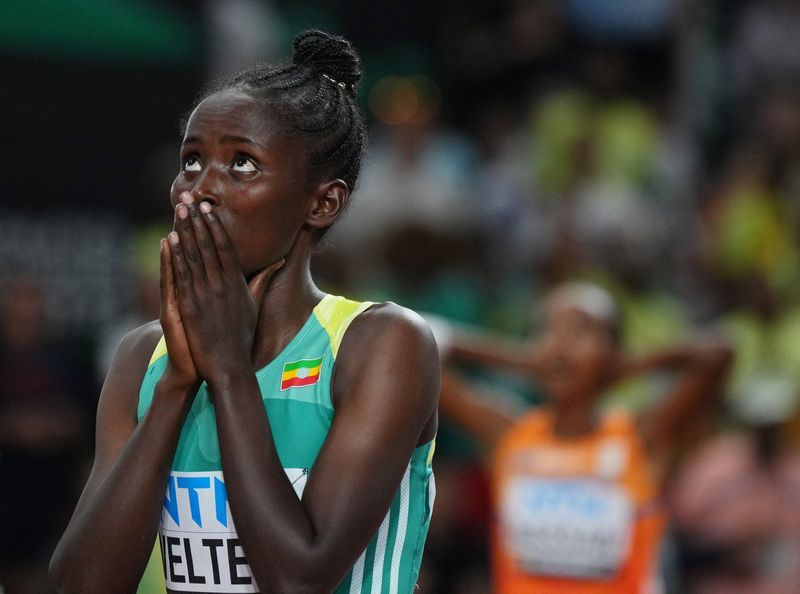 Faith Kipyegon, renowned for her world records in the 1500, mile, and 5,000, as well as her world titles in the 1500 and 5,000, entered the race as the undisputed favorite. As the race unfolded, Kipyegon led the pack, attempting to distance herself from her competitors. However, the 21-year-old Welteji displayed remarkable determination, staying within striking distance of Kipyegon and even appearing stronger at the midway point.
With 400 meters remaining in the race, it was Welteji who surged ahead, while Kipyegon began to show signs of fatigue. Despite Kipyegon's valiant effort, she couldn't muster her usual explosive finish. As the finish line approached, Welteji not only overtook Kipyegon but also left her in disbelief as Freweyni Hailu breezed past her in the final meters, securing a historic Ethiopian 1-2 finish.
Welteji's triumphant moment was punctuated by a record-breaking time of 4:20.98, obliterating Nikki Hiltz's world record of 4:27.97, which had been ratified just a week earlier. Hailu claimed the second spot with a time of 4:23.06, while Kipyegon had to settle for third place with a time of 4:24.13. The top American finisher, Addy Wiley, secured the ninth position with a time of 4:36.03.
View this post on Instagram
Faith Kipyegon's 2023 season had been nothing short of extraordinary, showcasing dominance rarely witnessed in the history of the sport. A mere two weeks prior, she had clocked an impressive time of 3:50.72 to seize victory in the Diamond League 1500 final with a commanding lead of over three seconds. However, today's outcome served as a stark reminder of the capricious nature of professional sports.
For Kipyegon, this unexpected defeat marked a bittersweet conclusion to her exceptional year, as she suffered her first loss of 2023 in her final race. Nonetheless, it should not overshadow the incredible feats she accomplished throughout the season, including three world records and two world titles on the track. While this loss may be disappointing, it does not diminish the fact that Kipyegon's 2023 campaign stands as one of the most remarkable in the history of track & field. Ultimately, one loss should not overshadow the numerous triumphs she celebrated during this extraordinary season.