Kenya's Peres Jepchirchir, one of the sport's all-time greats, showcased her remarkable talent by clinching her third World Half Marathon title, utilizing her fearsome finishing speed to seize gold in 1:07:25 at the World Athletics Road Running Championships Riga 23. Her previous triumphs in 2016 and 2020 solidified her reputation as a dominant force, and her recent victory at the Great North Run, where she won by over a minute with a time of 66:45, further underscored her prowess.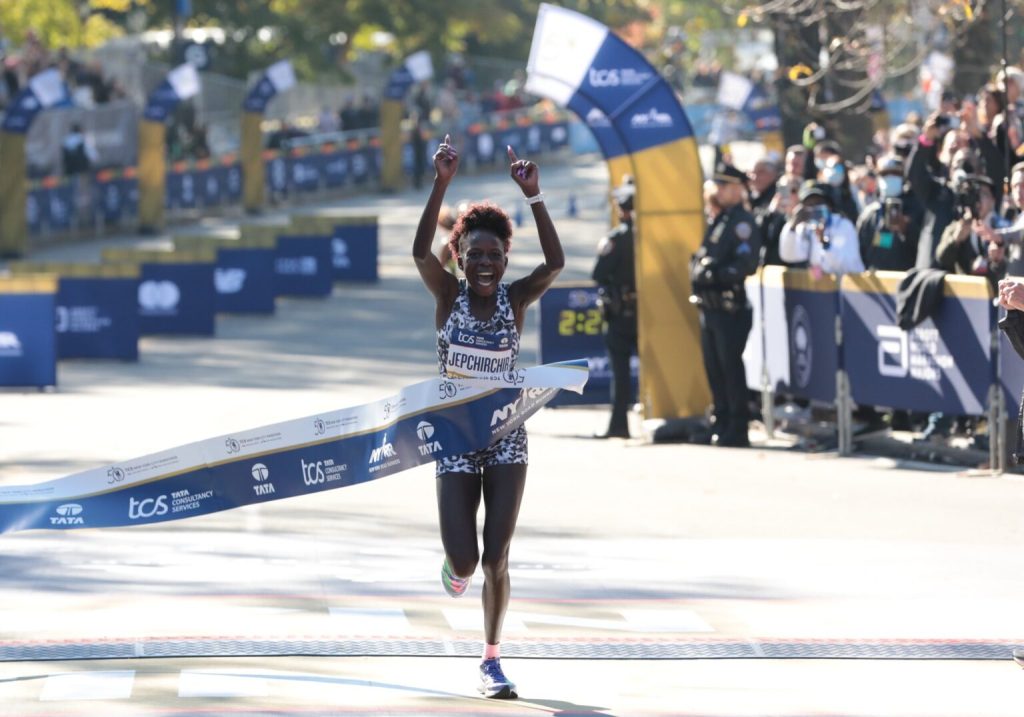 Jepchirchir executed a well-thought-out race strategy, strategically positioning herself within the leading pack. To the surprise of many, the group at the halfway mark included British athletes Samantha Harrison and Calli Thackery, alongside three other Kenyan runners (Margaret Kipkemboi, Catherine Reline, and Irine Kimais), as well as Ethiopian competitors Ftaw Zeray and Tsigie Gebreselama.
As the race reached the 20-kilometer mark, Jepchirchir made her decisive move, swiftly creating separation from the field. Only Kipkemboi managed to match her pace and even momentarily overtook Jepchirchir, with just half a mile remaining. The race ultimately came down to a dramatic sprint finish, seemingly favoring Kipkemboi, who had previously secured an impressive 4th place finish in the 5,000 meters at the World Championships earlier in the year.
View this post on Instagram
In a testament to her unwavering determination, Jepchirchir, despite never having competed in a professional track race, exhibited the same unstoppable spirit that she had demonstrated in her victories at the NYC Marathon in 2021 and the Boston Marathon in 2022. She ultimately crossed the finish line first, clinching the gold medal with a time of 67:25, a mere hair's breadth ahead of Kipkemboi's 67:26. The 21-year-old Catherine Reline completed the Kenyan podium sweep, securing the bronze with a time of 67:34.
Of special note, Thackery and Harrison delivered noteworthy performances, achieving personal best times of 68:56 and 69:26, respectively, and finishing 7th and 9th overall. Their accomplishments marked the first instance of non-African-born women breaking into the top 10 since 2016, a significant milestone for both athletes. For Thackery, the result held a particular emotional significance as her father, Carl, had earned a bronze medal in the same race almost three decades ago.
Jepchirchir's victory on this occasion propelled her into an elite category alongside legendary figures such as Tegla Loroupe, Paula Radcliffe, and Lornah Kiplagat, making her just the fourth woman to secure three World Half Marathon titles. Over the past four years, her accomplishments have solidified her status as a sporting legend. Since the start of 2020, Jepchirchir has consistently dominated the world of marathon running, claiming victory in four of the world's most prestigious marathons, including the 2020 Valencia Marathon, the 2021 Olympics, the 2021 New York City Marathon, and the 2022 Boston Marathon.
Beyond her marathon success, she has also clinched two World Half Marathon titles, setting a women's-only world record of 65:16 during her first win. Jepchirchir's remarkable achievements extend to an impressive record of 10 victories in her last 13 road races dating back to October 2019, highlighting her extraordinary athletic prowess and indomitable spirit.