By David Monti, @d9monti
(c) 2017 Race Results Weekly, all rights reserved
LONDON (12-Aug) — Over 55,000 fans packed London Stadium here tonight on the penultimate day of the 16th IAAF World Championships in Athletics, most with the same goal: see Mo Farah win his fourth, and final, world 5000m title.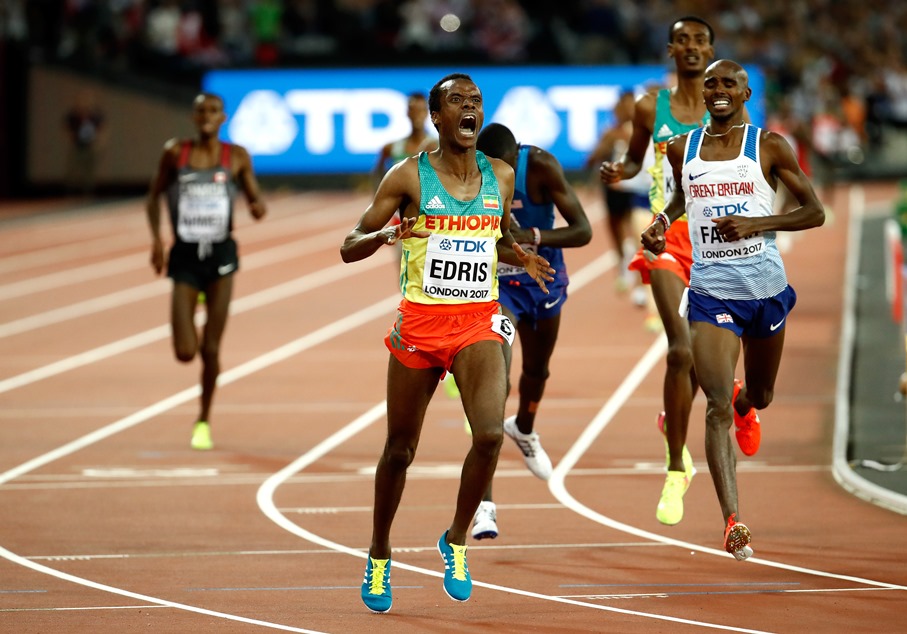 It was not to be.
Farah, 34, came oh-so-close, but it was Ethiopia's Muktar Edris who came out on top, if only just.  While the crowd cheered so loudly that the stadium was nearly shaking, the young Ethiopian out-sprinted Farah in the homestretch to win, 13:32.79 to 13:33.22, on the strength of a sub-53-second final lap.  Farah was just able to beat the 2016 Rio Olympic silver medalist, Paul Chelimo of the United States, who finished third in 13:33.30.
"I gave it 110%," Farah told the fans in his post-race interview on the floor of the stadium.  "I don't think there was anything else I could have done."
The race seemed to play to Farah's strength: a slow early pace setting up a fast finish.  The first five full laps were lazy: 65.3, 71.6, 71.2, 71.6 and 70.6 seconds, respectively.  Chelimo was the early leader, and was disappointed that nobody wanted to take the pace.
"I like fast races," Chelimo told the media under the stadium after the race.  "I like fast-paced races, and today wasn't going to be one.  I wasn't going to go out there myself and push the whole time."
Through six laps to go, the pace finally got more serious.  Farah led a 63.9-second lap with Cyrus Rutto of Kenya, and Edris and his Ethiopian teammate, Yomif Kejelcha.  But the pack stayed together, and the pace slowed again to 67.1 seconds on the next lap.  Were the Ethiopians playing games?
"They had a game plan," Farah said later.  "One of them was going to sacrifice themselves."
Unexpectedly, the next move came from the tall Australian, Patrick Tiernan, the 2016 NCAA cross country champion for Villanova University.  Tiernan turned a 61.8-second lap and led for three laps, opening up a small gap on the field.
"It's a great opportunity for me," Tiernan said later, relishing the chance to lead on such a big stage.  "I'm going to give it a crack."
The real racing started with about 700 meters to go when Tiernan was reeled in on the backstretch by the Ethiopians, Farah and Chelimo.  The penultimate lap went into the books at 59.1 seconds, setting up a blazing finish.  Farah was running third on the backstretch with 250 meters to go.  He was hurting, but determined to win.
"To be honest with you, it takes so much out of  me," Farah lamented.  "It's not an excuse, but it took a lot more out of me than I realized."
Chelimo passed Farah with about 200 meters to go and was chasing Edris. Farah was digging deep, trying to get into position to launch the fierce sprint which had won him dozens of big races during his career. Edris had the lead coming around the final bend, and Farah found himself in poor position because of Kejelcha, which might have been the difference in the end.
"I thought it might be possible (to win), but my legs (had) had it," Farah said.  "I got boxed in early on… and couldn't get out."
For Edris the victory was sweet.  "Mo has many victories but now I have one," he said.  "I am the new champion for Ethiopia."
After winning, Edris struck the "Mobot" pose, putting both of his hands on top of his head with his elbows spread wide.  He said it was an homage to Farah, and that he was not mocking him.
"I did the Mobot out of respect as well for him," he said.
Chelimo was satisfied with his performance, saying that he's a consistent performer, especially in big championships.
"I'm just happy with my performance," he said.  "My second championship and I medaled.  I can't ask for more."