Ferdinand Omanyala, celebrated as Africa's swiftest sprinter, is embarking on the significant 2024 season, culminating in the Paris Olympics, with a freshly assembled coaching team. Omanyala has decided to part ways with his former coach, Duncan Ayiemba, and is now collaborating with the esteemed sprinting coach, Geoffrey Kimani, to fine-tune his skills and gear up for the demanding 2024 campaign.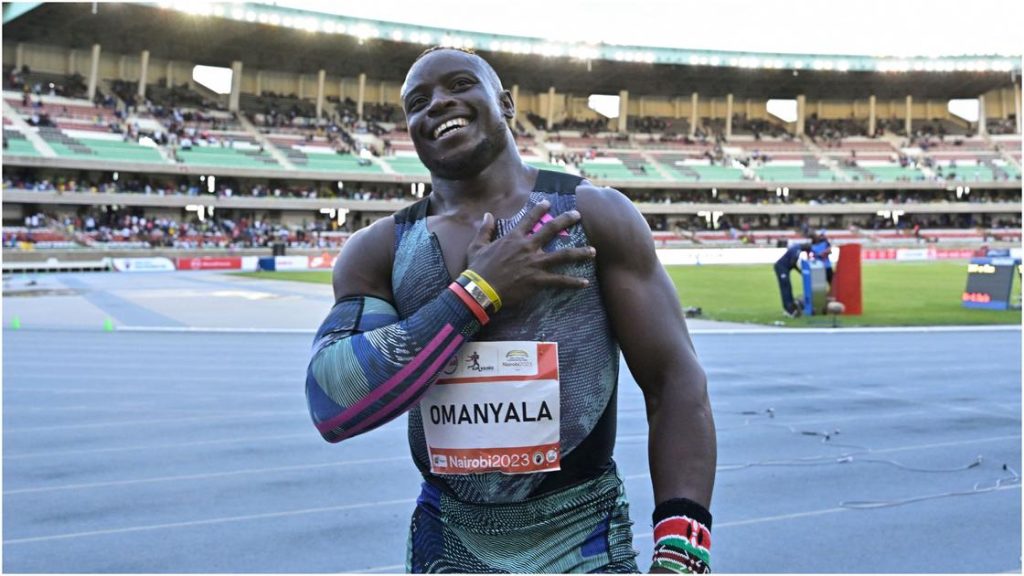 The shift in coaching personnel by Ferdinand Omanyala has generated interest among fans, prompting a closer look at Geoffrey Kimani's illustrious background and the prospects this partnership holds.
Geoffrey Kimani, now assuming the role of Omanyala's coach, boasts a rich history in the realm of athletics and strength and conditioning. He previously held the coveted position of the National Olympic Committee of Kenya (NOC-K) Strength and Conditioning lead consultant for Team Kenya, focusing primarily on preparations for the postponed 2020 Tokyo Olympic Games. His contributions extend to the 2016 Rio Olympic Games, where he played a pivotal role in training national team coaches whose teams had secured their Olympic berths. Kimani's role was integral to NOC-K's Elite Athlete Development program.
Notably, Kimani has made significant contributions to the Kenya Rugby Union as a strength and conditioning coach, notably working with the national rugby sevens team, Shujaa. He also served as a speed coach for Mathare Youth Sports Association's Mathare United Soccer team.
Kimani's commitment to developing strength and conditioning coaches is exemplified through his active involvement in workshops and training programs aimed at nurturing talent within this discipline in Kenya.
Furthermore, Kimani has played an influential role in shaping the future of Kenyan athletics. His contributions were instrumental in preparing Team Kenya for the 2021 Commonwealth Youth Games and the 2022 Youth Olympics held in Dakar.
View this post on Instagram
At present, Kimani holds the esteemed position of World Athletics Sprints and Hurdles lecturer, underlining his prominence in the field. As Omanyala's new coach, Kimani is poised to work diligently to ensure the sprinter is optimally prepared for the impending Olympic Games.
Ferdinand Omanyala's journey in the 2023 season was a mix of highs and lows, setting the stage for a determined comeback. The season commenced on a promising note with a successful indoor tour, followed by a triumphant return to the Diamond League Meetings, where he earned accolades.
A significant milestone was achieved when Omanyala became the first Kenyan to secure victory in a Diamond League Meeting, triumphing in Monaco. Nevertheless, he encountered challenges at the World Championships, culminating in a seventh-place finish in the men's 100m final.
Omanyala's resilience shone through at the Prefontaine Classic, the Diamond League Meeting final, where he matched Noah Lyles' time of 9.85 seconds, securing an admirable third-place finish. Christian Coleman clinched the victory, with Lyles finishing as the runner-up.
As the Olympic year approaches, Ferdinand Omanyala remains unwavering in his quest for redemption, leaving no stone unturned alongside his new coach, Geoffrey Kimani. This dynamic partnership is set to make a lasting impact in the sprinting world and aims to bring honor to Kenya on the global stage.