By Chris Lotsbom, @ChrisLotsbom
(c) 2017 Race Results Weekly, all rights reserved
EUGENE, Ore., USA (09-Jun) — A quartet of newly crowned NCAA running champions walked away with their first outdoor titles here at Hayward Field today. Stanford's Grant Fisher won a thrilling tactical 5000m, while New Mexico's Josh Kerr completed the indoor/outdoor sweep of the mile and 1500m. Kenyans Emmanuel Korir and Edwin Kibichiy won the 800m and 3000m steeplechase, respectively, in drastically different styles: Korir amid controversy and Kibichiy going away. The Florida Gators were team champions with 61.50 points despite only earning four in the distance disciplines.
STANFORD'S GRANT FISHER SPRINTS TO 5000M WIN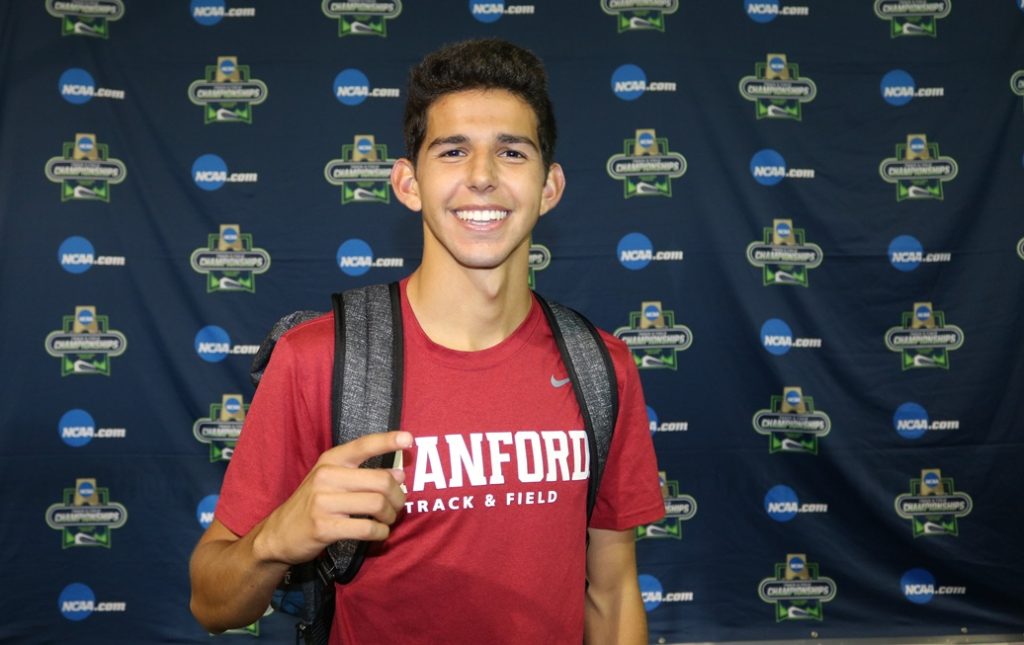 Rain fell faster than the opening laps of the 5000m, as the pack of 24 circled the track in close to 80-second increments. That was fine for Stanford's Fisher, a 3:59.38-miler who came in prepared to win at all cost.
"It's championship racing. Everyone wants to be tactical and kick at the end and conserve energy. That's what it was and it was physical in there. But I've had a lot of physical races this season and it wasn't anything I hadn't prepared for," Fisher said.
Splitting 5:07 for 1600 meters begged the question: how slow could it go? A 75-second lap leading into the second kilometer seemed to shift the gears just a bit, with Middle Tennessee State's Jacob Choge sick of the lackluster tempo. Everyone was still in the race at halfway: Syracuse's Justyn Knight was on the rail poised and contented, Fisher sat four places back, and all the rest surrounded the pair.
Knight had his heels clipped a few times, and the contact served as an impetus: if you want to be safe, it's best to quicken up. Fisher moved up, too, as if tracking Knight's every move. The clock read 10:30 with a mile to go, just as a rainbow formed over Hayward Field's east grandstand, signaling someone would eventually get the gold; it would be Fisher.
The Stanford sophomore would win a dramatic footrace with Knight, joined at the last minute around the final bend by Arkansas's Jack Bruce, an Australian. Going to his arms to get to the line first, Fisher's wheels led him to a 14:35.60 victory, capped by a 55.76-second final lap. Bruce nipped Knight at the line 14:35.88 to 14:36.23, while Tulsa's Marc Scott — the 10,000m champion from two days ago — claimed fourth in 14:36.57.
"It's awesome. Surreal right now. I don't know, ask me in a day or maybe in a week. But it feels pretty nice right now. It's been a really fun season," Fisher said. He was the only Stanford distance runner to qualify for the meet. Fisher couldn't celebrate for too long, though, as he has an exam at 8:00 a.m. tomorrow. "As a sophomore, this is incredible."
Unfortunately, Knight had his heels clipped at the bell and got jostled. Losing a bit of momentum, the affable Canadian would have to settle for a third-place finish. "I just tried to finish strong and the guys got the best of me out there," he said.
LOBO JOSH KERR RETURNS TO VICTORY STAND AFTER MILE/1500M SWEEP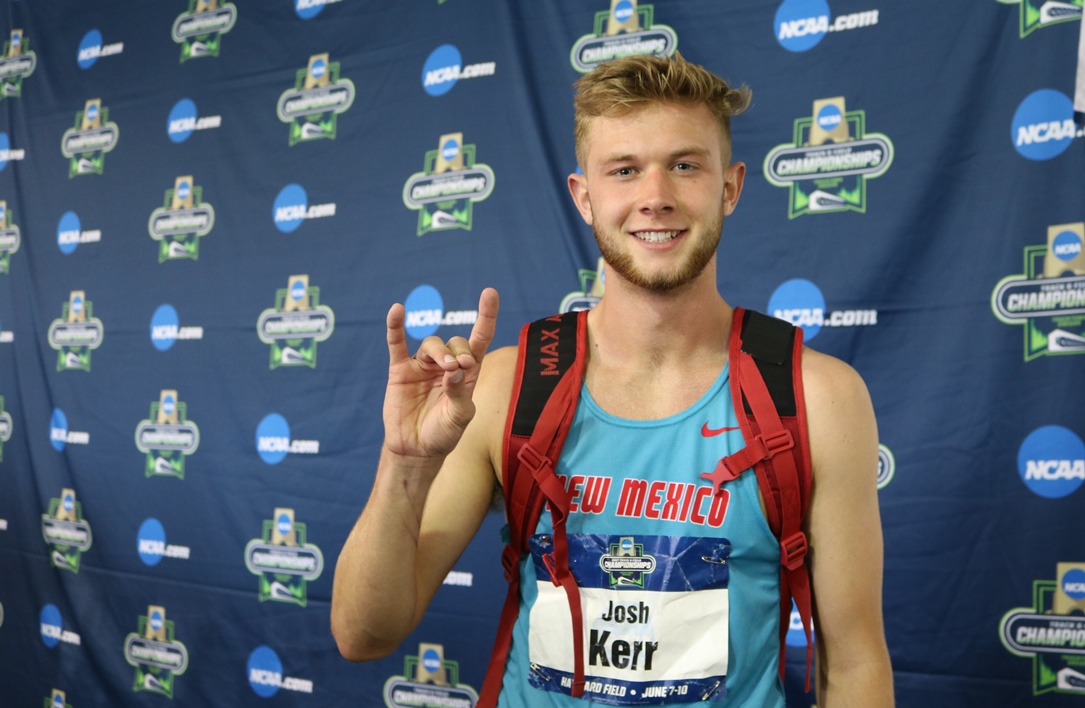 New Mexico's Josh Kerr described the 1500m as a nightmare, having to fend off Ole Miss's Craig Engels and Michigan State's Justine Kiprotich down the stretch. It quickly turned into a dream after he reached the finish in 3:43.03, becoming the first man in nine years to sweep the NCAA Indoor mile and Outdoor 1500m in the same year (the last person to do it was Leo Manzano in 2008).
"It came out brilliant," said Kerr who clocked 54.05-seconds for his final 400m circuit. "I had a bit of pressure on as I was the one to watch, but I was able to compete with these guys and go when I wanted to go. I had enough space to do that and I just didn't look back," he said. "It was a nightmare [down the stretch], cause [I thought] this screen up here was going to show my race, but it wasn't so I had no idea who was behind me."
The entire field bunched through the opening lap in 61.34 and 800m in 2:04.1, with Kerr and Engels sticking towards the front. Taking turns at the pole were Oklahoma State's Josh Thompson and Colorado's Ben Saarel. Saarel helped pick up the pace on the third lap, jolting the pack into action. Choppy strides turned to smooth sprints.
The first contender to be dropped was Oregon's Blake Haney, getting tripped at the bell. Down the backstretch Kerr began to take over and around the Bowerman Curve he had two steps on Engels. The Ole Miss Rebel thought he had enough left in the tank to win with 300 to go, and kept the faith with a half lap remaining. But for as much as he'd gained on Kerr, the Brit wasn't relenting any ground.
Kerr charged down the stretch not knowing how close Engels was. He'd run through the line first, completing the sweep and taking home his second national title in three months. "It was exciting for the crowd but not as much for me," he said, referencing the stress of battling for a title. "No, it was great, the race was awesome and hopefully everyone enjoyed watching."
Kiprotich may have had the best kick of the field, tracking down Engels and nipping him at the line by four one-hundredths of a second 3:43.50 to 3:43.54. From losing his jersey at the regional meet to being second at nationals, Kiprotich was pumped. "I'd say it was a perfect race. I felt relaxed with 400m to go and with 300m to go I made my move. I was feeling great then."
Engels on the other hand was understandably frustrated and disappointed. Third wasn't what he came here for. "I wish I had just taken it with 200 to go, gotten into his head a little bit. But he was strong. I was trying to catch him the last 100 and didn't have it," he said. Engels plans to compete at the USA Championships and feels a top three finish and trip to the World Championships is within reach.
WILD 800M SEES TEAMMATES ACHIEVE GLORY AND SUFFER HEARTBREAK
The 800m was by far the most controversial event of these Championships, as a tangle with 200 meters to go saw two UTEP teammates collide. One went on to cross the line first and win the title; the other fell to the track and jogged home last.
Virginia Tech's Drew Piazza led the field through 400 meters in a conservative 51.68.  All the while UTEP's dynamic duo of Michael Saruni and Emmanuel Korir were lined up behind, sandwiching Florida's Andres Arroyo.
Entering the Bowerman Curve with 200m to go, both Korir and Saruni simultaneously went for the pass of Piazza: Korir to the inside, Saruni to the outside. For a second it looked like they'd both made a sly move to steal first and second, but then Saruni fell flat to the track. The freshman either stepped on the rail or tangled feet with his teammate; depending on whom you asked, you got a different answer.
The outcome was clear with Korir out front crossing first in 1:45.03. Penn State's Isaiah Harris was a shocked second in 1:45.40. Saruni got up and jogged the rest of the way to an ovation, finishing eighth and last in 2:15.56.
"What happened actually is Saruni came up in front of me and I was in the space," a soft-spoken Korir said. "I was behind him so I didn't have the control cause I was in the space."
"It was not my intention. The way you watch it, I wasn't expecting something like that. It was an accident, that's what I can say," he said. When he met the media, Korir had yet to watch a replay or speak to his fallen teammate. To our knowledge, Saruni never met with the media.
UTEP isn't new to altercations in the 800m: Saruni was disqualified from the NCAA Indoor Championships in March after contact in the final.
"There is no difference between this one and the last indoor championship. It was kind of the same thing because all of these guys who are in this race were all together in indoors. I think everybody knew each other so everyone was struggling to be one," Korir said.
Harris, avoiding the mess in front of him, was grateful to finish second. "I was lucky I was back there," he said. Georgetown's Joseph White was third (1:45.73).
WITH REDEMPTION IN MIND, LOUISVILLE'S KIBICHIY RUNS AWAY WITH STEEPLE CROWN
Edwin Kibichiy of Louisville simply squeezed the pace down and ran away with the 3000m steeplechase title, earning his first NCAA gold in 8:28.40. Running at the head of the field from the start, Kibichiy dictated the pace and dared the group to go with him. They did initially, but one by one dropped off.
With his win, Kibichiy became the fourth Kenyan NCAA steeplechase champion in the last five years.
"I just executed what I'd been training at practice and worked for," said Kibichiy. After falling at these championships in both 2014 and 2015, Kibichiy wanted to rebound and claim the title a la Michigan's Mason Ferlic. Ferlic fell in 2015 and came back to win a year ago; Kibichiy mimicked his close friend and struck gold today.
"I fell in my freshman year and I was struggling to make finals. I was always the last guy in… Last year I was there but I didn't put myself in the race for a chance to win. I learned from those mistakes and I was really happy to win in my last race," he said.
The race for second was a three-man battle between Georgetown's Darren Fahy, Oklahoma's Dylan Blankenbaker, and Ole Miss's MJ Erb. Fahy charged fastest and sneaked away with second in 8:31.08; Blankenbaker was third with 8:31.17 and Erb fourth (8:32.38). Fifth went to Scott Carpenter in 8:32.92, Fahy's teammate at Georgetown.
*  *  *  *  *
The 2017 NCAA Division I Track & Field Championships will conclude tomorrow with the women's finals. Among the distance events are the 800m, 1500m, 5000m, and 3000m steeplechase.  The women's team title will also be decided. The women of Georgia currently lead with 24.2 points.