No doubt about who carried off the top honours in the BMW Berlin-Marathon on Sunday since Ethiopians won the men's and women's title. It was, however, a day of disappointment for Kenenisa Bekele by his own superlative standards. Guye Adola won the men's crown, running 2:05:45 to finish ahead of Kenyan Bethwel Yegon, the latter clocking 2:06:14 at the finish line near the Brandenburg Gate. As for Kenenisa Bekele, his hopes of challenging the world record, set on this same course by his Kenyan rival Eliud Kipchoge in 2018 with 2:01:39, faded in increasingly warm and humid conditions. Ethiopia's triple Olympic champion finished third in 2:06:47. The best German finisher was Philipp Pflieger who ran 2:15:01 for 16th place.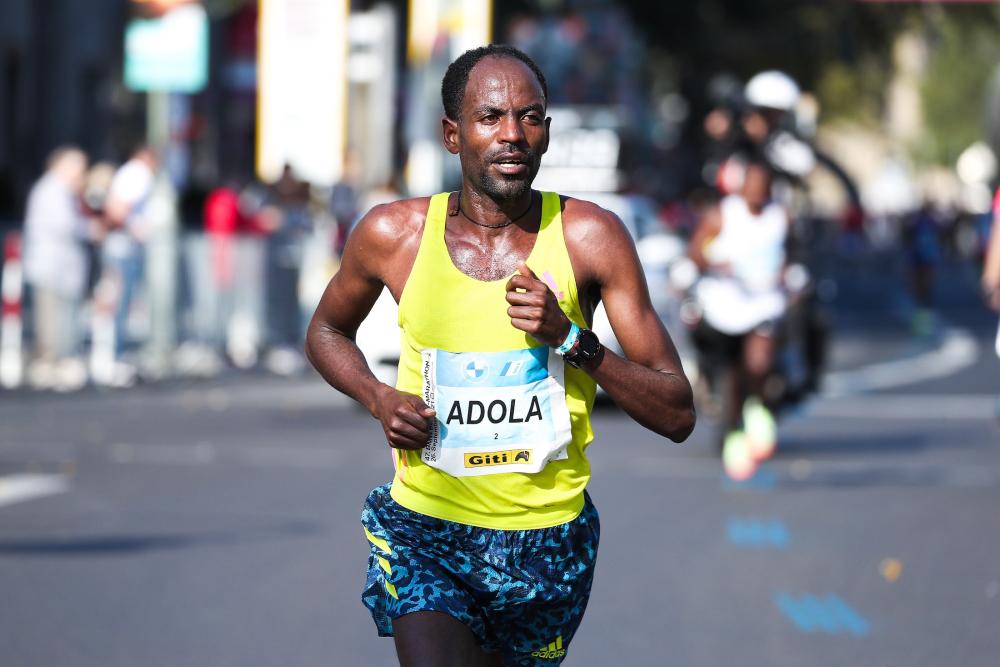 With temperatures above 20 degrees Celsius during the latter stages of the race, any hopes for record times faded. The race was rarely short of incident, however. In the women's field, Gotytom Gebreslase ran a superb debut marathon. The 26 year-old Ethiopian surprised the favourites and ran the third fastest time of the year with 2:20:09. Her compatriot Hiwot Gebrekidan took second in 2:21:23 and Helen Tola completed an Ethiopian podium with 2:23:05. Germany's Rabea Schöneborn finished ninth with 2:28:49.
The 47th edition of the BMW BERLIN-MARATHON, which is part of the Abbott World Marathon Majors Series, took place under strict hygiene regulations. With 24,796 runners from 139 nations the race was the biggest marathon in the world since the start of the Corona pandemic.
"After months of deprivation and social distancing, SCC Events set a decisive milestone with the BMW BERLIN-MARATHON. At the world's largest marathon since the beginning of the Coronavirus pandemic, people are beginning to find a new sense of trust through sport and are beginning to feel safe again. Basic values of openness to the world, tolerance and acceptance, which we championed for many years, can finally be lived again. On the way back to normality, society needs precisely these emotions," said Jürgen Lock, the general manager of organizer SCC Events.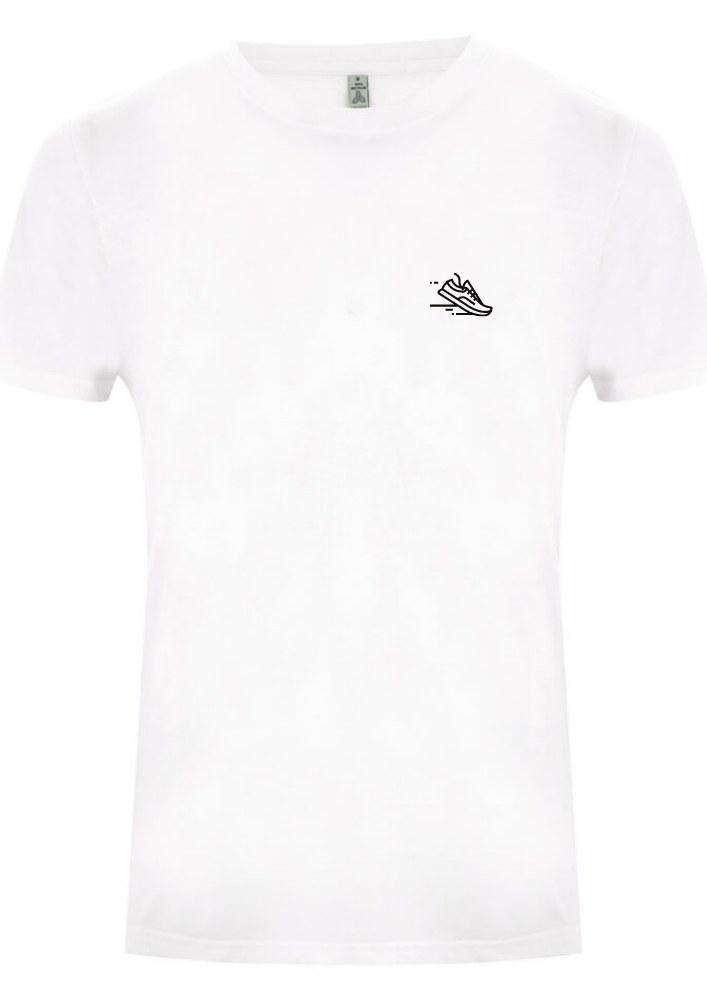 Men's Race
The lead group with pacemakers went through the first half of the race at world record pace. It was no surprise to see Kenenisa Bekele and Guye Adola among them, the latter having finished second in Berlin four years ago and set what was then an unofficial world record for a marathon debut of 2:03:36, but their four companions were less well known: the Kenyan duo of Philemon Kacheran and Abraham Kipyatich and the Ethiopians Tesfaye Lencho and Olika Adugna. The group went through 10km in 28:47, a pace which pointed to a world record time of just under 2:01:30.
Olika Adugna was the first to drop off the fast pace but the big surprise came when Kenenisa Bekele was the next to feel the pressure. The 2019 champion lost contact with the lead group between 17 and 18 kilometres as they went through halfway in world record tempo of 60:48 with Bekele timed at 61:00, still a very fast time. His chance of at least victory appeared to have revived by 27 kilometres since the triple Olympic champion was back in front after the group had slowed dramatically. It was all about competition now rather than the world record since times for some of the individual kilometres were over three minutes.
Guye Adola went clear of Bekele shortly before 35 kilometres and appeared to have victory sealed. But there were still more unexpected events to come as Bethwel Yegon emerged to challenge the leader, having made a remarkable move through the field. They were together till just before 40 kilometres when Adola, runner-up to Eliud Kipchoge when the great Kenyan won here four years ago, found fresh energy and broke free en route to the biggest win of his career to date. "I believed I had a chance of beating Kenenisa going into the race. It was very warm and my feet were burning in my shoes," said Guye Adola. Kenenisa Bekele explained that: "The big problem was lack of training because of the pandemic. I missed out on some training sessions. But my career is definitely not over."
On a tough day for elite and mass runners alike because of rising temperatures and humidity, Philipp Pflieger struggled as well. The German had to dig deep when his original target of 2:12 faded from view after a promising first half of 65:55. "I ran the last 17 kilometres alone and for the last five it was just a case of survival till the finish line," reflected Pflieger.
Women's Race
For long parts of the race the women's leading group was on a pace for a sub 2:19 finish. A group of four reached half way in a promising 69:19. World leader Hiwot Gebrekidan, who ran 2:19:35 in spring, Helen Tola, debutant Gotytom Gebreslase and Kenya's Fancy Chemutai formed the first group behind the pacemakers at this stage.
With around 10k to go it was Gotytom Gebreslase who increased the pace and moved ahead of pre-race favourite Hiwot Gebrekidan. She was still going very fast at 35k with a split time of 1:54:54 which pointed to a 2:18:30 finishing time. However on the final kilometres the warm temperatures took its toll. Gotytom Gebreslase was not able to keep the pace and in the end she missed a sub 2:20 time by just ten seconds. "Although it was my first marathon it was my aim to win the race. Berlin has a great course and I would like to come back for this race," said Gotytom Gebreslase.
Germany's Rabea Schöneborn struggled in the warm conditions as well. After a first half of 73:56 she was not able to produce a negative split and attack her personal best of 2:27:03. "It was tough with the warm temperatures and I am not happy with my time. But it was a great experience," said Rabea Schöneborn, who ran the marathon in her hometown for the first time.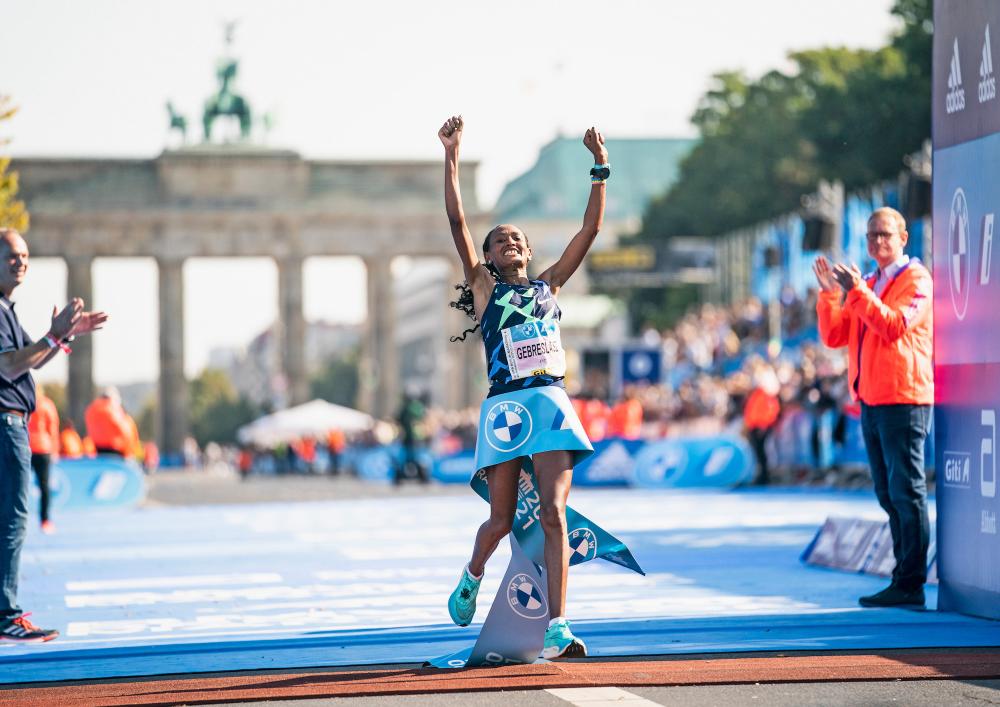 Results, Men:
1. Guye Adola ETH 2:05:45
2. Bethwel Yegon KEN 2:06:14
3. Kenensia Bekele ETH 2:06:47
4. Tadu Abate ETH 2:08:24
5. Cosmas Muteti KEN 2:08:45
6. Philemon Kacheran KEN 2:09:29
7. Okbay Tsegay ERI 2:10:37
8. Benard Kimeli KEN 2:10:50
9. Hidekazu Hijikata JPN 2:11:47
10. Hosea Kipkemboi KEN 2:12:25
Women:
1. Gotytom Gebreslase ETH 2:20:09
2. Hiwot Gebrekidan ETH 2:21:23
3. Helen Tola ETH 2:23:05
4. Edith Chelimo KEN 2:24:33
5. Shure Demise ETH 2:24:43
6. Fancy Chemutai KEN 2:24:58
7. Izabela Paszkiewicz POL 2:27:41
8. Ruth Chebitok KEN 2:28:18
9. Rabea Schöneborn GER 2:28:49
10. Martina Strähl SUI 2:30:37