By Chris Lotsbom, @ChrisLotsbom
(c) 2017 Race Results Weekly, all rights reserved
NEW YORK (17-Mar) — Callum Hawkins is back on American soil ready to become the first Scotsman to win the United Airlines NYC Half here on Sunday. The former Butler Bulldog is running his first major American road race, and wants to make the 13.1-mile trek from Central Park to lower Manhattan count for something special.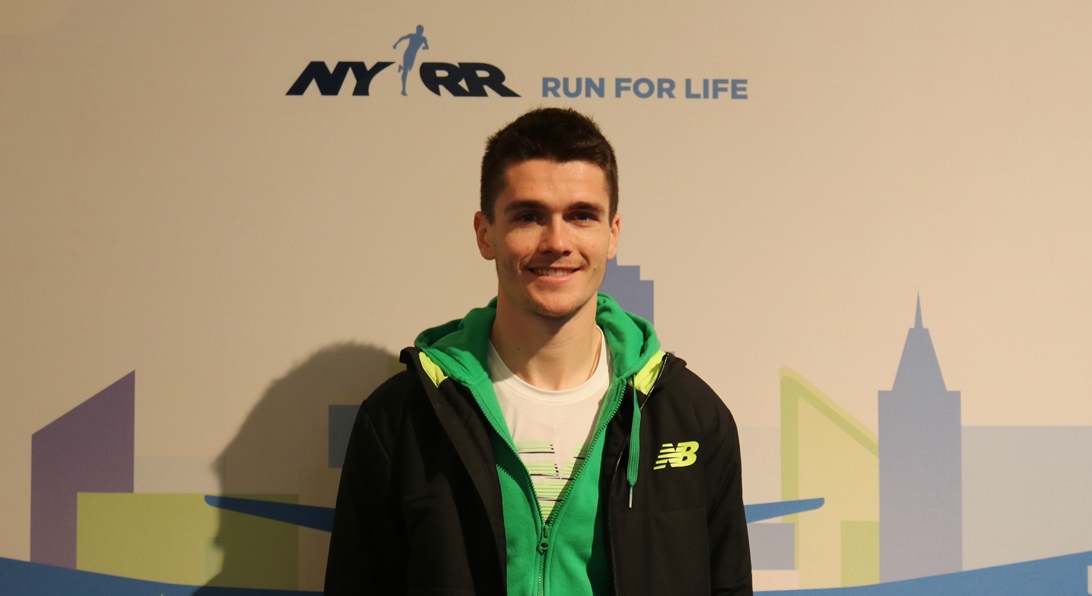 "I'm feeling good, training's been going well. It's a really good race to be part of," Hawkins told Race Results Weekly, decked out in green in honor of St. Patrick's Day. "I've always watched it as a fan and now to be part of it is going to be pretty special. Hopefully there'll be some good racing on Sunday."
Coming off a lifetime best 60:00 performance to win the Kagawa Marugame Half-Marathon in Japan last month, Hawkins wants to make Sunday's race memorable. Facing the likes of defending champion Stephen Sambu and Olympic marathon silver medalist Feyisa Lilesa, Hawkins knows this will be his biggest test of the year thus far.
Since finishing ninth in the Rio de Janeiro Olympic Marathon last year, Hawkins found his groove over the half-marathon distance. Running 1:00:24 to win the Great Scottish Run in October (found to be 150m short of the official half-marathon distance), Hawkins took a big step forward. Then came a memorable battle with American Leonard Korir at the Great Edinburgh Cross Country Meet (finishing second in a rousing final sprint), and the aforementioned 60:00 in Japan. With each race, Hawkins gained momentum.
"It was a good race to be part of and sort of a stepping stone going to Japan and running 60-flat," he said, referencing the thrilling finish at Great Edinburgh where Korir nipped him steps from the line. Hawkins's improvement boils down to one thing, he says: mileage.
"It's just consistent mileage the last three or four years, having consistent training, very little injury and moving up to the marathon and that bit of mileage," he said. "That big step seems to have sparked and made me bloom. It's consistent training, really, nothing special. It's the culmination of 100-plus miles a week. That's all."
As a result of the mileage, Hawkins finds himself in the midst of a British resurgence in distance running. In addition to quadruple Olympic gold medalist Mo Farah, women's miler Laura Muir is coming off a double-European Indoor Championships title performance and a 2016 Diamond League title, and Andy Butchart had an indoor season to remember running 3:54.23 for the mile and 8:12.63 for the two mile.  Eilish McColgan, also scored a bronze medal at the European Indoor Championships in the 3000m behind Muir.
"It's a bit of culture and a bit of a snowball effect when you see someone's doing well and you see they can do it so I can do it. It snowballs from there," he said, specifically pointing out Muir and Butchart's success. "It's the classic 'back in the old days.' We're trying to get back there [when Great Britain was a power in athletics]. It's good, trying to put things to bed and say we are still here, we are still good."
The half-marathon, opposed to other distances, has become Hawkins's sweet spot.
"I'm not sure, it just seems to work. It's that right mix of a bit of speed, pretty far but not quite a marathon. On Sunday I'm hoping to just go ahead and compete and try and go for the win. I'm not really looking for time," he said. The last –and only– British man to win the NYC Half was Farah in 2011 (running 1:00:24 on a different course than what will be covered this weekend).
Though snow is in the forecast for Saturday, at the moment it looks like race day will bring clear skies accompanied by chilly temperatures. That's welcome news for Hawkins, who'd like to run as close to 60 minutes as possible.
"It will [play a factor] a little bit but it's something you just have to wait on the day and see what happens," he said. "I looked at the course a little bit and assessed what's going to be affected by the weather. But you just have to go out and race. That's the main thing.
"My main aim is to go in and race. That's how I usually do it, and if you go in and race it'll take care of itself."