The world of half marathon racing witnessed an emphatic display of Kenyan excellence at the World Athletics Road Running Championships in Riga on Sunday. Kenya left an indelible mark by securing the top three spots in the men's race, a feat reminiscent of their stellar performance in the women's category.
Leading the Kenyan contingent was Sabastian Kimaru Sawe, a 28-year-old athlete who clinched the gold medal with an impressive finish time of 59 minutes and 10 seconds. Following closely behind were his compatriots, Daniel Simiu Ebenyo, who captured the silver with a time of 59 minutes and 14 seconds, and Samwel Nyamai Mailu, securing the bronze in 59 minutes and 19 seconds. Ethiopia's Jemal Yimer Mekonnen, who had launched a valiant attempt to claim the top spot, narrowly missed the podium, finishing in fourth place with a time of 59 minutes and 22 seconds. France's Jimmy Gressier completed the top five with a time of 59 minutes and 46 seconds.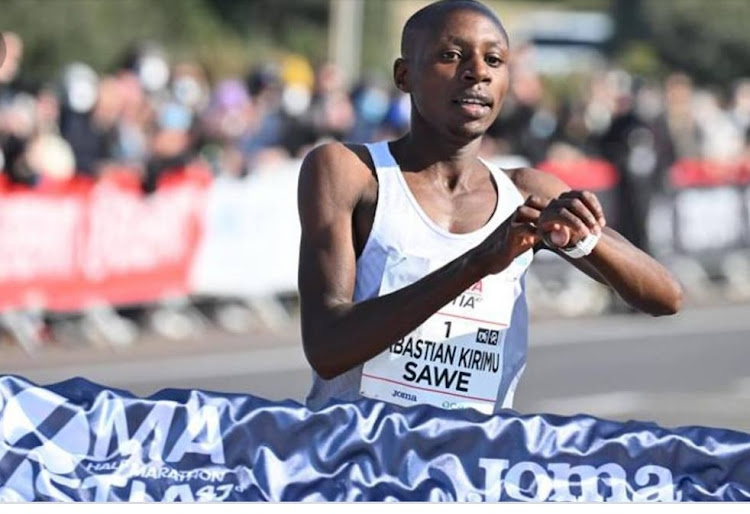 This remarkable achievement by Kenya marked only the second instance in 25 editions of the championship where a single nation dominated the men's world half marathon podium. The previous occurrence dates back to 1997 when Kenyan athletes Moses Tanui, Paul Yego, and Charles Tangus secured the top three positions. Kenya's triumph also secured them the team title for the 17th time, with their top three runners amassing a total time of 2 hours, 57 minutes, and 43 seconds, well ahead of Ethiopia's cumulative time of 2 hours, 59 minutes, and 54 seconds. South Africa, led by Thabang Mosiako in sixth place, claimed the bronze with a combined time of 3 hours, 1 minute, and 17 seconds.
View this post on Instagram
 The race, featuring 97 participants on a pleasant and sunny day in the capital of Latvia, exhibited a remarkable depth of talent. At the outset, no individual emerged as the clear favorite, possibly owing to the open nature of the race or the breezy conditions experienced along the course. The initial 5 kilometers witnessed a cautious pace set by Kenya's Benard Kibet, resulting in a controlled split of 14 minutes and 31 seconds. Sawe humorously characterized this early phase as "steady."
The intensity of the race picked up during the second 5 kilometers, completed in 14 minutes and 4 seconds, with Sawe leading a pack of 15 athletes and reaching the 10-kilometer mark in 28 minutes and 35 seconds. The situation remained unchanged after a 14-minute and 2-second split, bringing them to the 15-kilometer mark in 42 minutes and 37 seconds, leaving a leading group of 13 runners, with all the key contenders in contention.
Ebenyo decided to make his move shortly after passing the 16-kilometer mark, surging ahead with only Yimer Mekonnen managing to stay with him. However, Ebenyo's lead was short-lived as he increased the pace through Riga's historic town, extending his advantage to 50 meters at one point and covering the next 5 kilometers in a blistering 13 minutes and 33 seconds.
Approaching the 20-kilometer mark in 56 minutes and 10 seconds, Ebenyo held a four-second lead. However, his effort began to take its toll, as did Yimer Mekonnen's, who ultimately finished in fourth place.
As they reached the final turn into the home straight, Sawe closed the gap on his teammate, eventually overtaking him. Ebenyo, with a smile, appeared to signal to Sawe to ease down, possibly aiming for a shared victory. However, Sawe was firmly focused on securing the gold, offering a quick salute to Ebenyo before making his decisive sprint.
Sawe, confident in his ability to bridge the gap, remarked, "I always have confidence in the last kilometer. After catching up to him, I noticed he wasn't pushing much, and I had sufficient strength. After that, I didn't let up."
Ebenyo expressed satisfaction with his silver medal, stating, "We motivated each other to achieve a commendable result." Despite facing challenges in the closing kilometers, Ebenyo reflected, "Around the 18-kilometer mark, I simply thought, 'let me get to the finish.' I'm content with the silver. My career is making steady progress."
Kenya's dominant performance in the men's half marathon underscores their status as a formidable force in the world of long-distance running, leaving an enduring legacy at the World Athletics Road Running Championships in Riga.