By Cathal Dennehy
(c) 2017 Race Results Weekly, all rights reserved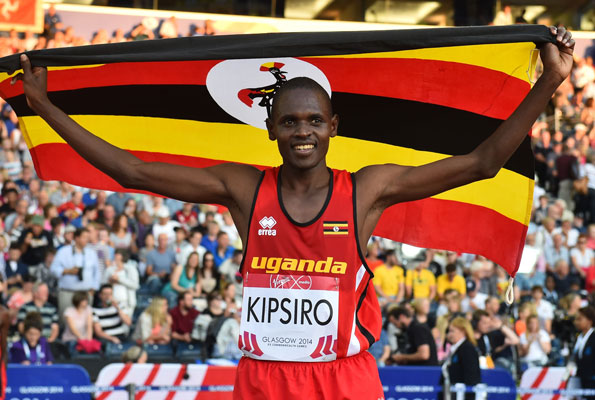 Former IAAF World Championships 5000m bronze medalist Moses Kipsiro will be the star attraction at the OCP Group Safi Half-Marathon on Sunday, January 7, organizers announced.  The 31-year-old Ugandan is hoping to kick-start his new year in style in the city of over 300,000 which sits on Morocco's Atlantic coast.
Kipsiro, the 2010 and 2014 Commonwealth Games 10,000m champion, finished third in the 5000m at the 2007 World Championships in Osaka, Japan, and in the years since he has slowly transitioned to the roads.  The two-time IAAF World Cross Country championships medalist has yet to prove as effective on the harder surface. He finished fourth in the Ottawa Marathon in 2:10:49 last May, while his half-marathon best of 1:00:41 –run in New Delhi, India– dates back to 2015.
Kipsiro will need to reproduce something close to that to take victory in Safi, given the presence of Ugandan compatriot Ben Somikwo, who is 10 years younger than Kipsiro but almost as fast –his half marathon best of 1:01:12 run in Reims, France, in 2015.
A more formidable challenge may come from the Ethiopian quartet of Terefa Debela, Gizachew Hailu, Birhan Nebebew and Getaneh Molla.
The fastest of those is Debela, who came close to cracking the 60-minute barrier when the 19-year-old ran 1:00:22 to finish second at the Istanbul Half-Marathon in April. Nebebew, however, arrives as the in-form athlete, the Ethiopian 23-year-old, fresh off a 1:01:14 personal best to finish second at the Boulogne-Billancourt Half-Marathon in France in November. Earlier in the year he was a winner at the Rock 'n' Roll Half-Marathon in Lisbon in 1:02:02.
Molla is another worthy of respect, having clocked a PB of 1:00:34 to finish fifth at the Semi-Marathon de Lille in September. More recently he showed his versatility over natural terrain by taking victory over a formidable field at the Cross de Atapuerca in Spain in November, reigning world 5000m champion Muktar Edris among those left trailing in his wake.
As for Hailu, his personal best may be a relatively pedestrian 1:05:47 –run in his only half-marathon to date in Paris last May– but the 19-year-old finished fifth over 10,000m at the IAAF World U20 Championships in Bydgoszcz, Poland, last year so may prove the surprise package.
The Kenyan challenge is led by Josphat Kipchirchir, a 27:48 performer for 10-kilometers on the road, who will make his half-marathon debut in Safi. He will be joined by compatriot Micah Cheserek, who is better known as a 3000m steeplechaser but who finished fourth in the Eldoret Half Marathon in October, clocking 1:05:10 in the high altitude.
The women's race could boil down to an Ethiopian duel between Zerfie Limeneh and Zinash Debebe. Limeneh is marginally the faster, having run her PB of 1:11:02 to finish sixth at the Shanghai Half-Marathon last April. Later in the year she finished fifth at the Semi-Marathon de Lille in 1:11:24, a repeat of which may be enough for the 20-year-old take victory in Safi.
Debebe finished just two seconds behind Limeneh in sixth place in Lille, a race she used as a stepping stone to a third-place finish at the Beirut Marathon two months later in 2:30:38.
The strongest challenge to them should come from former Ethiopian Dalilah Abdelkadir Gosa, now running for Bahrain, who won the silver medal over 3000m at the 2016 IAAF World U20 Championships. The 19-year-old took victory at Le Lion 2017, the famed half-marathon from Belfort to Montbéliard in France last September, clocking 1:12:29.
Others of note include Haven Hailu, who is making her half-marathon debut. The Ethiopian finished near the front when coming home third in the Dubai International 10 km road race in June in 35:47, and she will be joined in Safi by Gete Alemayehu, who is also making her half-marathon debut.
The Kenyan charge is led by Celestine Chepchirchir, the 27-year-old coming off a 2:31:41 clocking at the Nairobi Marathon in November, which was enough to take victory by a whopping four minutes.