Armstrong Breaks NSW Open Record
In what has been a fantastic week for breaking records, Angus Armstrong broke the NSW Open and U/20 record in the men's pole vault. Competing at the Treloar Shield meeting in Sydney on Saturday, Armstrong cleared 5.43m to not only break the record but also rank as the Australian leading performer of 2015.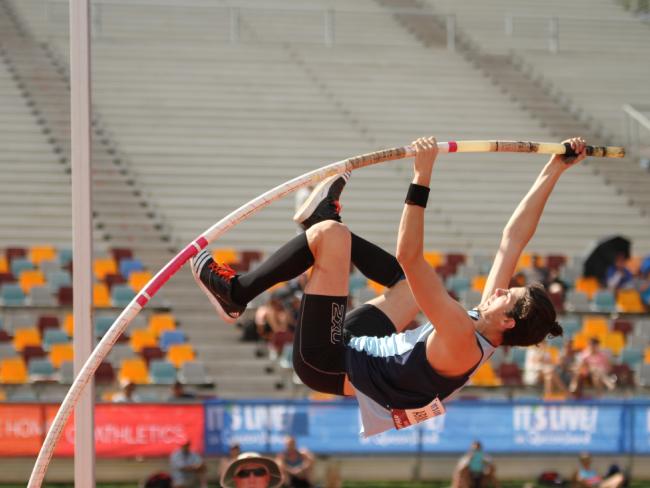 In April this year Armstrong defeated another teenager, South Australian Kurtis Marshall, to take the Australian Open title – the youngest ever to do so at only 18 years and 10 days. The interesting point is that Marshall had cleared 5.42m in January this year, an Australian leading performance prior to Armstrong's performance on Saturday.
These two teenagers are the future of pole vaulting in Australia, and join another talented junior in Declan Carruthers (5.10m) as qualified athletes for the World Juniors next July. On the 2015 World Junior rankings Armstrong is now ranked 7th, while Marshall is placed 8th, with both athletes likely to be highly placed at next years major championship.
It will also be of great interest to see if either Armstrong or Marshall can move closer to the current Australian junior record of 5.60m – set by Paul Burgess back in 1998. The most recent athlete to close in on the mark was Blake Lucas, who cleared 5.55m in 2009.
Watch the record breaking performance here: Armstrong Video
Hale Sets Yet Another 100m Record in Perth
There are no limits to what Jack Hale can achieve as a junior, with the 17 year-old again showing Australia and the world his enormous talent with a scintillating 10.38s (+1.8) run in Perth on Friday night – which bettered his own Australian U/18 record. His time was four hundredths of a second quicker than the previous record of 10.42s he set at the Tasmanian All-Schools carnival in October.
After being slightly disappointed with his time at the Australian All-Schools Championship last weekend, Hale's last minute decision to run in the interclub meeting in Perth certainly paid dividends. The performance was his second World Junior qualifier, and has placed him just outside the top-30 on the world junior ranking list for 2015. It is also just shy of the top junior performance by an Australian in 2015 – which was set by Trae Williams (10.32s), when 4th at the Australian Open Championships in March.
Weatherly Rounds Off a Week of Records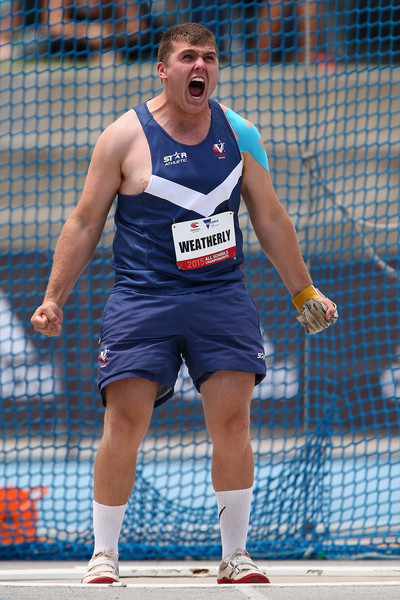 On Thursday night in Frankston, Victoria's Ned Weatherly moved past another junior super star thrower in Matthew Denny to secure an Australian U/18 hammer throw record with the 5kg implement. His throw of 82.08m was 64cm's further than what Denny had thrown back in 2013, and came less than a week after he threw over 80m for the very first time (80.32m) when winning gold at the Australian All-Schools Championships.
Weatherly will now move up to the 6kg hammer in 2016, and look to qualify for the World Juniors with a mark in excess of 68.93m – which has already been achieved by 18 year-old Nathan Wilkins of Queensland (69.08m).
Australian Records Broken in 2015
There have been 13 Australian records broken in 2015 (as at December 13), lead by throws champion, Matthew Denny.
Denny has lead the charge with some amazing performances, largely overseas, which have culminated in four Australian junior records being set across the year.
Denny's Australian U/20 record performances for 2015:
Men's Discus (2kg) : 62.58m
Men's Discus (1.75kg) : 66.81m
Men's Hammer (7.26kg) : 70.52m
Men's Hammer (6kg) : 80.48m
Not to be outdone has been long jumper Darcy Roper. The 17 year-old jumps sensation came away with a silver medal at the World Youth Championships in Colombia – and with it came a new Australian Youth record of 8.01m. The performance was also very close to the Australian Junior record – set by Chris Noffke at 8.12m back in 2007.
On the women's side we had a magical pole vault performance in Perth from outstanding junior Nina Kennedy. The stadium was stunned as Kennedy kept on raising the bar, until she finally cleared a new Australian Junior record of 4.59m (bettering the old record of 4.40m).
The performance also paved the way for Kennedy to make her Australian senior début at a major championships, making the Australian team for the World Championships in Beijing.
Also producing record breaking performances in 2015 have been:
Eleanor Patterson – who equalled her own Australian junior record in the high jump with a performance of 1.96m
Alex Hulley – who broke the Australian Junior record in the women's hammer throw (63.65m)
Ellie Bowyer – who broke the Australian youth record in the women's javelin (500g) with a throw of 49.68m at the Australian All-Schools
Connor Warren – who broke the Australian youth record in the men's javelin (700g) with a throw of 77.18m at the Australian All-Schools
Ned Weatherly – who just recently broke the Australian youth record in the men's hammer throw (5kg) with a throw of 82.08m and
Jack Hale – who broke his own Australian youth record twice in 2015, including a recent 10.38s (+1.8) in Perth.
The Australian best performance that was missed by many was the effort of Genevieve LaCaze. On the 6th September this year in Berlin LaCaze broke the Australian best time for the women's 2000m steeplechase which a 6.16.86. The effort is actually the 28th fastest time in history for the event, and moves past the Australian best time of 6:25.77 set by Melissa Rollison back in 2000.
Note: All of these performances are still to be ratified by Athletics Australia.