In a highly anticipated event scheduled for the 23rd in Riga, the World Athletics Road Running Championships will witness a captivating clash of titans in the men's 5km race. Three of the most celebrated male long-distance runners are gearing up for a thrilling showdown.
Berihu Aregawi – The Record Breaker
Leading the pack is Berihu Aregawi, a name synonymous with record-breaking performances. Aregawi made history with his sensational 12:49 run at the Cursa dels Nassos in Barcelona in 2021, establishing a world record in road racing. His phenomenal speed doesn't end there; he also boasts the fastest track personal best (PB) among the contenders, clocking an astonishing 12:40.45 in Lausanne in June. This remarkable feat secured him the fifth spot on the all-time world 5000m list.
Yomif Kejelcha – The Challenger
But the race isn't just about fast times; it's about intense rivalries and redemption. Yomif Kejelcha, the reigning world leader, came agonizingly close to Aregawi's world 5km record with a stellar 12:50 performance in Lille earlier this year. Kejelcha's 12:41.73 time in Oslo positions him right below Aregawi on the all-time world 5000m list. Their head-to-head battle has been an epic one, with Kejelcha holding a slight 6-5 advantage, covering distances from 3000m to 10,000m.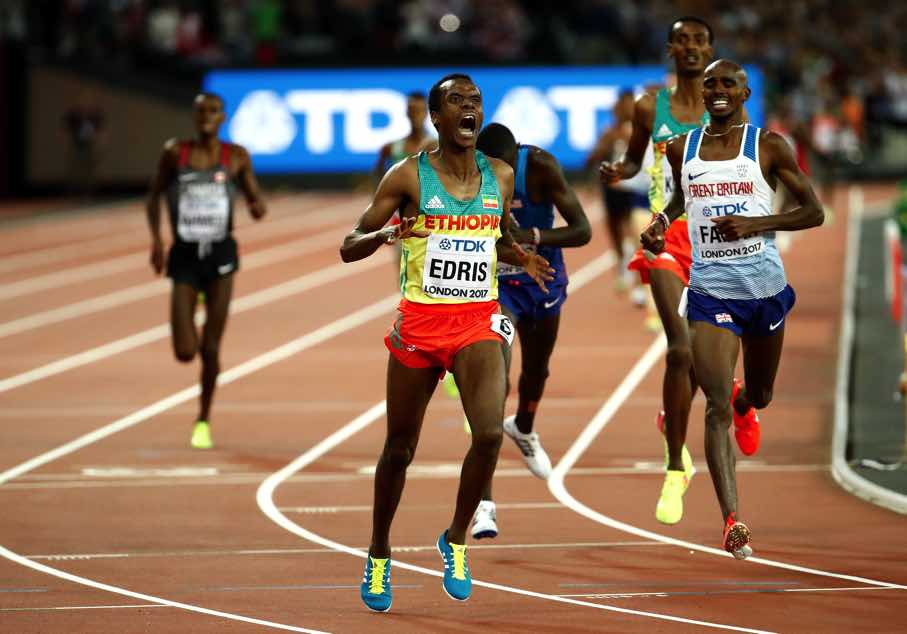 Aregawi's illustrious career includes world cross country silver, along with fourth-place finishes in the world and Olympic 10,000m finals. On the other hand, Kejelcha boasts two world indoor 3000m gold medals, the world indoor mile record, and a 10,000m silver at the 2019 World Championships in Doha. This rivalry has spectators on the edge of their seats, with redemption at stake for both.
Nicholas Kipkorir – The Dark Horse
Adding to the spectacle is Kenya's Nicholas Kipkorir, the fourth-fastest 5km runner of all time. Kipkorir clocked an impressive 12:55 last year, finishing second in a race won by Kejelcha in 12:53. Now, the stage is set for another thrilling battle among these top-tier athletes.
Women's 5km Race – Stellar Lineup Vies for Supremacy
In the women's 5km race at the World Athletics Road Running Championships in Riga, the competition promises to be equally enthralling. The event features a stellar lineup of Olympic and world medallists, all determined to seize victory in the Latvian capital.
Beatrice Chebet – The Rising Star
Leading the charge is Kenya's Beatrice Chebet, already a global gold medalist in 2023. Chebet's remarkable journey includes clinching the world cross country championship in Bathurst earlier this year. Her track record is equally impressive, as she recently secured second place in a race where only a world record could outpace her. Gudaf Tsegay set a blistering time of 14:00.21 in the Wanda Diamond League final in Eugene, narrowly surpassing the 5000m record set by Faith Kipyegon in Paris in June. Chebet herself came tantalizingly close to breaking that record, clocking 14:05.92, the third-fastest performance of all time over 5000m.
Ejgayehu Taye – The Record Setter
However, Chebet faces fierce competition from Ethiopia's Ejgayehu Taye, a world record-setter in mixed-gender 5km races. Taye achieved an astounding 14:19 in Barcelona at the close of 2021, dramatically lowering the 5km world record by 24 seconds. Taye has since added to her impressive list of accolades, securing world indoor and outdoor medals, including a world indoor 3000m bronze in Belgrade and a world 10,000m medal in Budapest. Her 5000m PB of 14:12.98 ranks her as the second-fastest athlete in the field when it comes to track times over this distance.
Taye is part of the formidable Ethiopian squad alongside Medina Eisa and Lemlem Hailu. Eisa, a world U20 cross country silver medalist, recorded a time of 14:16.54 in London in July and possesses a 5km PB of 14:46 from April. Hailu, a world indoor 3000m champion, notched a 14:34.53 for the 5000m in Paris in June and is set to make her 5km debut in Riga.
View this post on Instagram
The race also boasts intriguing entrants from diverse disciplines. Uganda's Peruth Chemutai, renowned for her steeplechase success and an Olympic title in Tokyo, is ready to return to road racing after defeating Chebet in a cross-country race in Hannut last year. Japan's Nozomi Tanaka, a world and Olympic finalist, is entered for both the 5km and the mile events, beginning her campaign in Riga with the 5km. Italy's Nadia Battocletti, a consistent performer in the 5000m, will also be in action, alongside USA's Emily Infeld and Burundi's Francine Niyomukunzi.
As the stage is set for the World Athletics Road Running Championships in Riga, the world awaits with bated breath, anticipating a spectacular display of speed, endurance, and unwavering determination on the picturesque Latvian streets.