By David Monti, @d9monti
(c) 2017 Race Results Weekly, all rights reserved
BOSTON (15-Apr) — Boston Marathon weekend started off with a bang here as Maine native Ben True broke his own American record in the 9th annual B.A.A. 5-K in Back Bay.  True, 31, of West Lebanon, N.H., prevailed in a two-man sprint against his key rival Stephen Sambu of Kenya, breaking the tape on Charles Street between the Boston Public Garden and Boston Common in 13:20, two seconds better than his previous record set here in 2015.  It was also an event record and True's fourth victory here.
"It's great," said True speaking with reporters after the race on a brilliant New England spring day.  "Today was beautiful weather, no real wind at all, crowds were great, cheering my name the whole way.  It's awesome."
A terrific elite field put together by the Boston Athletic Association's Mike Pieroni contributed to True's success today.  Dejen Gebremeskel, the 2012 Olympic 5000m silver medalist from Ethiopia, was the key player in the opening kilometers, taking a lead pack of six through the first mile in a snappy 4:19.  True stayed tucked in the pack behind Gebremeskel and was joined by Kenyans Sambu, James Kibet, and Philip Langat, plus Scotland's Chris O'Hare.  True, a powerful closer, was happy to let the Ethiopian do the work.
"Dejen Gebremeskel took it out pretty quick for the first mile," True explained.  He added: "I think people know my racing strategy pretty well by now."
O'Hare was the first to fall off the lead pack about three minutes later, then Kibet took to the front.  Again, True tucked in and bided his time as the second mile went down in 4:23.
"I usually like to sit and hide for most of the race," True quipped.
On the long straightaway on Boylston Street in the fourth kilometer, the leaders passed through the marathon finish line.  True gathered himself and with about 600 meters left, he stepped on the gas.  Only Sambu was strong enough to respond and challenge the two-time Manchester Road Race champion.
"This year I tried to change things up a bit and put my nose in it up in the front a little bit more," True said about the final 200 meters of the race.
As he and Sambu made the left-hand turn on to Charles street for the final sprint to the line, True realized that his record was within reach.  He gritted his teeth, pumped his arms, and bolted for the bright blue finish tape which awaited him.
"It was in the back of my mind, definitely," True said of possibly breaking his record here today.  He continued: "It wasn't something that I was actually aiming for at the start of the race.  I definitely knew when I was coming down the homestretch and I saw the clock at 13:10, I definitely dug a little bit deeper to try to make sure I got another record and it worked out well."
Sambu, who was also second to True here in 2015, finished two seconds adrift in 13:22, just one second off of his personal best.  Kibet efforts in the middle of the race were rewarded with a third place finish in 13:28, followed by Langat in 13:30and Gebremeskel in 13:35.  O'Hare, a miler, finished eighth in 13:46.
In the women's contest, three-time winner Molly Huddle of Providence, R.I., was hoping for the "four-peat" as she described it at yesterday's press conference.  She nearly got the win again, but was edged out by Ethiopia's Buze Diriba in the final sprint, 14:54 to 14:56.  Both women were in contention for the win in the homestretch, but running through some of the slower men in the final meters made timing their final kicks to the line more challenging.
"Buze and I were shoulder-to-shoulder coming around the turn, 200 (meters) to go, but there were a few men in our way," Huddle explained.  "So, I was trying to follow her.  My legs are really tired so I thought, stay behind her.  Don't make a move yet, and we kind of got scattered by a couple of the guys."
In the final 50 meters, Diriba was in the center of the roadway, while Huddle was on the right.  When the blue finish tape was stretched across the road, Diriba clearly had the better line, running straight ahead for the win.  Huddle had to angle over to finish behind her.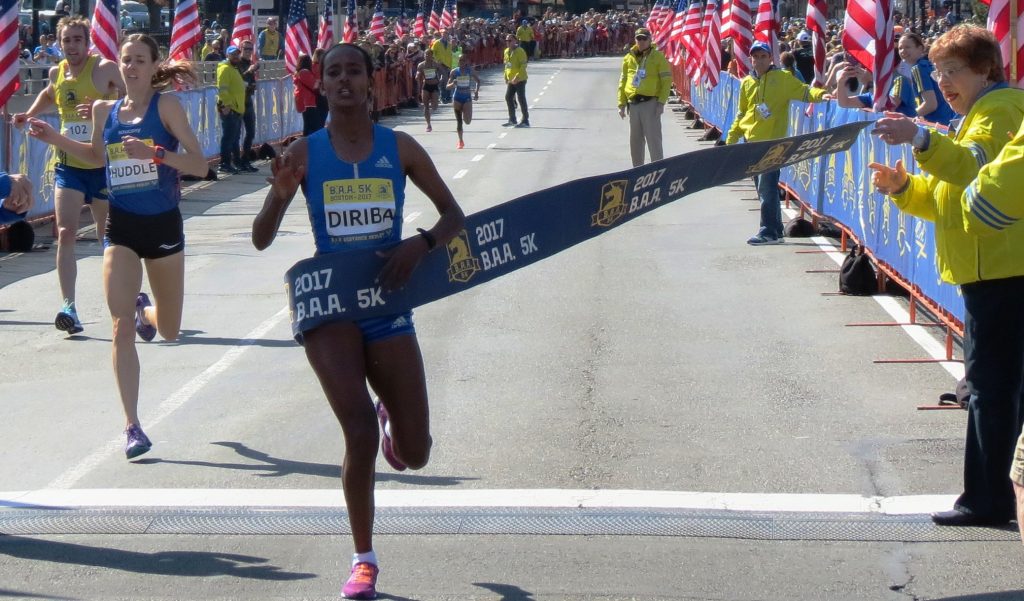 "I maybe in hindsight should have just tried to go for it (from 200 meters out) right on that inside line to see if that was any better," Huddle explained.  "She had more left in her legs; I was just dying."
Kalkidan Gezahegne, also of Ethiopia, finished third in 15:04, followed by USA Olympian Marielle Hall in 15:08.  Britain's Lauren Howarth was a distant fifth in 15:39.
Both True and Diriba earned $7500 in prize money out of a $40,000 purse.