By David Monti, @d9monti
(c) 2017 Race Results Weekly, all rights reserved
BOSTON (15-Apr) — The elite women's race at the B.A.A. Invitational Mile here this afternoon only had one leader, Canadian Olympian Nicole Sifuentes.  Strutting to the front right from the gun, the 2014 IAAF World Indoor Championships 1500m bronze medalist put the the hammer down and never looked back.  She overwhelmed the field in a meeting record 4:33.7.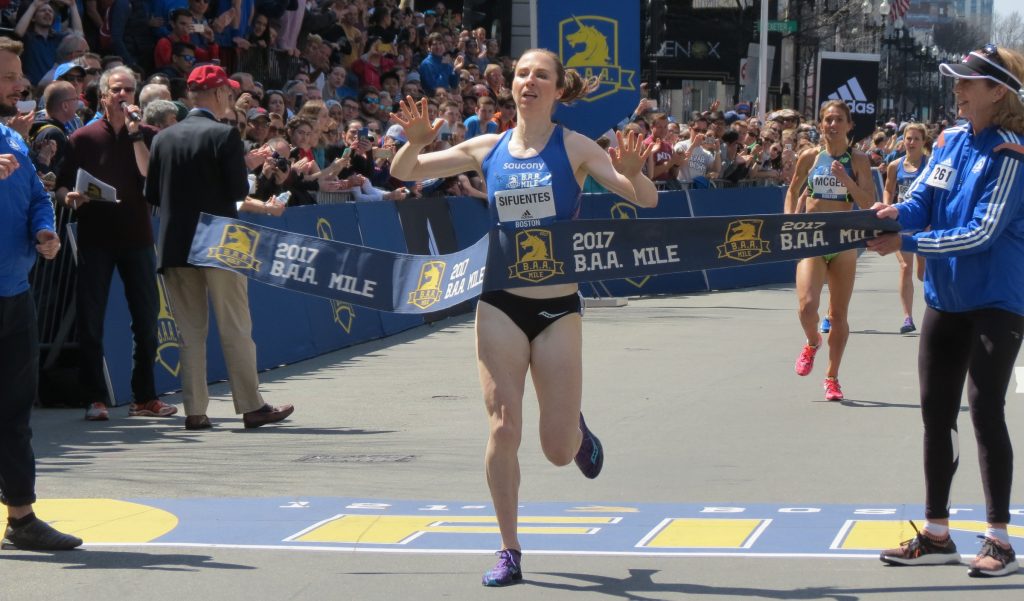 Sifuentes, 30, who lives and trains in Ann Arbor, Mich., under her University of Michigan coach Mike McGuire, said she wanted today's race to be a very hard effort, more than a rust-buster.  After finishing, she wobbled to the media area, clearly in pain and a little dizzy.
"I feel terrible!" Sifuentes told the media after sipping some water.  "I just ran as hard as I could from start to finish.  So, I feel that.  But that's really what I was really looking for, this first race to open up the outdoor season."
In the early part of the three-lap race through the streets of Back Bay, Sifuentes had company from her training partner, Shannon Osika.  The two were together after the first lap, trailed closely by Cory McGee of the Boston-based Team New Balance.  After the second circuit, Sifuentes, Osika and McGee were clear of the other four athletes and it was a three-woman contest.  For Sifuentes, the race was going according to plan.
"There's one thing that I can control, is getting that effort," Sifuentes explained.  "If someone's better than me on the day, then so be it.  But if I run as hard as I can start to finish, I will get the effort that I need out of this race.  Happily, it also meant that I won, so I'm happy."
In the final lap, Osika drifted back (she would finish fourth), while Sifuentes widened her advantage.  She made the final left turn on to Boylston Street before the finish with a clear lead.  McGee held on for second in 4:35.8, just slightly outside Dawit Seyaum's previous course record of 4:35.4 from 2015, and B.A.A. High Performance team member Emily Lipari moved up from the chase group to finish third in 4:36.9.
In the men's invitational race, two-time Olympic medalist Nick Willis of New Zealand –the event record-holder– ran a savvy race, staying with the pack before launching to the front on the final circuit.  He held off both Cristian Soratos and Will Leer in the final meters before the line to get his third win here in 4:13.2, well off of his event record of 4:03.3 set in 2013.
Willis spent the winter in New Zealand visiting his family.  Although he trained, he didn't do the kind of hard, speed-focused training he would normally do during the North American indoor track season.  He admitted that he was rusty today, but felt good about his race.
"It was a really great way to start the 2017 campaign," Willis told reporters.  "It's been eight months now since I've raced so I was very nervous, actually, just going through the warm-up protocol and all of that."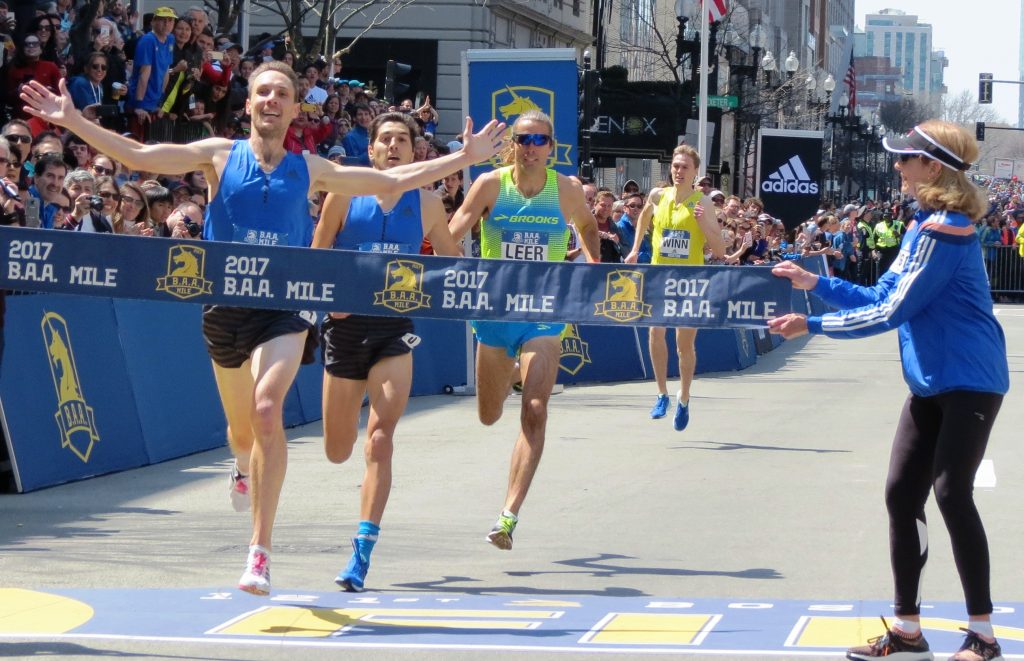 Soratos, who ran a personal best 3:54.23 mile during the indoor season, finished second in 4:13.5, and Leer was third in 4:13.7.  Willis and Leer train together in Ann Arbor, Mich., under former University of Michigan coach Ron Warhurst, and they shared a meal last night at a Thai restaurant.
Both Sifuentes and Willis earned $3000 in prize money.
There was another record in the high school invitational miles.  Grace Connolly of Natick won the girls' race in 5:04.8, handily breaking Melanie Fineman's 2010 record of 5:10.5.  She got a good challenge from Clare Martin of Newton over the first two laps, but Connolly was simply too strong in the final 400 meters.  Martin finished second in 5:07.1, also under the meet record.
Running on feel, Connolly had no idea that she had broken the record.
"I don't even know what time I got, really," said Connolly, looking genuinely surprised.  "I'm really happy… I was just going for place, and kind of see where I'm at right now."
The boys' invitational mile came down to the final 800 meters between Benjamin Matejka of Wellesley and Andrew Mah of Newton.  The taller Matejka followed Mah through the first two laps, before pulling way for the win in 4:28.0, just outside of the event record of 4:27.2.
"My legs were pretty tired by that point," Matejka said of the final 200 meters.  "I had a little left in the tank. I just tried to execute my race plan and it turned out pretty well."