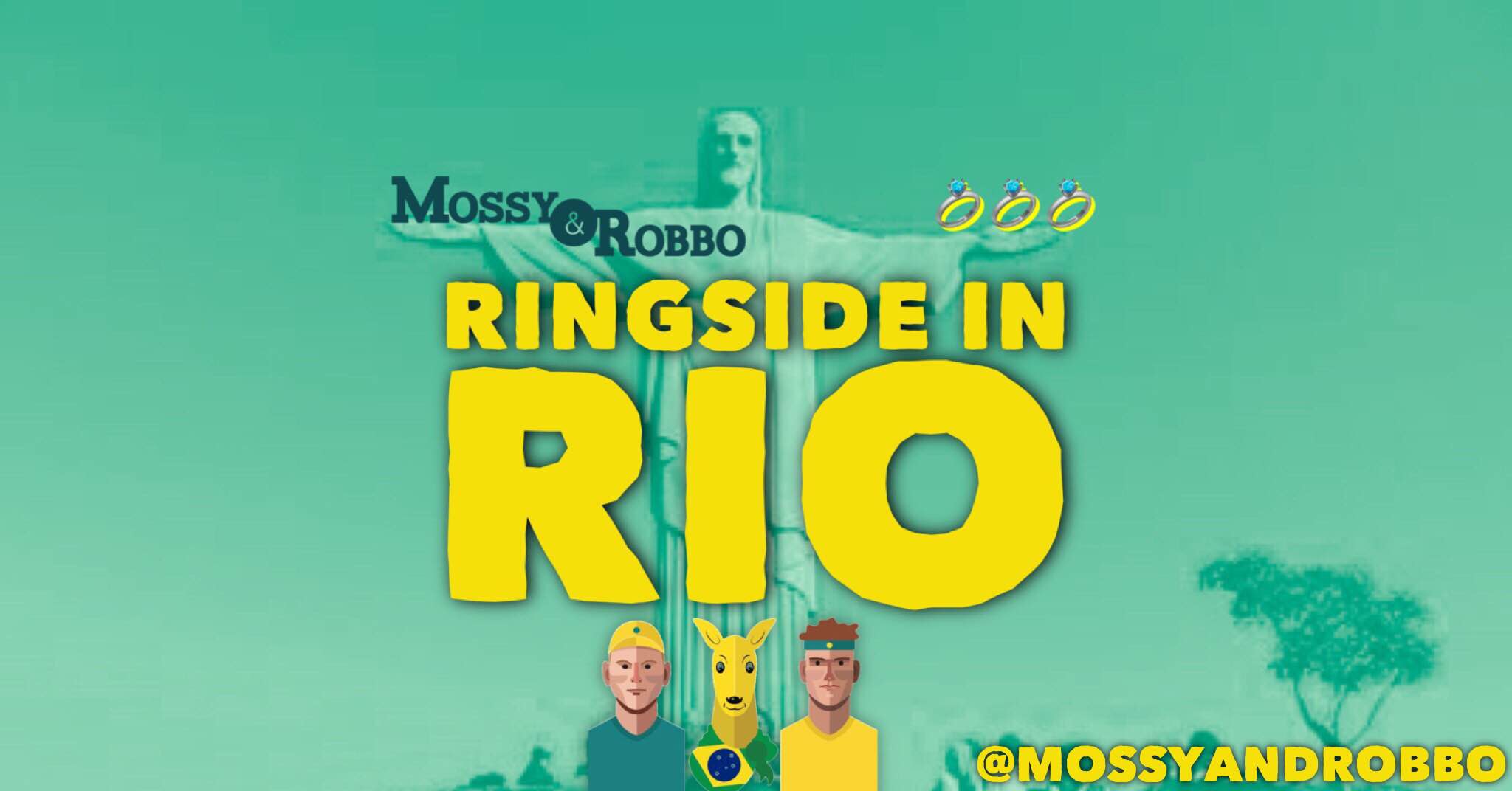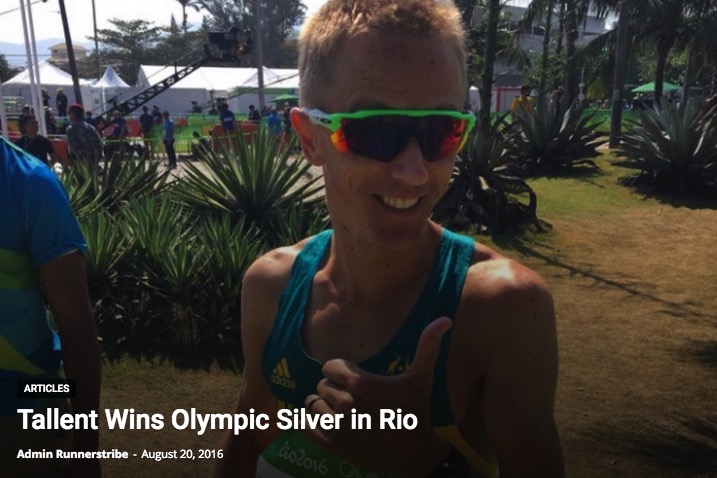 Congrats 4 x medallist @JaredTallent #Silver #AUS champion on so many fronts @7olympics #Rio2016 pic.twitter.com/Mha5lCUPQL
— Jim Wilson (@JimWilsonTV) August 19, 2016
Gutsy #Silver for @JaredTallent – he collapses over line along with 3rd & 4th.#Athletics https://t.co/zZ3mztbRwM https://t.co/M7CnB4zSV9

— 7Olympics (@7olympics) August 19, 2016
COURAGE FROM JARED

That's it! Silver for Australia!@JaredTallent wins silver in the 50km walk#JaredsGotTallent pic.twitter.com/nu0Ailqcsj

— Athletics Australia (@AthsAust) August 19, 2016
Good morning Australia!!@JaredTallent has claimed silver in 50km walk!https://t.co/0ON29EQo8L pic.twitter.com/CSLfo5wEDA

— AUS Olympic Team (@AUSOlympicTeam) August 19, 2016
@JaredTallent Wins #Olympics Silver in #Rio2016 | Articlehttps://t.co/uZGtrET7z5

— RunnersTribe.com (@runnerstribe) August 19, 2016
Great work mate! Top 10 fantastic result. ?? https://t.co/lrJaWt822t

— 〽️ossy and Robbo (@MossyandRobbo) August 19, 2016
Great work lads! https://t.co/rOgVPyDoqi

— 〽️ossy and Robbo (@MossyandRobbo) August 19, 2016
RACE RE-CAP: Aussies
Lamble 9th (3rd best Aus result at OG), 1:30.28
Holliday 26th 1:34.22
Tallent 40th 1:37.03

— Athletics Australia (@AthsAust) August 19, 2016
Outstanding result by Regan Lamble to finish in 9th in 20k walk 1:30.28, +1:53 behind winner Liu from China#oneteam pic.twitter.com/62lPAt0iUq

— Athletics Australia (@AthsAust) August 19, 2016
YOU BEAUTY! Congratulations Jared. #medalcollection https://t.co/WVVuYCgr1D

— 〽️ossy and Robbo (@MossyandRobbo) August 19, 2016
Jarred Tallent just outstanding for yet another Olympic medal for him @AthsAust #cleansport pic.twitter.com/ZEqRtXvCql

— Simon Hollingsworth (@shollings16) August 19, 2016
.@JaredTallent leads through 45km in 3:18:47

5km to go!

Live: https://t.co/l3PgsbYEig #Rio2016 #Athletics pic.twitter.com/HfZHaTBYhh

— IAAF (@iaaforg) August 19, 2016
40km splits@AthsAust's @JaredTallent leads the 50km race walk with 10km to go!

Live: https://t.co/l3PgsbYEig pic.twitter.com/qD79AASCNY

— IAAF (@iaaforg) August 19, 2016
Leading the race walk with less than 10k to go is @JaredTallent ! Defending champ who has missed standing a top the podium because of dopers

— Steve Magness (@stevemagness) August 19, 2016
.RachTallent's walking in @JaredTallent's footsteps, but has already won #Gold with this punhttps://t.co/zZ3mztbRwM https://t.co/o1huQD6MQI

— 7Olympics (@7olympics) August 6, 2016
The chase is on. Toth approx 8 secs behind Tallent.
C'mon Australia! ?? Cheer Jared home!#OneTeam #JaredsGotTallent pic.twitter.com/DgflrerSQg

— Athletics Australia (@AthsAust) August 19, 2016
Under 20 mins left of racing for the 50km walk.@JaredTallent still leads by 22s to 2nd place.#JaredsGotTallent pic.twitter.com/1X2N5SEv01

— Athletics Australia (@AthsAust) August 19, 2016
Awesome ?? @ChrisErickson00 & coach @brent_vallance ?? PB Men's 50km Walk #Rio2016 3:48:40 @AUSOlympicTeam #OneTeam pic.twitter.com/hjFQZik7Ff

— Melissa Breen (@Melissa_Breen) August 19, 2016
Coming up
With four athletics finals on day fourteen of the Games, Australians are set to feature in all four of them.
It's a big day for the Tallent family today as both Jared and Rachel race in Olympic competition on the same day.
Jared Tallent (SA) has the chance to create Australian Olympic history today in the 50km race walk which kicks off at 21:00 (AEST) – a medal will take him past Stan Rowley (three bronze in 1900) as Australia's most decorated male track and field athlete at the Games. If he wins, he joins Shirley Strickland (80m hurdles 1952/56) to win back-to-back gold medals.
Tallent will be joined by veteran Chris Erickson (Vic) who races in his third straight Games but for the first time in his preferred 50km event. The 34-year-old will be search for a top 10 finish to better his best international result which came with a 16th at the world championships in Moscow in 2013.
Brandon Reading (ACT) will line up against his coach – Chris Erickson – in his Olympic debut. He smashed his personal best by 24 minutes at the selection race in December to make the team and will be in just his third journey over the 50km distance.
Our Aussie walkers complete their Games with a full contingent in the women's 20km walk. Tanya Holliday (SA) is the 7th fastest Australian of all-time and joins Regan Lamble (VIC) and Rachel Tallent (VIC) is the race for a top 20 finish. Lamble returns after finishing 16th in London, whilst Tallent gets to race at the Games for the first time, she was in Beijing as a 16-year-old to watch Jared win silver and bronze.