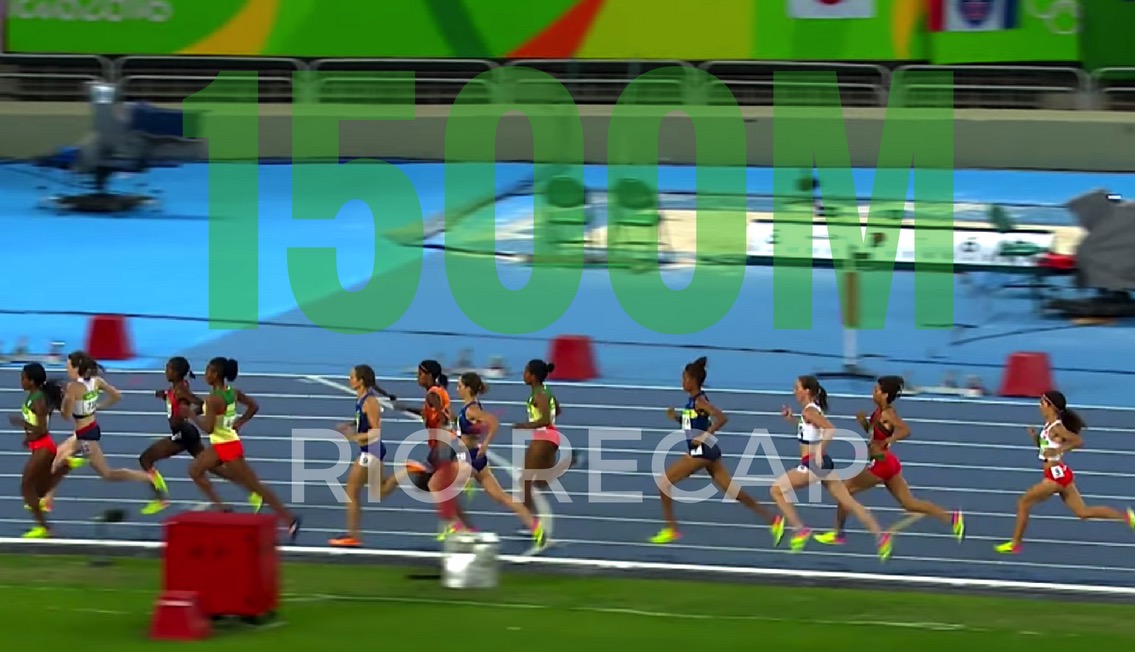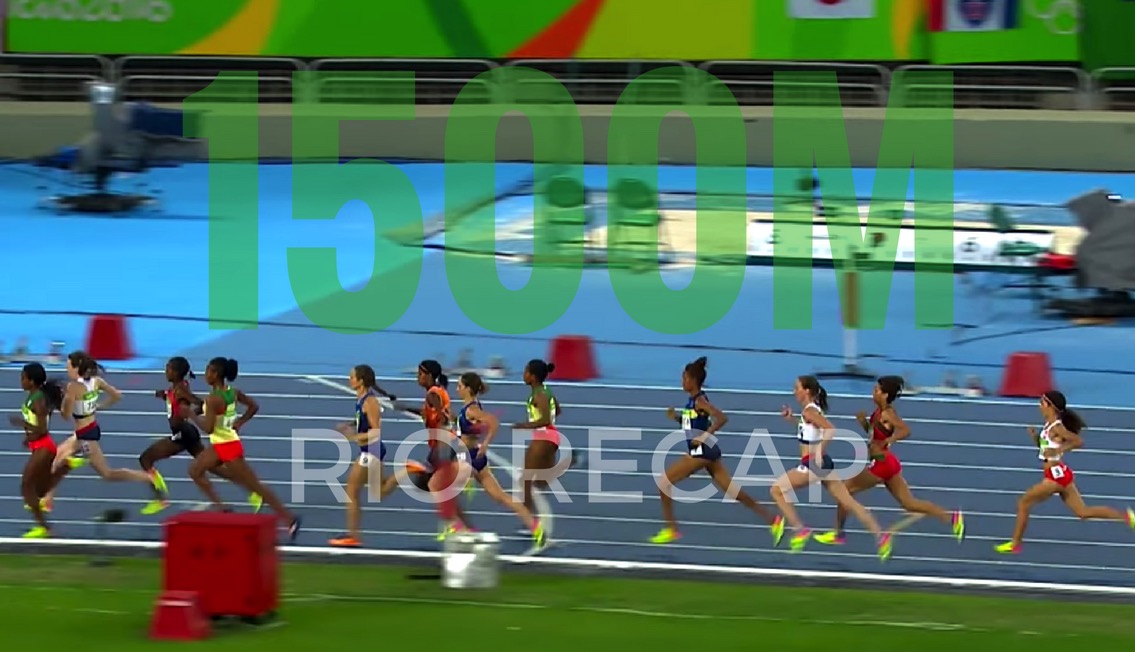 1500m Finals Recap Written by By Chris Lotsbom, @ChrisLotsbom (c) 2016 Race Results Weekly, all rights reserved.
Runner's Tribe
1500m
In the biggest upset of the athletics fortnight thus far, world record holder Genzebe Dibaba of Ethiopia was overtaken by Kenyan Faith Kipyegon, earning the gold medal in a tactical 4:08.92 race. Jenny Simpson gave America another distance event medal, winning bronze to become the first Patriot to finish on the podium in event history.
The race began as a crawl, with no one interested in leading early on. A 76.57 400m split was dauntingly slow, bunching the field tremendously. All changed with a half mile remaining as Briton Laura Muir moved up with Kipyegon and Dibaba a step behind. The trio would begin to separate and have a clear lead as the bell sounded.
The third lap was run in 58.9, a clip that would only get faster on the final circuit.
Dibaba opened her stride as she's done in so many 1500m's before, breaking from Kipyegon while Muir sat in no-man's land in down the backstretch. It was a tale of two races: the battle for gold between Dibaba and Kipyegon, and the race for bronze with Muir trying to hold off a slew of challengers.
Around the bend, Kipyegon usurped the lead from Dibaba. Kipyegon's cadence quickened in the straight, completing the last lap in about 58.72; with the clock stopping at 4:08.92, her final 800 had been run in 1:57.8. Literally, Kipyegon had scooted away from Dibaba. The Ethiopian wound up second in 4:10.27.
"I knew it would be a fast race, I really had to kick on the last lap," Kipyegon said. "I was well prepared for the race. Iím proud to win for my country."
Though Muir put up a valiant fight for third, she was consumed with 200 meters to go by Simpson, Sifan Hassan, and Shannon Rowbury. Simpson exited the bend in third and nearly ran down Dibaba. Had the race been another ten meters, Simpson may well have earned silver. Instead she happily secured bronze in 4:10.53. Never before had an American woman medaled in the 1500m; the previous highest placing had been a fifth place by Rowbury in 2012. Rowbury improved one spot this time around, finishing fourth in 4:11.05 just ahead of Hassan (4:11.23). Muir wound up seventh in 4:12.88.
"I just remember my coaches [Mark Wetmore and Heather Burroughs] gave me a mantra coming into the race, and it's their wisdom and my fitness that really was what excelled tonight. Their mantra for me was position the first two laps, and the second two laps become a predator. I think that they know what brings out the best in me and Iíve had races where I have gone to the front and been a protagonist in the race and really made something happen," Simpson told USATF post-race. "Given my training and elements of the year for me, they knew that I would be in the best position if I was in a position to see the medals and run them down… They said, whenever somebody jumps to the front, go with them, look at where the medals are, and go get 'em. My last 300 meters is the best demonstration of their wisdom and me executing what they told me to do."
Simpson reflected on what it meant to be the first American ever to medal in the discipline. She now has a World Championships gold medal (2011), World Championships silver medal (2013), Olympic bronze medal (2016), and Diamond League title (2014) to her name.
"To be the first American woman to medal in the 1500m is something that I have not allowed myself to think about until now. It feels incredible. I want to be someone this country can be really proud to cheer for, and I didnít decide to want to be that person this week, or this year. I wanted to be that person eight years ago," she said. "This has been a long ride of highs and lows and hopefully every American watching my race tonight, I want each of them to feel like they can take a small piece of ownership in this medal."
On runner-up Dibaba, the Ethiopian met with the media for the first time this Olympiad after her silver medal performance. She addressed the doping alegations facing her long time coach Jama Aden. "My complication with Jama is purely and directly for my exercise, my training. So the rumors roaming around the world are really deeply affecting me. My complication with Jama is solely, purely and solely training, training execution and competition and this adversely affected my performance, my psychology. But I will assure you that I am neat and crystal clean from doping and Iíll continue my heroism in the near future," she said.
FINAL RESULTS
1. Faith KIPYEGON, KEN 4:08.92 GOLD
2. Genzebe DIBABA, ETH 4:10.27 SILVER
3. Jenny SIMPSON, USA 4:10.53 BRONZE
4. Shannon ROWBURY, USA 4:11.05
5. Sifan HASSAN, NED 4:11.23
6. Meraf BAHTA, SWE 4:12.59
7. Laura MUIR, GBR 4:12.88
8. Dawit SEYAUM, ETH 4:13.14
9. Besu SADO, ETH 4:13.58
10. Sofia ENNAOUI, POL 4:14.72
11. Laura WEIGHTMAN, GBR 4:14.95
12. Rababe ARAFI, MAR 4:15.16
Intermediate Times:
400m: 1:16.57, Laura WEIGHTMAN, GBR
800m: 2:27.11, Genzebe DIBABA, ETH
1200m: 3:23.90, Genzebe DIBABA, ETH
Aussie women in the 1500 
Semi-Finals (14):
NOTE: Advance first 5 of each heat (Q) plus the 2 fastest times (q) to Final (to be run on Tuesday, August 16)
Heat 1 –
Faith Kipyegon ran like a seasoned veteran, kicking with a fast final circuit to win over Dawit Seyaum and the late charging Shannon Rowbury. Besu Sado and Laura Weightman rounded out the final automatic qualifying spots. Australians Linden Hall and Zoe Buckman, Ireland's Ciara Mageean, and American Brenda Martinez were all left out of the final. Martinez fell off the pack with 300 to go and never caught back onto the group.  @ChrisLotsbom Race Results Weekly
Australia's Linden Hall and Zoe Buckman (Vic) gave themselves every chance in the first semi-final, but couldn't find a way out of the push and shove of the pack or maintain the tempo to finish in the required top 5.
Hall finished in 4:05.81 in 8th, with Buckman 9th in 4:06.95.
Well done @JennBlundell! Great running and terrific attitude all round in #Rio2016

— RunnersTribe.com (@runnerstribe) August 15, 2016
#KEN Kipyegon wins semi-final 1 of the women's 1500m #AUS @Linden_hall 8th and @Zoebuckman 9th https://t.co/3KzuOLCdOo

— 7Olympics (@7olympics) August 15, 2016
Congrats to our girl in Rio @linden_hall https://t.co/SWw5ykOkjZ

— Midland Express (@MidlandExpress1) August 23, 2016
Gutsy run @Linden_hall & @Zoebuckman very proud!! @AUSOlympicTeam #oneteam

— Sally Pearson OAM (@sallypearson) August 15, 2016
1. Faith KIPYEGON, KEN 4:03.95 Q
2. Dawit SEYAUM, ETH 4:04.23 Q
3. Shannon ROWBURY, USA 4:04.46 Q SB
4. Besu SADO, ETH 4:05.19 Q
5. Laura WEIGHTMAN, GBR 4:05.28 Q
6. Sofia ENNAOUI, POL 4:05.29 q
7. Rababe ARAFI, MAR 4:05.60 q
8. Linden HALL, AUS 4:05.81
9. Zoe BUCKMAN, AUS 4:06.95
10. Konstanze KLOSTERHALFEN, GER 4:07.26
11. Ciara MAGEEAN, IRL 4:08.07
12. Brenda MARTINEZ, USA 4:10.41
Intermediate Times:
400m: 1:09.88, Laura WEIGHTMAN, GBR
800m: 2:15.65, Laura WEIGHTMAN, GBR
1200m: 3:19.03, Faith KIPYEGON, KEN
Heat 2 –
Genzebe Dibaba and Sifan Hassan started their kicks 450 meters out, charging from the back of the pack to the front and instantly creating a sizable gap on the field. Britain's Laura Muir went with the pair, helping to create a strong one-two-three with Dibaba first (4:03.06), Hassan second (4:03.62), and Muir third (4:04.16). Dibaba's final 400m was recorded in 57.5 seconds. Jenny Simpson, who led the first two laps, wound up fourth in 4:05.07.                                                                                                 @ChrisLotsbom Race Results Weekly
22-year-old Jenny Blundell (NSW) placed 11th in semi-final two sitting in third place at the bell, but dropped off the pack when the pace lifted.
"I gave it everything, but didn't have the legs," Blundell said after the race.
"She did everything right, but the change of pace was brutal," was the summation by Seven commentator Bruce McAvaney of Blundell's efforts.
1. Genzebe DIBABA, ETH 4:03.06 Q
2. Sifan HASSAN, NED 4:03.62 Q
3. Laura MUIR, GBR 4:04.16 Q
4. Jenny SIMPSON, USA 4:05.07 Q
5. Meraf BAHTA, SWE 4:06.41 Q
6. Violah LAGAT, KEN 4:06.83
7. Nicole SIFUENTES, CAN 4:08.53
8. Malika AKKAOUI, MAR 4:08.55
9. Diana SUJEW, GER 4:10.15
10. Danuta URBANIK, POL 4:11.34
11. Jenny BLUNDELL, AUS 4:13.25
12. Angelika CICHOCKA, POL 4:17.83
Intermediate Times:
400m: 1:08.27, Jenny SIMPSON, USA
800m: 2:17.11, Jenny SIMPSON, USA
1200m: 3:19.30, Genzebe DIBABA, ETH
Great effort from our @USydFHS student @JennBlundell who competed in The Women's 1500m Semifinal 2 11th #Rio2016 https://t.co/C0n0wt8asX

— Kathryn Refshauge (@Kathy_Refshauge) August 15, 2016
Prelims (12):
NOTE: Advance first 6 of each heat (Q) plus the 6 fastest times (q) to semi-finals
Heat 1 –
Genzebe Dibaba didn't appear hindered in the slightest by the toe injury that had reportedly caused her to miss multiple races this season. With 300 meters remaining Dibaba pounced and built a large lead on the field; she'd win in 4:10.61 to Ciara Mageen's 4:11.51 and Brenda Martinez's 4:11.74.                                                     @ChrisLotsbom Race Results Weekly
All three Australians in the women's 1500m event ran strongly to progress to the next round – the semi-final in two days time (Monday 10:30 AEST). Linden Hall (Vic) and Zoe Buckman (Vic) finished in the top 6 in their heats to auto-qualify in 4:11.75 and 4:06.93 respectively, with Jenny Blundell (NSW) running 4:09.05 to progress on time.     @AthsAust
1. Genzebe DIBABA, ETH 4:10.61 Q
2. Ciara MAGEEAN, IRL 4:11.51 Q
3. Brenda MARTINEZ, USA 4:11.74 Q
4. Linden HALL, AUS 4:11.75 Q
5. Angelika CICHOCKA, POL 4:11.76 Q
6. Konstanze KLOSTERHALFEN, GER 4:11.76 Q
7. Hilary STELLINGWERFF, CAN 4:12.00
8. Maureen KOSTER, NED 4:13.15
9. Siham HILALI, MAR 4:13.46
10. Amela TERZIC, SRB 4:15.17
11. Nancy CHEPKWEMOI, KEN 4:15.41
12. Marta PEN FREITAS, POR 4:18.53
13. Saraswati BHATTARAI, NEP 4:33.94 NR/PB
14. Celma BONFIM DA GRA«A, STP 4:38.86
Intermediate Times:
400m: 1:12.77, Nancy CHEPKWEMOI, KEN
800m: 2:21.20, Konstanze KLOSTERHALFEN, GER
1200m: 3:24.93, Genzebe DIBABA, ETH
Heat 2 –
Siffan Hassan was last in the main pack, some eight to ten meters off the lead with 300 meters remaining. That's when the Dutchwoman turned it on, sprinting all the way to the pole position. Hassan crossed the line first in 4:06.64, coasting through to the semi-final. American Jenny Simpson –who got bumped slightly by Hassan around the final bend– took fourth in 4:06.99.                                                                              @ChrisLotsbom Race Results Weekly
1. Sifan HASSAN, NED 4:06.64 Q
2. Faith KIPYEGON, KEN 4:06.65 Q
3. Sofia ENNAOUI, POL 4:06.90 Q
4. Jenny SIMPSON, USA 4:06.99 Q
5. Malika AKKAOUI, MAR 4:07.42 Q SB
6. Besu SADO, ETH 4:08.11 Q
7. Laura WEIGHTMAN, GBR 4:08.37 q
8. Jenny BLUNDELL, AUS 4:09.05 q
9. Gabriela STAFFORD, CAN 4:09.45
10. Muriel CONEO, COL 4:09.50
11. Tigist GASHAW, BRN 4:10.96
12. Florina PIERDEVARA, ROU 4:11.55 SB
13. Nikki HAMBLIN, NZL 4:11.88
14. Anjelina Nadai LOHALITH, ROT 4:47.38
Intermediate Times:
400m: 1:06.54, Muriel CONEO, COL
800m: 2:15.11, Faith KIPYEGON, KEN
1200m: 3:21.80, Faith KIPYEGON, KEN
ATHLETICS: Aussie women storm into 1500m semis. Great runs @Linden_hall, @Zoebuckman, @JennBlundell #OneTeam pic.twitter.com/RN1DyoWWgI

— AUS Olympic Team (@AUSOlympicTeam) August 13, 2016
Aussie 1500m girls killing tonight. 3/3. @Zoebuckman looked so cool, calm & collected. Well done @melbtrackclub another great result! #MTC ?

— Genevieve LaCaze (@GenGen_LaCaze) August 12, 2016
How good are our 1500m girls?! All thru to #Rio2016 semis w final berths lookin' good! All the best @Zoebuckman @JennBlundell @Linden_hall

— Benita Willis (@BenitaWillis) August 13, 2016
Heat 3 –
The final circuit was completed in 61.11 seconds, as Ethiopian Dawit Seyaum broke away and asserted her dominance up front to win in 4:05.33, the fastest time on the day. The race was made by Nicole Sifuentes, Shannon Rowbury, and Laura Muir, all of whom led parts of the first three and a quarter laps.                                                 @ChrisLotsbom Race Results Weekly
1. Dawit SEYAUM, ETH 4:05.33 Q
2. Shannon ROWBURY, USA 4:06.47 Q
3. Laura MUIR, GBR 4:06.53 Q
4. Rababe ARAFI, MAR 4:06.63 Q
5. Meraf BAHTA, SWE 4:06.82 Q
6. Zoe BUCKMAN, AUS 4:06.93 Q
7. Nicole SIFUENTES, CAN 4:07.43 q
8. Violah LAGAT, KEN 4:08.09 q
9. Danuta URBANIK, POL 4:08.67 q
10. Diana SUJEW, GER 4:09.07 q
11. Margherita MAGNANI, ITA 4:09.74
12. Kadra MOHAMED DEMBIL, DJI 4:42.67 NR/PB
13. Nelia MARTINS, TLS 5:00.53
DNS– Betlhem DESALEGN, UAE
Intermediate Times:
400m: 1:06.23, Nicole SIFUENTES, CAN
800m: 2:14.17, Nicole SIFUENTES, CAN
1200m: 3:20.76, Nicole SIFUENTES, CAN
#AUS @Zoebuckman has defied an injury-interrupted preparation to qualify for the semi-final of the women's 1500m https://t.co/lLQIFLbJPZ

— 7Olympics (@7olympics) August 13, 2016
.@Zoebuckman's 4:06.93 is Australia's 5th fastest time in the women's 1500m at the Olympics!
Thru to semi Monday AM pic.twitter.com/PdbmX5Kzvc

— Athletics Australia (@AthsAust) August 13, 2016