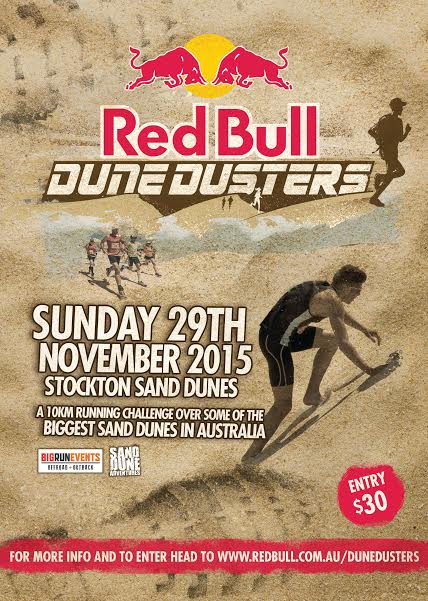 Event Info
A running challenge up and over some of the biggest sand dunes in Australia.
This is NOT a beach run!
Red Bull Dune Dusters will set out on approximately 10km course that will challenge runners to race up and over some of the largest sand dunes on the iconic Stockton Beach.
Event Details
Sunday 29th November 2015
8.30am – Registration and race number collection opens @ Murrook Centre, Nelson Bay Road @ Williamtown, NSW.
9.30am – Competitor shuttle buses depart Murrook Centre to start line.
10.15am – Competitor Briefing
10.30am – Race Starts
12.30pm – Presentation Ceremony
12.45pm – Competitor shuttle buses depart for Murrook Centre
Getting There
The race will take place at the Southern End of Stockton Beach. As parking and access is limited to the area, we will run shuttle buses from the registration area at Murrook Centre to the start.
To get tot the Murrook Centre:
Murrook Cultural Centre
2163 Nelson Bay Rd
William Town
New South Wales 2318
Heading towards Nelson Bay, it is located 2.4km from Newcastle Airport turn off or if you are driving from Nelson Bat we are 31 kilometres from Victoria Parade.
Google Maps link HERE
Spectators
Spectators are welcome to accompany runners and watch the start and finish of the race. AS access is limited to the site, spectators will be required to also take the shuttle bus service to the dunes.
Registration
Entries close 5pm Friday 27th November 2015, if places not filled prior.
Competitors must be over the age of 16 on the day of the event.
Entry Fee
Entry fee is $30. Cost is per entrant and includes GST. Registrations can be made here.
Entry Inclusions
Competitors entry fee includes:
Race number with timing chip
Transport to and from the start/finish area from Murrook Centre
Water and Red Bull on course and post-race recovery area
Bibs
Competitors will receive a bib with a unique number for the event. The bib must be worn at all times during the event with the number visible. You can keep it after the event.
Bib Collection
Will be at the Murrook Centre from 8.30am – 9.30am on Sunday 29th November 2015.