Champion Eliud Kipchoge contemplates return to Berlin in pursuit of World Record
The morning after winning the BMW BERLIN-MARATHON for the second time in three years, Eliud Kipchoge was in reflective mood. Looking back on Sunday's race which produced more than its fair share of surprises, he offered his assessment on the upsets provided by the event's 44thedition: "Planning to run a marathon is like life, anything can happen. You can run fast today and tomorrow you run slow."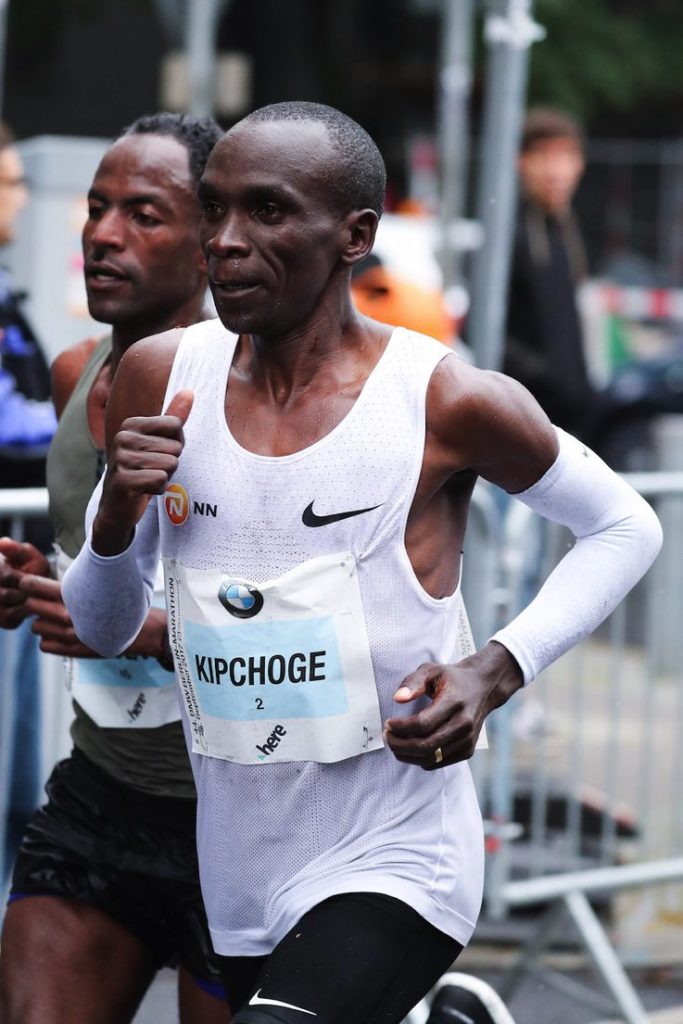 Just about everything did happen in Berlin on Sunday but hardly in the way most fans of the sport would have expected: the failure of Kipchoge's two main rivals, Kenenisa Bekele and Wilson Kipsang, to finish and the winner himself being overtaken, albeit briefly, in the closing stages by Ethiopia's marathon debutant Guye Adola, who then finished as the second fastest of all time in his country's rankings, would have required crystal ball gazing of the highest order.
Through every twist and turn of the race, one constant factor was the remorseless progress of Eliud Kipchoge. No matter the wet conditions which put paid to hopes of a world record, the Kenyan switched his mission target to concentrate on adding to the title won here in 2015. Time and again, whether it has been in winning the Olympic title in Rio last year or capturing the top prize in London, Berlin, Chicago and Hamburg, he has displayed a strength of will which is distinctive.
In retrospect he believes the experience of going so close to breaking two hours for the marathon distance on Monza's Formula 1 circuit in early May has strengthened him both mentally and physically. He believes that process will boost future efforts to make marathon history: "It gave me a lot of strength mentally, especially when I crossed the finish line and looked up and saw the clock showing two hours and 25 seconds and I knew I was running against the unthinkable. I and my partners, Nike, are trying to have no limits in this sport."
The topic of when or if the two-hour barrier for the marathon can be broken has been a hot topic for some time. What was clear as he relaxed on a hotel sofa before leaving Berlin – even a marathon great had a touch of stiffness in the legs after running a world leading 2:03:32 the previous day – was that Eliud Kipchoge continues to believe that he can break the current world record of 2:02:57, set by his fellow Kenyan Dennis Kimetto here in 2014. A return to Berlin for a third attempt is very much part of his plans: "Absolutely, I would like to come back and try for the world record next time. I had come here to break the world record but the weather changed my plans."
It is highly likely that next year, without a global marathon championship, the pursuit of the world record will intensify. Next year's BMW BERLIN-MARATHON will be staged earlier than usual on 16th September.
Whether it's being primed to challenge both clock and rivals in a big city marathon or aim for championship titles beyond 2018, Eliud Kipchoge clearly believes he will remain a marathon force for some time to come: "Absolutely, I have still good marathons in my legs, there's no doubt about that."
More information is available online at: www.berlin-marathon.com