By Brett Davies
On Wednesday and Friday evening (1/9 & 3/9) in Brussels, athletics aficionados were treated to another fabulous night's action at the famous Boudewijnstadion for the 45th Van Damme Memorial Meeting.
The first of the Diamond League events  on Wednesday were the men's and women's discus. The men's event was, as expected, dominated by the big Swede, Daniel Stahl. The 29 year-old Olympic and World Champion was in good form here. He was well ahead of Federick Dacres (JAM) and Kristjan Ceh (SLO) with a 69.31. Dacres (65.17) and Ceh (65.17) maintained their consistent  form with quality throws. Yaime Perez (CUB) upset favourite Sandra Perkovic (CRO) with a very solid 66.47. Valarie Allman (USA) also finished ahead of the Croatian (65.14 to 64.14).
Friday night was stunning, and it was a continuation of the incredibly high standard of athletics we've come to expect this season.
The men's 100m had a very deep field and Fred Kerley – more a 200m runner-  ran really well, getting the edge on the nominal favourite, Trayvon Brommel (9.94 to 9.97). Kerley is not as explosive from the blocks, but  holds his form over the last 40m. Their fellow American, Michael Norman, was third in 9.98. Aussie
Rohan Browning
was outclassed, but did well to finish 5th in 10.14. Browning has been very consistent this season. He had an impressive Olympic campaign – reaching the semis – and he will most likely be Australia's next sub-10 second man.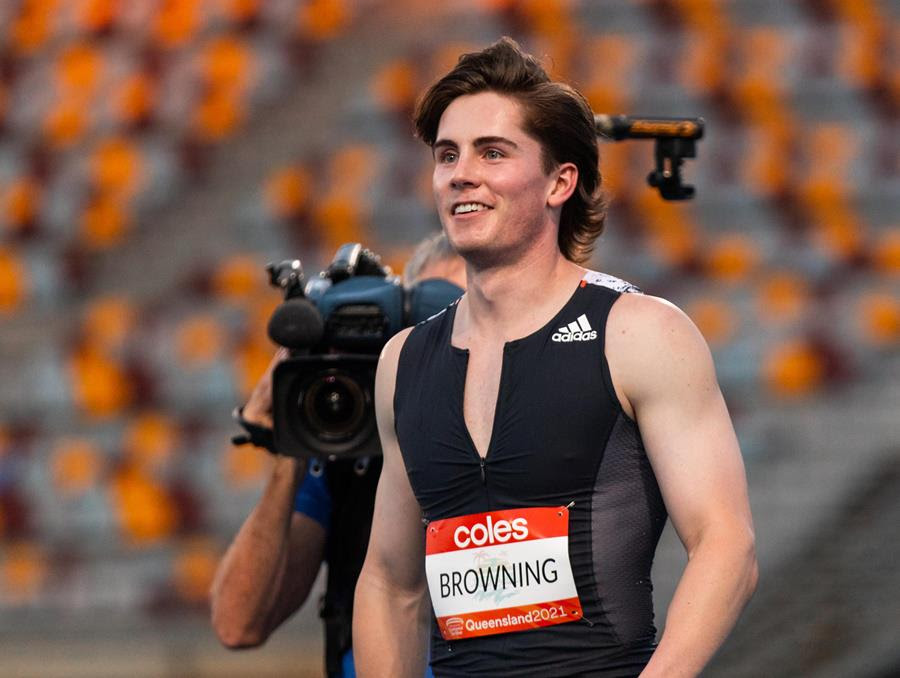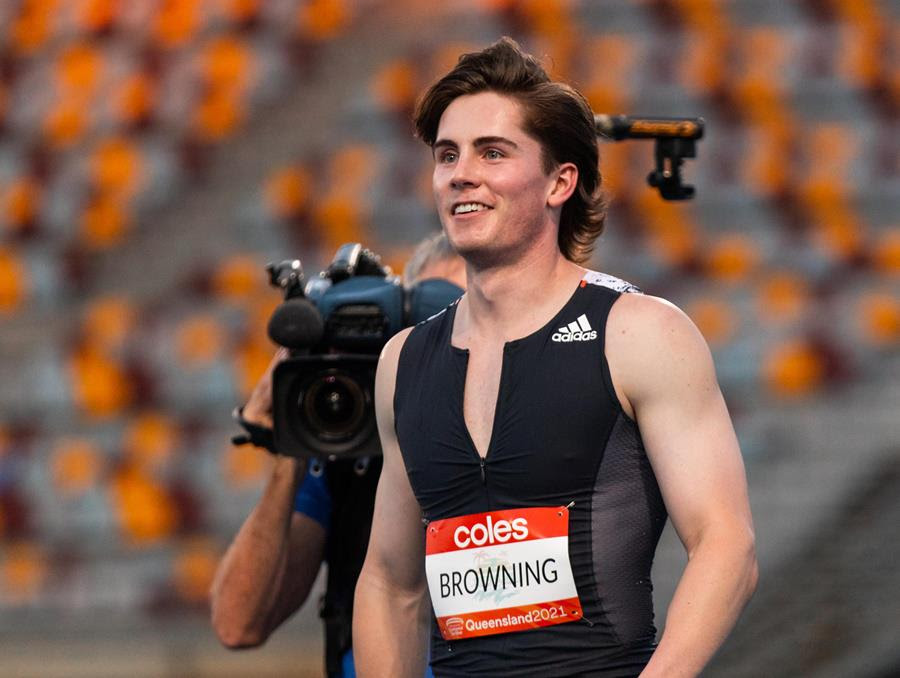 Michael Cherry (USA), 4th in Tokyo, ran out of his skin here, to beat former Olympic Champion Kirani James (GRN) in  the men's 400m. Cherry ran a superbly-judged race, pulling away from James in the straight and maintaining his form all the way to the line. Cherry ran a PB (44.03), and finished 4 metres up on the big Granadian (44.51). Issac Makwala (BOT) was 3rd in 44.83.
Australia's
Stewart McSweyn
had another big win in the men's 1500m, in what has been a consistently brilliant season for the Tasmanian. His compatriot
Ollie Hoare
was also outstanding, with the American-based New South Welshman finishing 2nd and taking the scalps of a number of the world's top 1500m runners. The pace was on from the  gun, with Eric Sowinski  again doing a great job, leading at 400m in 55.94. He dragged the pack through 800m in 1.52.13 and dropped out at around 900m. Just after the 1000m mark, McSweyn was leading, before Mohammed Katir (ESP) made his move. Katir took the field through 1200m in 2.50.09 and pushed hard, but McSweyn sat in and waited to pounce. The Aussie made his move coming off the final bend and went past Katir easily. Katir was disappointing here and ran a poor tactical race, using up too much petrol catching and passing McSweyn. Katir had nothing left in the straight and McSweyn powered home to win, with his countryman Hoare  moving past Katir into second. Hoare held on and the Aussies went 1-2 (3.33.20 to 3.33.79), with Pole Michal Rozmys 3rd in 3.33.96. The Kenyan Abel Kipsang was 4th (3.34.08), with Katir 7th in 3.34.50.
The 1500m was a magnificent race and it's an exciting time for middle-distance running in Australia. McSweyn  is a genuine global star and looks to be in the mix in major races for years to come. He has a fantastic attitude and his aggressive racing style has many fans looking forward to watching the blonde distance-running sensation whenever he's on the track. He may well focus on the 5000m in future, but is still capable of improvement as a miler. Ollie Hoare is also in fantastic form this year and he should improve in the next few years. Under the tutelage of former US 5000m record-holder Dathan Ritzenhein, he shows a mature, patient approach to racing and is clearly focused and  appears very  determined to take his running to the next level.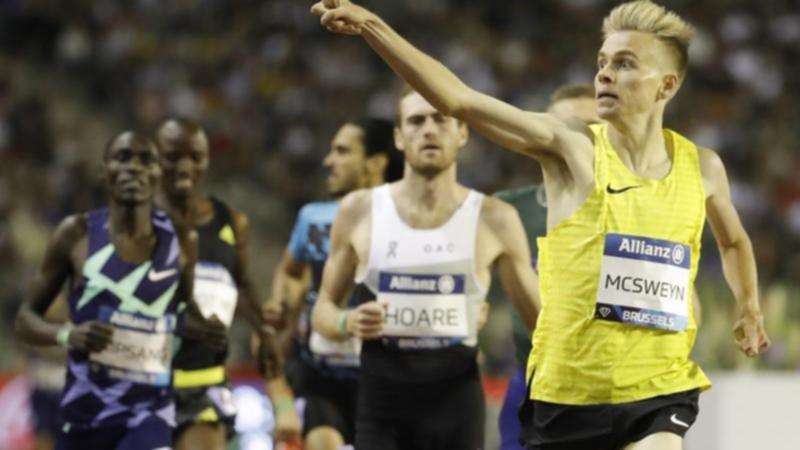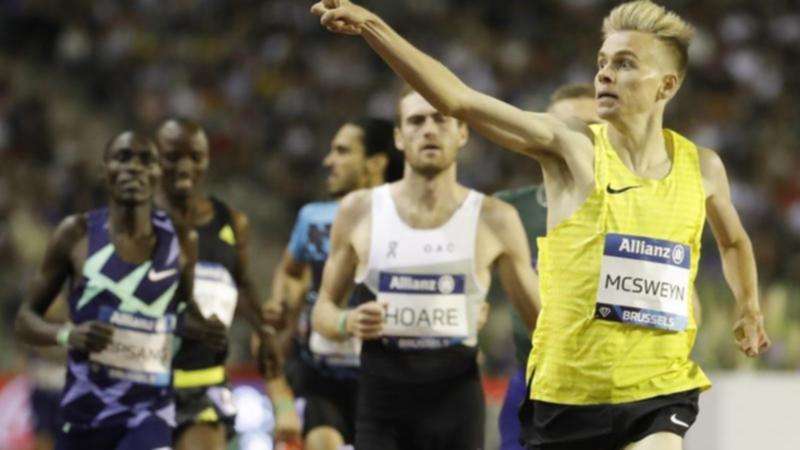 In the men's 400m hurdles, Alison Dos Santos  (BRA) won as expected. He didn't have it all his own way, as he was pushed hard, but he eventually prevailed, winning by 0.08 in 48.23, from the American Kyron McMaster.The Turk Yasmani Copello was 3rd in 48.45.
The men's pole vault was again dominated by Swede Mondo Duplantis, he cleared 6.05, which is top class performance, but he appears to be a little down on his best. In any case, he is a class above anyone else in the world this season and cleared 20cm more than his nearest rival. American Chris Nilsen cleared 5.85 and beat compatriot  KC Lightfoot on a countback.
No competitor cleared 8 metres in what was an underwhelming men's long jump competition. American Steffin McCarter had a narrow win over the South African Ruswal Samaai, 7.99 to 7.95.  The Spaniard Eusebio Caceres failed to fire, finishing in 7th (7.55).
One of the event's highlights was a very competitive women's 200m. The Olympic silver medallist, Namibia's  Christine Mboma was brilliant, running a smooth bend and holding form superbly in the last 50m. She had a 1 metre gap over Jamaican Shericka Jackson and held on for the win (21.84 to 21.95). It was a wonderful return to form for World Champion Dina Asher-Smith (GBR) who ran 22.04 for 3rd. Sha'Carri Richardson (USA) – more a 100m specialist – ran a solid, if unspectacular 22.45 for 4th.
Natoya Goule, the Jamaican national record-holder, had a surprising win in the women's 800m. She defeated British Olympic silver medallist Keely Hodgkinson (1.58.09 to 1.58.16) in a closely-fought race. Noelle Yarigo set a solid pace, (56.99@ 400m) and Goule took control around 180m to go.  Hodgkinson attacked around the bend and into the straight, but could not get past the Jamaican. It was very tight across the field, with every runner breaking 2 minutes and the entire field finishing within 1.7 seconds.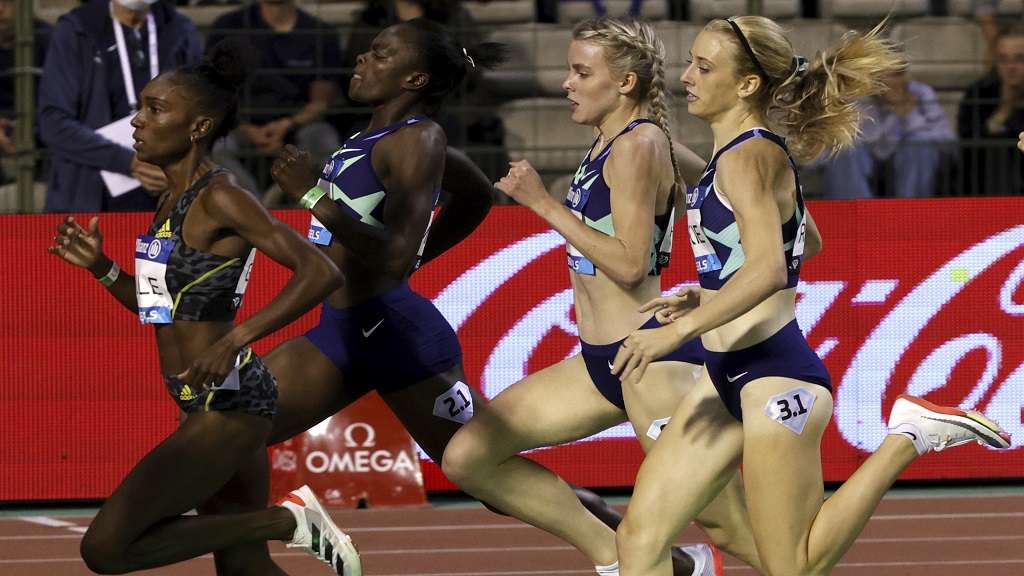 Yaroslava Mahuchikh upset the Tokyo gold and silver medallists in the women's high jump, winning  with a jump of 2.02. Aussie Nicola McDermott was close to the Ukrainian and lost 2nd to  Russian Olympic champion Maryia Lasitskene on a countback, with both women jumping 2.00. McDermott has maintained incredible consistency over the entire season and she will look forward to a break soon. She's consistently proven herself against the best, had a great win in Paris and will gain valuable experience from these intense clashes with her European rivals. McDermott's fellow Aussie, Eleanor Patterson performed well, with a solid 1.92, coming in 6th.
Sifan Hassan,
arguably the biggest name in distance running, was again brilliant, coming within two-and-a-half seconds of her world record in the 1 mile. Pole Aneta Lemiesz and Kenyan Nalyanya pushed the tempo early, setting an over-ambitious pace (2.04.97 at the half mile, sub-4.10 pace). Hassan ran hard, but clearly was not going to lower her record, and the tough-as-nails Dutchwoman fell off the pace in the third  lap. She won in one of the all-time fastest performances (4.14.74), winning by 50 metres. Ethiopian Axumawit Embaye (4.21.08) was second and Aussie
Linden Hall
– in another brilliant performance – lowered her national record by just  0.02, running third  in 4.21.38. It was yet another fine run by Hall, who has to be fatigued after a long, hard season. She is a wonderful ambassador for the sport in Australia and it's great to have seen such depth and quality performances among the Aussies – both men and women – over the middle distances this season.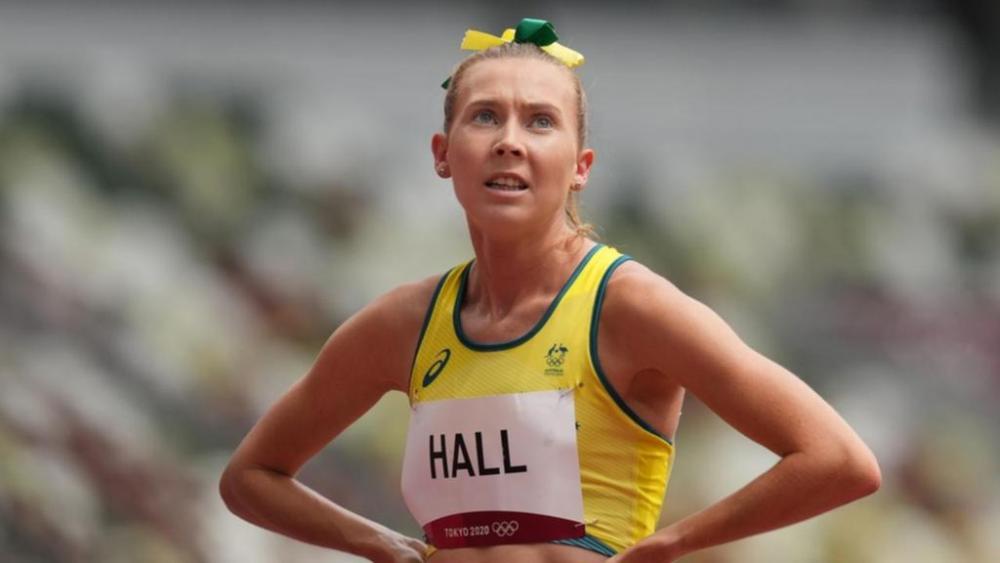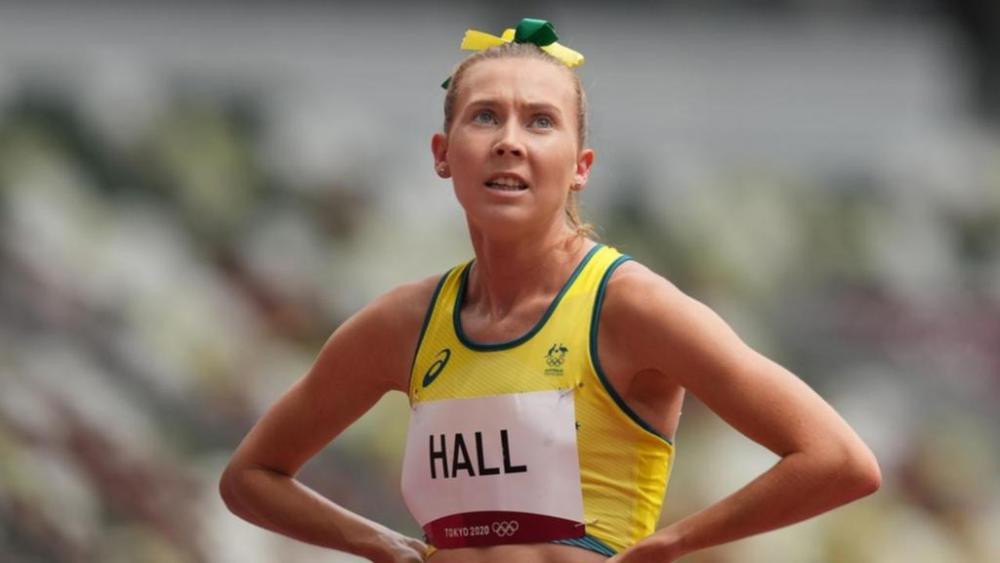 There was another incredibly tight, ultra-competitive race in the women's 5000m. Burundian Francine Niyonsaba backed up her outstanding recent races, with a close win over the Ethiopian Ejgayehu Taye and Kenyan Hellen Obiri. Niyonsaba (14.25.34) just got home by 0.29 from Taye  and Obiri was just 0.6 behind Taye. Four women broke 14.30 and eight broke 14.40, in what was one of the deepest 5000m races ever run. Elish McColgan (daughter of former world champion Liz) had a great run also (7th in 14.31.26) after a disastrous Tokyo 5000m, where she was badly spiked and was run out in the heats. The early pace was quick, with Canadian van Buskirk  on sub-14.20 pace at 2000m.The runners then settled into 70-71 second laps after 2km, with Obiri and Niyonsaba taking turns in front. It then turned into a sustained sprint to the finish from 600m out. Obiri pushed hard up the back straight and 4 women were still in the hunt up until the last 100m. Niyonsaba kicked hard in the last 50m and just managed to scrape by Taye for the win in a new national record. This was possibly the race of the meeting.
It was a slower time, but a great race nonetheless in the women's 100m hurdles, as Dutchwoman Nadine Visser had a close win over Tobi Amusan (NIG). Both women recorded the same time (12.69), with Megan Tapper (JAM) 3rd in 12.77. Favourite Danielle Williams (JAM) was injured and pulled up around hurdle 7 in obvious distress.
There were a number of non-Diamond League events on the program as well. Most notably was the men's 800, where Ferguson Rotich (KEN) had a great run, winning in 1.43.81. He followed a fast opening lap (50.16) by Pole Patryk Sieradzki and he won by a substantial margin (1.43 seconds) over local athlete Eliott Crestan. There were also a number of youth events and mixed events, getting locals involved. It was among the best of this year's Diamond League events and we look forward now to Zurich -always one of the season's highlights – in just  5 days time.