In a significant twist of fate, the world steeplechase champion, Norah Jeruto, whose provisional suspension in April led to her missing the entire 2023 outdoor track season, received a favorable announcement today. The Athletics Integrity Unit (AIU) has revealed that the World Athletics Disciplinary Tribunal has overturned her suspension, paving the way for her return to competitive athletics. Jeruto, a 28-year-old athlete originally hailing from Kenya but representing Kazakhstan since 2022, had faced suspension due to irregularities detected in her Athlete Biological Passport (ABP). Initially, the AIU had asserted that Jeruto's ABP profile presented "compelling evidence of anti-doping rule violations." It's worth noting that Jeruto had never tested positive for any doping substances, and she steadfastly maintained her innocence, attributing her unusual blood values to illness and ulcer-related issues.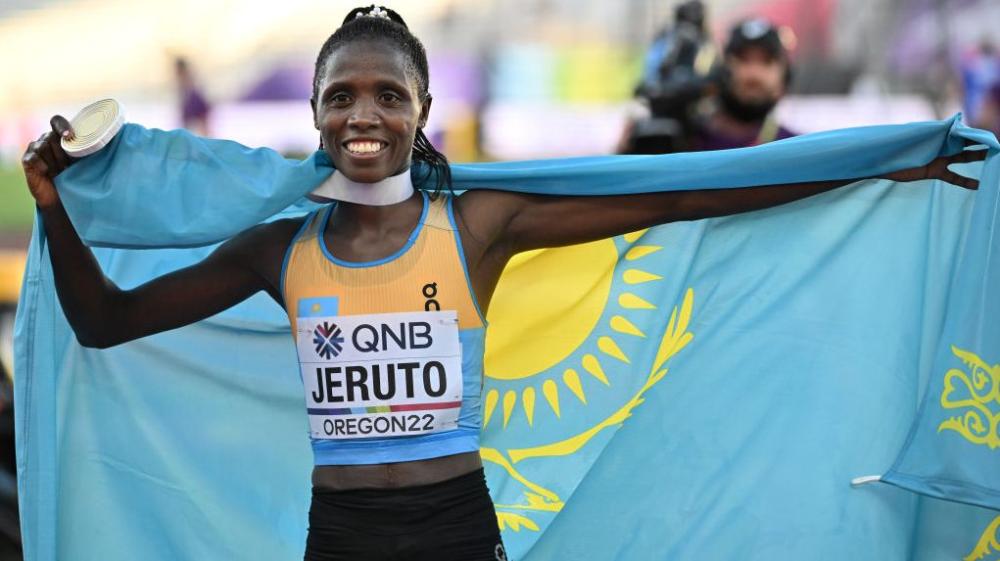 Jeruto's case was further complicated by her transfer of allegiance, which prevented her from participating in the 2021 Olympics, where she was considered a strong contender for the gold medal. With this reversal of her suspension, she is now immediately eligible to make her comeback. The AIU has hinted that it will review this decision before deciding whether to pursue an appeal.
On the same day Jeruto was reinstated, the AIU also announced the suspension of another female steeplechaser, Zerfe Wondemagegn, a 21-year-old Ethiopian who finished fourth at the 2023 World Championships after testing positive for EPO.
A noteworthy aspect of Jeruto's case is the timing of her suspension. The AIU based its charges on seven samples collected between March 2020 and March 2021, yet the formal charge of an anti-doping rule violation didn't come until April 2023, more than two years later. During this intervening period, Jeruto had even clinched a gold medal at the World Championships.
View this post on Instagram
The AIU follows a rigorous procedure before charging an athlete with an ABP violation. A three-person expert panel assesses the abnormal blood values from an athlete's drug samples. If the panel unanimously deems doping a plausible explanation, the AIU requests an explanation from the athlete. In Jeruto's case, the AIU constructed its case based on three sets of samples, each yielding varying blood characteristics and leading to different conclusions. Jeruto, represented legally by Paul Greene, enlisted two expert witnesses who argued that her health conditions were the root cause of the abnormalities in her ABP.
In regard to the samples displaying high percentages of immature red blood cells and low hemoglobin levels, the AIU suggested the possibility of blood doping. Another set of samples indicating elevated hemoglobin levels was associated with EPO usage. Jeruto contended that peptic ulcers, exacerbated by stress, were responsible for the issues in the first set of samples. The Disciplinary Tribunal ultimately dismissed the AIU's argument that blood loss indicated an "Attempted Use" of a prohibited substance or method.
The situation concerning the second set of samples was more intricate. The AIU's expert posited that Jeruto's blood values indicated a "relatively low dose of rEPO," while Jeruto argued that her values were consistent with the effects of a COVID-19 infection, even though she never claimed to have had COVID-19. She maintained that she had received a different diagnosis of tuberculosis. The Disciplinary Tribunal found issues with Jeruto and her expert's testimony, describing it as "confused and difficult to rely on." The Tribunal also noted that while the ABP displayed abnormal results consistent with EPO usage, there was room for doubt in Dr. Brandt's conclusions. Ultimately, the Disciplinary Tribunal decided that there was enough doubt to make a conviction unfair and dismissed the charges.