World Beer Mile Championships
I woke up on race day and went out for a little 20 min shakeout run. The weather was humid! It was expected to reach about 25 Celsius during the day and then to cool off to -4 by the next morning (really odd). I went with the Holiday-Inn sliders for breakfast as they went down well the previous morning. At 11:30 I sipped my pre-race beer, something that is now part of my race day routine. Budweiser Light Platinum was my drink of choice. The beer is 6% alcohol, but it goes down smoother than any other official Beer Mile drink. A few of us went over the course at about 12:15 to hang out, with our race being at 3:50pm. Initial thoughts were that the crowd wasn't as big as I expected, and I wasn't too nervous but it was good to be there. I had a small snack of jam and bread just inside 3 hours out, as my last pre-race food. It was hot by the time we warmed up and I was still deciding on how long to leave the beers on ice for. In the end I decided to take them out after the warm up jog, which was close to perfect on the day (40mins). In the future I'd have kept them there a few minutes longer had I known our start would be delayed. I did a few strides and I wasn't feeling super quick. I was starting to get a few negative thoughts and kind of went into safe mode. I started thinking about relaxing instead of getting after it.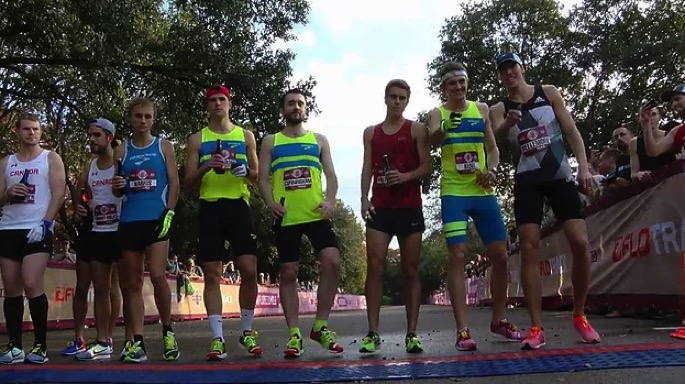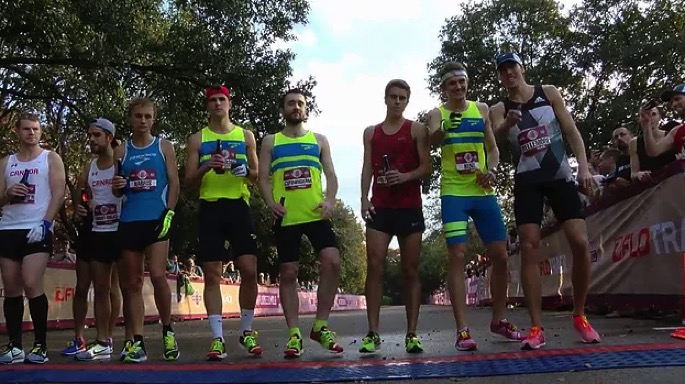 We lined our beers up on one of the two tables. I'm a right-hand grabber, left-hand opener, right- hand drinker so I had mine on the outside table, but in pole position. That was a win. The outside might normally be seen as a disadvantage, but the final corner was so slippery that we ran very wide into the straight so I just had to keep running straight towards it. Funnily enough, my other 2 beers from the 6 pack were still on ice so I got them out and actually used both in the end as we got delayed on the start for quite a while. Definitely better to be on the cold side for me.
The horn sounded and everyone started drinking. I didn't attack the beer but got it down smoothly. I came out in 7th, but basically with everyone except Lewis. I quickly found myself up into 4th heading around the course behind Kent, Bellemore & with Phil. I was very relaxed so I just stayed there. We cautiously took the final corner and headed towards beer 2. Once again it was smooth but not my quickest. I came out of the transition zone just behind Phil again and Chris Robertson had come by us. I glanced behind and we had space to 6th. That was nice to know as it didn't feel hard. I came into the straight in 4th place, but Phil overtook me just before the chug zone to grab his beer. The 800m split was 2:34, so it was going to be a slow day. I got the 3rd beer down, did a couple of dangerous burps and set off on lap #3. I was relatively confident I was going to get through it today, especially as I would definitely have had room on beer 4 to leave some. The official legal amount left in all 4 bottles at the end of the race is 4oz (118ml).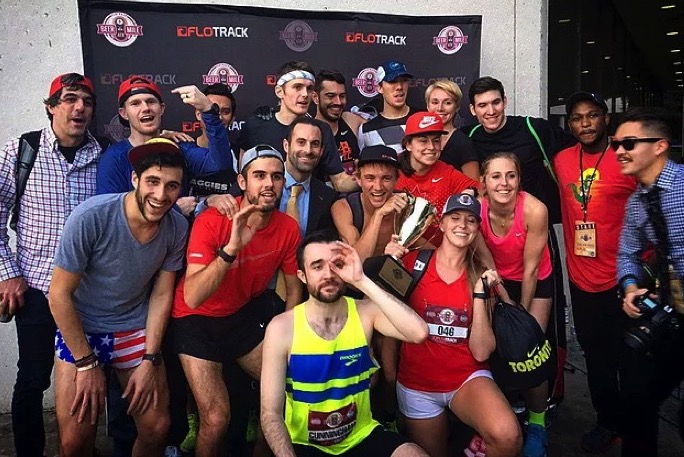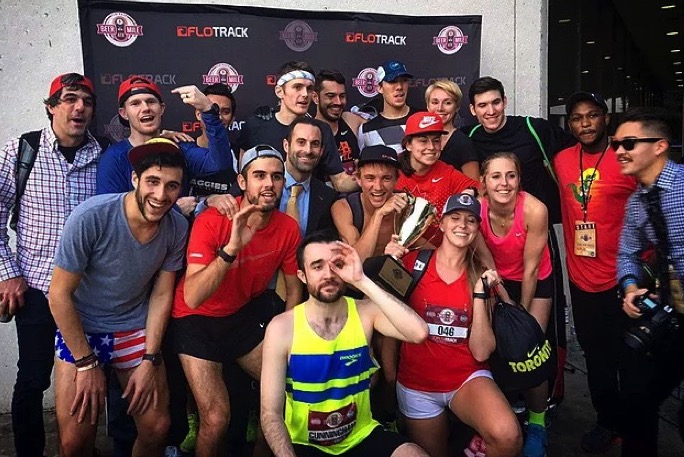 Nothing had changed and I was again running just behind Phil. In hindsight, I would've loved to see what happened if I ran harder but getting through my first World Champs was a big thing for me, especially as Flotrack have a rule that a puke is a DQ. I came into the last beer and chugged it down easily. All my beers were super clean, albeit not super quick. I burped early and then sensed I had the solid finish left in me. I went after Phil and Chris early on in the lap and sniffed a chance at the podium. By the time I got to Phil he was ready to get rolling with the same goal and managed to put a gap on me. There was no overtaking if it didn't happen before the last corner. I ended up 5th in 5:05, just behind Chris and Phil (5:03), with Lewis 2nd in 4:59. Not too far off where I wanted to be given the slipperiness of the course, a satisfying result. Bellemore was too strong for the win. Splits were roughly as follows;
Beer zone 1: 6.3
Lap 1: 67.7
Beer zone 2: 8.6
Lap 2: 71.0
Beer zone 3: 8.8
Lap 3: 70.2
Beer zone 4: 8.3
Lap 4: 64.1
Beers- 32
Laps- 4:33
I feel as though on my day, on the track I could probably run sub 4:20 and drink sub 30 seconds for the chug zones, but it was nice to get one on the board. I was already feeling very tipsy after the race and was looking ominous for a big night even by the time I was interviewed after the race. On our way back to the hotel we grabbed some race memorabilia which will look awesome in the bedroom at home before getting stuck into a big night. I was in trouble by the time the pre-drinks kicked off and only got worse from there. It was a night of no control and an early pass out, after no doubt doing some silly things. I am a lightweight these days compared to some of those boys, so I'm not surprised I couldn't keep up. It's always great hanging out with the group as they all love a good time.
Men's Race – 2016 Beer Mile World Championships