Victorian All Schools Championships
Although for many junior athletes their grand final is next March's Australian Junior Championships, we are still seeing some exciting early season performances from our junior stars. Over the last 3 days we have been witness to many highlights at the Victorian All Schools Championships, none bigger than a Victorian record from Ned Weatherly.
Competing in the U/18 hammer throw (5kg), Weatherly was in a class of his own and proceeded to break his own Victorian U/18 record of 79.03m (set in 2014) with an excellent throw of 79.34m. Although it is some way off the Australian youth record, held by Matt Denny at 81.44m, the performance places the young Victorian in a great position to medal at next years World Junior Championships in Kazan, Russia.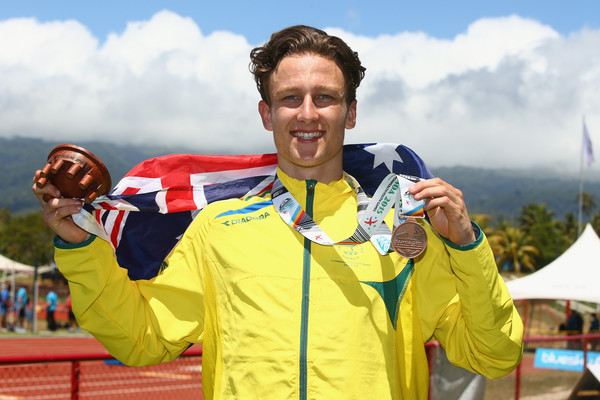 On the track it was the chance of Commonwealth Youth Games bronze medallist in Harrison Kimpton-Moss to shine and he didn't let anyone down. He produced a 52.81s for the 400m hurdles (84cm) to defeat the very promising hurdler in Matthew Harcourt (53.32s PB). Although it wasn't a PB for Kimpton-Moss (that was a 52.33 from the CYG), the result still places him in a great position to produce the 52.26 required to qualify for the World Juniors next year over the 91.4cm hurdles.
Also on the track we saw the very talented Lawson Power smash his PB in the U/18 400m with a time of 47.79s, while over the two laps we saw a 1.49.30 WJQ from Lachlan Barber (who earlier this year ran a PB of 1.48.06) and Zoe Brito-Babapulle who won the U/16 800m in 2.09.26 (also a PB).
Other highlights from the 3 days of competition were:
Danielle Shaw – 13.99s (+0.4), 100m hurdles
Cameron Sterle – 21.76s (+1.1), 200m (PB)
Jonathen Lightfoot – 2.04m in the U/16 high jump
Maxine Paholek – 6.58.02 in the U/18 2000m steeplechase
Cassidy Shaw – 3.58.73 in the U/18 1500m
Julia Bourke – 15.50m in the U/18 Shot Put (3kg)
Kyle Swan 21:38.41 in the U/17 5000m walk
Ned Weatherly – 18.71m in the U/18 shot put
Jemima Montag – 23:17.26 in the U/18 women's 5000m walk
Maddie Coates – 12.04 (-1.6) in the U/20 100m
We return to the Lakeside Stadium in Melbourne for the 2015 Australian All Schools Championships, which will take place between December 4 and December 6 (which includes the Zatopek meeting on Saturday 5th December). An exciting time to see some of our very best juniors in action.
Don't forget to vote for your Athlete of the Month – October, 2015. At the moment it is a tight tussle between Milly Clark and Jess Trengove – so don't miss your chance to vote now!