Not Every Story Has a Happy Ending
There are now just over two weeks left before we know exactly which additional athletes will be added to the Australian team for Rio. We have been following the journeys of all our Olympic hopefuls, and over the last six months we have certainly been witness to both the highs and lows of the sport we love so much.
In the past week alone we have seen both sides of the coin, with Olympic dreams being both fulfilled and broken. But of course there are so many more stories that have been told along the way, and we can never forget all of the sacrifices each and every athlete goes through in order to compete at the very highest level.
Baden Returns to Cairns and Delivers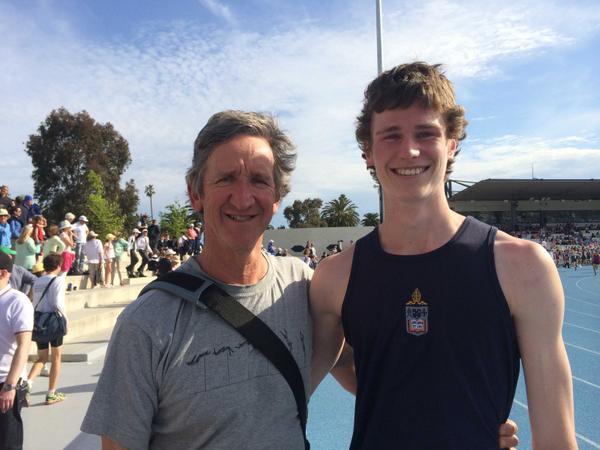 On June 19 Joel Baden competed in a special jumps meeting in Cairns and had three unsuccessful attempts at the OQ height of 2.29m in the men's high jump. Fast forward one week and the 20 year-old delivered when it counted, with the all important 2.29m clearance at the North Queensland Championships, also in Cairns. It equalled his PB (from 2014), and was again testament to an athlete determined to do everything in his powers to make the Australian team for Rio.
With the ongoing support of his coach Sandro Bisetto, Baden will now head over to Rio knowing that he has the all important experience gained from his World Championships debut in Beijing last year.
In the same competition Nik Bojic also had some close attempts the qualifying mark, finishing the competition with a best of 2.20m. Bojic will likely have another competition when the DownUnder Championships are conducted at the Griffith University Athletics Track from July 8 to July 10.
Other Highlights from the North Queensland Games
Tettah Anang jumped 16.05m (+1.5) in the men's triple jump
Pirrenee Steinert returned to competition and ran a solid 54.29s in the women's 400m (note: the last time she competed over the 400m was back in 2012 – a year when she set her PB of 52.70s). On Sunday Steinert backed it up with a win in 54.43s.
Monica Brennan ran a 23.74s (+0.4) in the women's 200m
Tom Gamble produced a scintillating 20.69s (+0.4) PB in the men's 200m – amazingly only .19 outside the OQ of 20.50s
Alana Boyd continues to shine in the women's pole vault after his misfortune at the World Indoors in March, this time clearing 4.60m
Henry Frayne jumped 7.72m (+2.5) in the men's long jump
In the women's long jump Brooke Stratton returned from her European campaign with an excellent 6.68m (0.0) effort, defeating Jess Penney (6.51m) – who had last week also jumped a windy 6.58m.
Marschall's Rio Stunner, Hale Takes Up Rio Challenge 
Everybody was suggesting that 19 year-old Kurtis Marschall was a special vaulter, and on his third attempt at an Olympic qualifying height of 5.70m he simply proved them all right. At the 23rd Bauhaus Junior Gala meeting in Mannheim, Germany Marschall was in a league of his own, clearing a height that only 9 other junior men had done before him in the history of the event (note: world junior record is currently held by Russian Maksim Tarasov at 5.80m).
It wasn't the first time Marschall had attempted the height, having missed three times at the National Championships in April after clearing a PB of 5.55m. He now enters the World U/20 Championships as a firm favourite, and also knows that a trip to Rio straight after the Championships is now more than just a dream.
At the same meeting in Mannheim Jack Hale also produced a stunning result, this time in the men's 100m. His time of 10.21s (+1.6) was a new National U/20 record and was only 0.05sec from also being an Olympic qualifier.
Before Hale left for Europe, he told the Mercury that he believed he could achieve the 10.16 second mark required for Rio. "I feel as though I have a chance to hit that Rio qualifier [in Europe]," he said. The only concern is that he could produce the required time outside of the qualifying period that ends on July 11. Hale is only scheduled for one more competition prior to the World U/20 Championships – the Polish under-20 Championships on Friday – and he admits it makes it a little more difficult. Watch this space.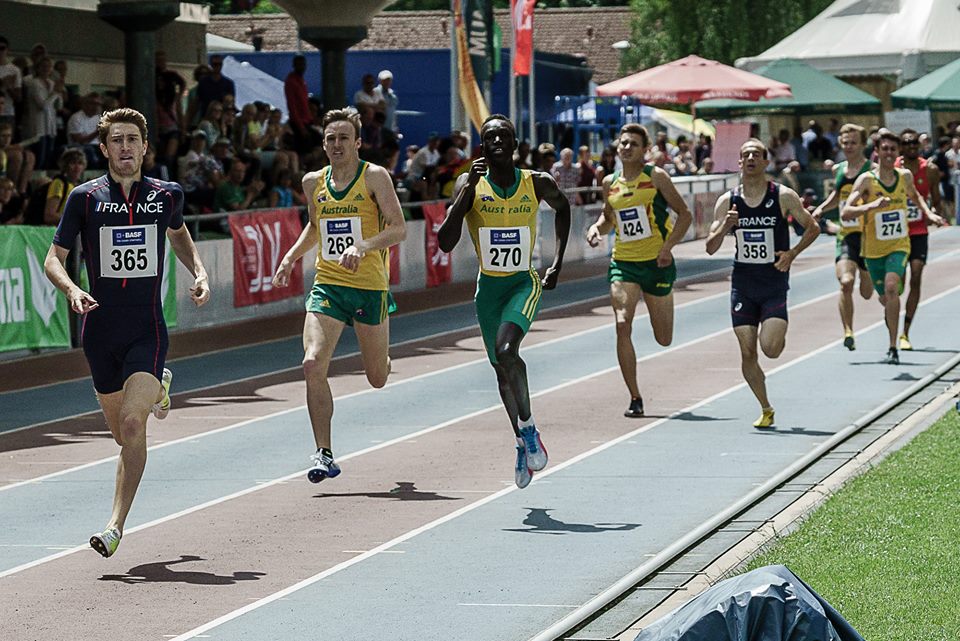 In other Australian highlights from the Junior Gala:
Lachlan Barber backed  up a PB in the 1500m (3.48.24) with another PB in the 800m less than 24 hours later with a 1.48.02
Also in the 1500m Matthew Ramsden set a PB of 3.42.97, which was also the case for Isaac Hockey (3.43.86).
Back in the 800m Joseph Deng smashed his PB with an excellent 1.47.90
In the 110m hurdles Nicholas Andrews (right) moved closer to the Australian Junior record with a very fast PB of 13.33s (+1.6), backing it up in the final with a 13.44s (+1.2)
Darcy Roper jumped 7.74m (0.0) in the men's long jump
Julian Konle jumped a PB of 16.06m in the men's triple jump
Jess Thornton, although not excited by her own performance, produced a 23.50s (+0.8)  in the women's 200m
Danielle Shaw produced a PB of 13.68s (+1.7) in the women's 100m hurdles
Kirsty Williams threw a solid 50.59m in the women's discus throw
The Other Side – Heartbreak for See
It's always hard to put into words when an athlete has their Olympic dream cruelly cut short due to an injury, and it was no different when we learned the news that Heidi See would no longer be in the running for Olympic selection in the women's 1500m.
Now we all know that See is not the first and will certainly not be the last athlete to have their Olympic dream shattered through injury  – but it doesn't make it any easier. In a heart felt blog from See, titled 'Hashtag Road to Riocovery', there was a pure emotion that could only come from the athlete themselves. One little piece from the post summed it up:
I'm still trying to figure out if there's anyway I could sleep through the entire Olympic Games, but I also know I won't stay this bitter forever. Just like with any heartbreak, time will help it heal and along the way you will discover new things about yourself that you had never known before. I know I am not the only one who has dealt with heartbreaks like this, and hearing similar stories and advice from other runners during this time has helped me a lot. I hope that by sharing this I can do the same for someone else out there who is going through something similar.
See was close to selection after a win at the National Championships in April, and was looking at producing the 4.07.00 OQ in the United States. Although this never eventuated, there is at least the good news that another qualified athlete will now receive their chance at being selected for Rio.
At this stage the team will now likely be Melissa Duncan (just needs to prove to selectors that she if fit by running a 4.12.00 over the coming weeks), Linden Hall (super effort in Eugene with a PB of 4.01.78) and Jenny Blundell (PB of 4.04.62 in Beijing back in May and had another win on Sunday in Spain in 4.09.92). This is not to dismiss the chances of Zoe Buckman, who will have another qualifying attempt on the 29th June (Paavo Nurmi Games in Finland), where she will need at least a 4.04 to push for selection but will have the helping hand of Genevieve LaCaze as a handy pacemaker in the event.
Not Another Hard Luck Story?
The other prominent athletes still in line for Olympic selection are:
Steve Solomon (400m) – recently raced in Madrid on June 23 and was again just short of the OQ time of 45.40s, this time placing 4th in 45.52s. His best times in 2016 now include 45.44s, 45.50s, 45.52s and 45.72s performances. He had another run on Sunday, but couldn't match his recent performances with a best of 46.22s. Still a good chance of making the team for Rio, but time is starting to run out. Note: after the race on Sunday Solomon suggested that the timing could have been incorrect: "Unfortunately the timing was "off". Results say 46.22 but the race was certainly much faster. The winner, Nery Brenes ran 46.11. Just three days earlier, Nery ran a lifetime best time in Madrid of 44.60…". Solomon will now race on July 2nd in Nottwil, Switzerland.
Brittany McGowan (800m) – ran a superb 2.01.63 in Nivelles, Belgium on June 18, adding to her 2.01.64 set back in Kawasaki, Japan on May 8. Still in Europe chasing the currently elusive 2.01.50 required for Rio.
Brianna Beahan (100mH) – managed to have a run at the Belgium National Championships on Saturday, but could only run a heat and finished the race with a 13.35s performance (into a -0.8 headwind). Prior to that had an encouraging result in Nivelles, Belgium (13.25s +0.6). Still trying to find the perfect race that will see her produce the required 13.00s OQ time, which is now scheduled for June 28 in Sweden.

James Nipperess – one last chance at making the Olympic team for Rio.

James Nipperess (3000mst) – latest run was in Bilbao, Spain where he produced a 8.37.66, second fastest time of 2016. His 8.32.59 from May 20 (Eagle Rock, USA) is only 2.59sec outside of the OQ time, and now has one more attempt in Europe to secure his place on the Australian team. [ed. at the same meeting Damien Birkinhead improved on his recent performances post foot surgery, with a solid 19.81m shot put to place 2nd.]

Patrick Tiernan (5000m) – has now run a 3.45.15 1500m (PB) and 7.54.12 (3000m) in the lead up to the all important attempt at a 5000m OQ in Finland on June 29. Has already recorded a 13.25.78 in 2016 (only 0.78s outside the required mark for Rio), and will have a great chance to add his name to the list of qualifiers in the event.
At this stage there isn't any other athletes likely to close in an Olympic qualifier, but as we have just seen over the weekend with Baden and Marschall anything can and will happen over these remaining two weeks prior to the selection deadline of July 11. (note: racing alongside Beahan at the Sollentuna meeting in Sweden on June 28 will be Stewart McSweyn, an athlete in great form over the 3000m steeplechase – with a big watch on what he can produce after a recent PB of 8.39.21)