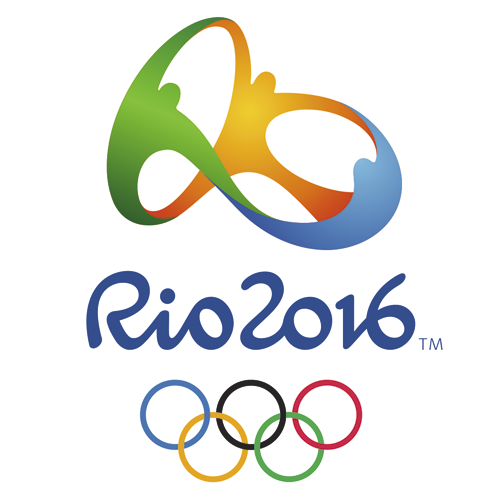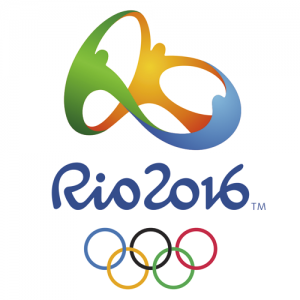 [TS-VCSC-Countdown counter_scope="2″ counter_datetime="07/12/2016 12:00 AM" countup="false" date_seconds="false" style="flipboard"]
Less than a week to go until the Olympic qualifying period ends on July 11.
Will This Be Our Best Olympic Team Since Sydney?
It's hard to imagine an Australian Olympic team without Sally Pearson, but unfortunately that's what we are faced with leading into the 2016 Rio Olympics. In saying this the Australian athletics team looks like it could one of the strongest we have sent to the Olympics since we actually hosted it in Sydney back in 2000.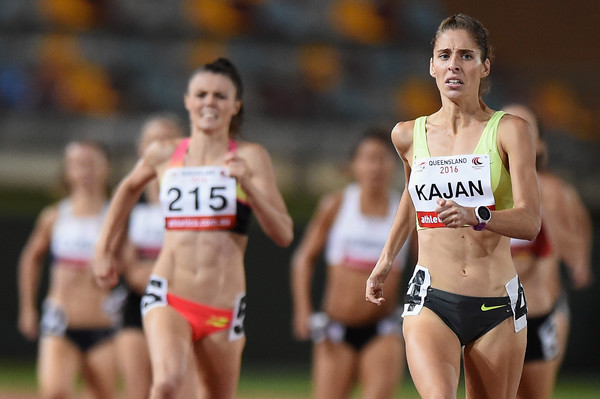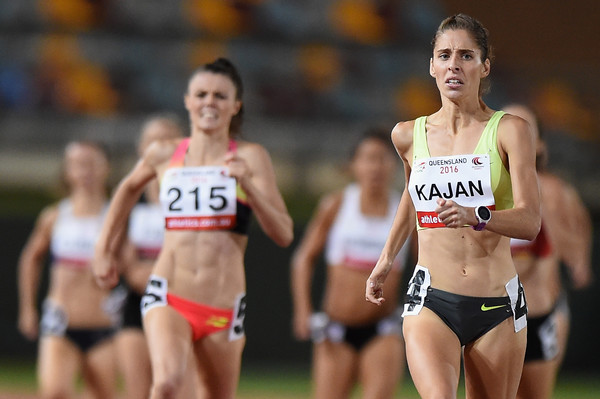 Since the National Championships in April we have continued to see the team grow, with the most recent qualifiers coming from the likes of Peter Bol (800m), Selma Kajan (800m) and Patrick Tiernan (5000m). This will ensure a team that should number close to 60 individual athletes, which doesn't include any additional athletes selected as part of our women's 4x400m team.
With the Australian team to be finalised once the Olympic qualifying period officially closes on July 11 at 11:59pm (AEST), there are still some Australian athletes pushing for that elusive qualifier. These include:
Brittany McGowan (800m) – currently in Spain, with at least one more race scheduled
James Nipperess (3000mst) – one last attempt this week
Stewart McSweyn (3000mst) – Nic Bideau believes that this young talented athlete will eventually break the Australian record held by Shaun Creighton of 8.16.22 (1993). In the mean time he will try and qualify for Rio on July 9 in Solihull, England. He's already taken his PB down from 8.50.24 in March to 8.34.45 in Sollentuna (June 28) – less than 5 seconds from the magical OQ mark of 8.30.00.
Steve Solomon (400m) – also looking for at least one race this week for the 45.40s required for Rio
Nicholas Hough (110m hurdles) – has been in great form lately, including a brilliant SB of 13.56s (+0.9) in Barcelona on June 30. He's within 0.09s of the OQ time of 13.47s.
Competing alongside McSweyn in Solihull will be some interesting Australian distance athletes. These include:
Zoe Buckman (still fighting for a spot on the team in the women's 1500m, but would require something around 4.04.00 to do so)
Patrick Tiernan and Collis Birmingham – will go head to head in what could easily decide who makes the team for Rio in the men's 5000m (with Sam McEntee and Brett Robinson already on the team for Rio).
Brianna Beahan was also looking for an Olympic qualifier in the 100m hurdles, but has decided to end her European campaign after a recent 13.19s (+0.9) performance on Sunday in Belgium. At the same meeting Jared West placed 4th in the men's 800m (1.47.64), while in the same race Alex Rowe finished 5th in 1.47.75. In other results Ian Dewhurst ran a SB of 50.06s in the men's 400m hurdles.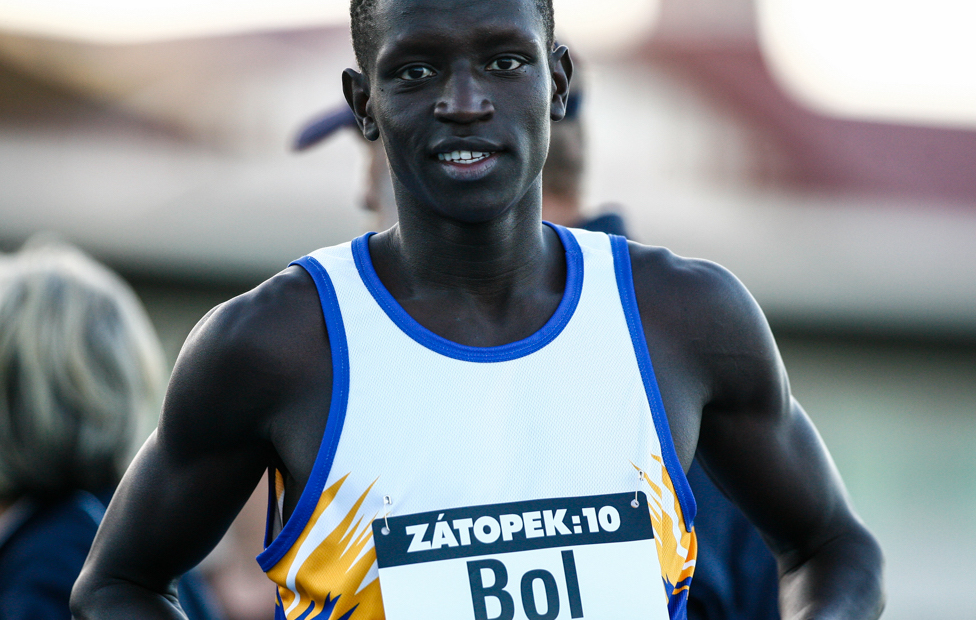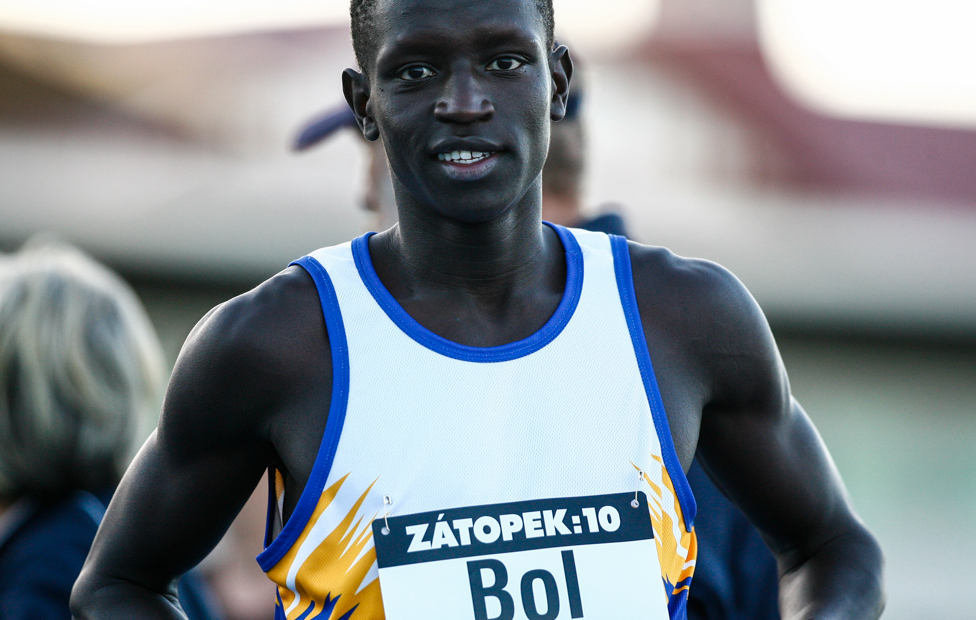 With the recent OQ mark recorded by Peter Bol (pictured right) in the men's 800m (1.45.78 in Germany of June 29), it will also be interesting to see if Bol or Joshua Ralph will race over the 800m again prior to the July 11 deadline. The two athletes are also in a battle to be named as the third Australian athlete named on the Australian team, behind the already selected Luke Mathews and the likely selection of Jeff Riseley (ed. Riseley recently ran a 1.47.34 in Finland on June 29 behind Jordan Williamsz, which was under the 1.48.00 required to prove his fitness ahead of final selection meeting next week. Riseley also owns a OQ of 1.44.99 from 2015, while Bol's 1.45.78 is marginally ahead of Ralph's 1.45.79 OQ time recorded in August last year).
So What Does the Australian Team Look Like?
So with a few more twists and turns surely to take place over the coming week we can only go on what the team could look like when it's announced next week.
Men's Track and Field Team
Josh Clarke (100m)
Alex Hartmann (200m)
Jeff Riseley, Luke Mathews and either Peter Bol or Josh Ralph (800m)
Ryan Gregson and Mathews (1500m)
Sam McEntee, Brett Robinson and either Collis Birmingham or Patrick Tiernan (5000m)
Ben St.Lawrence and David McNeill (10000m)
Brandon Starc and Joel Baden (high jump)
Kurtis Marschall (pole vault)
Fabrice Lapierre and Henry Frayne (long jump)
Damien Birkinhead (shot put)
Benn Harradine and Matthew Denny (discus throw)
Josh Robinson and Hamish Peacock (javelin throw)
Cedric Dubler (decathlon)
Michael Shelley, Liam Adams and Scott Westcott (marathon)
Dane Bird-Smith, Jared Tallent and Rhydian Cowley (20km walk)
Tallent, Chris Erickson and Brendon Reading (50km walk)
Still to qualify – McSweyn, Nipperess, Solomon and Hough
Women's Track and Field Team
Melissa Breen (100m)
Ella Nelson (200m)
Anneliese Rubie and Morgan Mitchell (400m)
Selma Kajan (800m)
Melissa Duncan, Linden Hall and Jenny Blundell or Zoe Buckman (1500m)
Eloise Wellings, Genevieve LaCaze and either Madeline Hills or Emily Brichacek (5000m)
Wellings (10000m)
Hills, LaCaze and Victoria Mitchell (3000m steeplechase)
Michelle Jenneke (100m hurdles)
Lauren Wells (400m hurdles)
Elenor Patterson (high jump)
Alana Boyd (pole Vault)
Brooke Stratton and Chelsea Jaensch (long jump)
Dani Samuels (discus throw)
Kathryn Mitchell, Kelsey-Lee Roberts and Kim Mickle (javelin throw)
Lisa Weightman, Jess Trengove and Milly Clark (marathon)
Rachel Tallent, Regan Lamble and Tanya Holliday (20km walk)
Mitchell, Rubie, Jess Thornton, Caitlin Jones and either Wells, Jess Gulli-Nance or Monica Brennan.
Still to qualify – McGowan, while there are still opportunities for the likes of Taryn Gollshewsky and Jessica Penney at the DownUnder Games on the Gold Coast  (July 8-10) – see more below 
*Note: There are still athletes detailed above that are required to meet 'fitness' standards prior to competing in Rio. These standards are currently listed on the AA website, and include athletes such as Kim Mickle, Josh Clarke and Melissa Duncan.
That totals 30 men and 28 women (individuals) plus relay additions. We are also crossing our fingers that the likes of Solomon or McGowan can add their names to the list above – ensuring that we have a team totalling at least 60 athletes, which would be an excellent number. Certainly the biggest team Australian has sent to the Olympics since the Sydney Games in 2000.
DownUnder Championships – Gold Coast (July 8-10)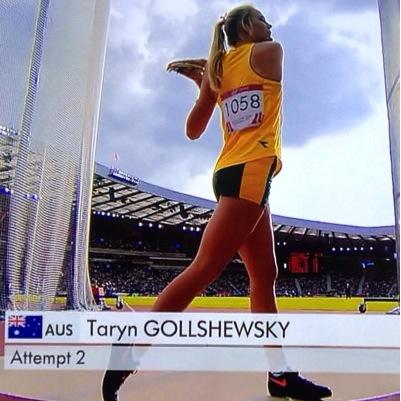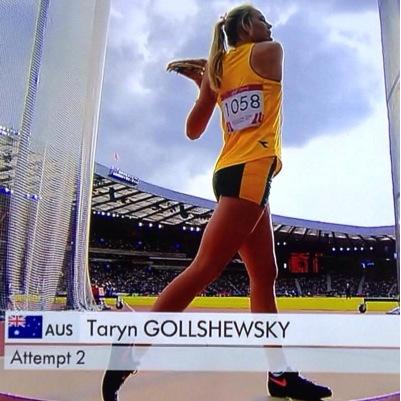 Away from European action we still have one last meeting in Australian scheduled on the Gold Coast from July 8-10. This will give one last opportunity to athletes such as:
Jessica Penney – goes head to head with Brooke Stratton in the women's long jump hoping to improve on her recent 6.58m(w) performance in QLD. Needs 6.70m for OQ.
Taryn Gollshewsky – has been extremely consistent in 2016 in the women's discus throw, which has included going over 58m on five occasions in 2016. A PB of 58.91m in 2016 is just shy of the OQ mark of 61.00m.
Other big names to line up include the likes of Michelle Jenneke (100m hurdles), Anneliese Rubie and Morgan Mitchell (400m) and Matthew Denny (discus throw). All of these athletes are currently on the start list, but we are still awaiting official confirmation of their actual appearance at the Games.
So there it is, a full wrap up prior to the all important final AA selection meeting next week. We cross our fingers to all athletes still chasing qualifiers, and look forward to seeing the final Australian team announced for Rio next week – most likely officially named towards the end of the week. Good luck!!