Sydney to London: Qualifiers Within Reach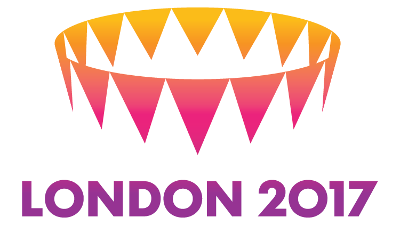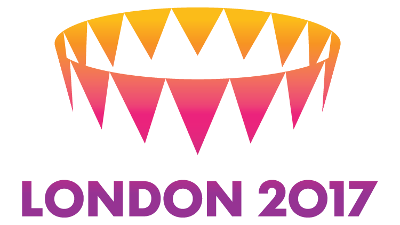 It's hard to believe that in 131 days time we will again be watching with anticipation as our Australian athletics stars take on the world in London. In 2015 we sent a total of 44 athletes to Beijing, China (16 men and 28 women), with a great mix of youth and experience. In 2017 we again look to a number of around 50 athletes to represent the green and gold.
Although there has certainly been some concern over the opportunities to post qualifiers for London across the domestic season, the Australian Athletics Championships will again provide a great stage to 'tick the box' for many of our athletes. What will be interesting is the watch on our next generation of stars – looking to shine both on the track and in the field.
We have already seen glimpses of these 'new' stars over the domestic season, especially from our junior athletes. Combined with our established stars, we are all hoping that a combination of good weather and great head to head competition will bring out the best in all of our athletes.
Our Stars from 2016
Looking at our 'Power Rankings' from 2016 we will be missing some of our biggest stars, none more so than the number one ranked athlete on the rankings list – long jumper Brooke Stratton (just returning from injury). We also have the retirement of Alana Boyd (#5 on the list), while the likes of Eloise Wellings, Fabrice Lapierre (both qualified for London), Genevieve LaCaze and Madeline Hills are all concentrating on their base training ahead of a long season a across the United States, Asia and Europe.
Then we also have the likes of Brandon Starc, Jeff Riseley and Henry Frayne missing from the start lists for Sydney. The above names are some of our biggest names in Australian athletics, but there will still be some very exciting competition across many different events.
Our Top 10 Athletes to Watch in Sydney
This is always going to be a hard task to isolate just ten athletes, so please understand that the following athletes are just some of the many talented athletes that will take to the track and field in the hope of both individual glory and maybe even a golden ticket to London!
[TS_VCSC_Title_Flipboard title="#1 Joshua Clarke (100m)" size="medium"]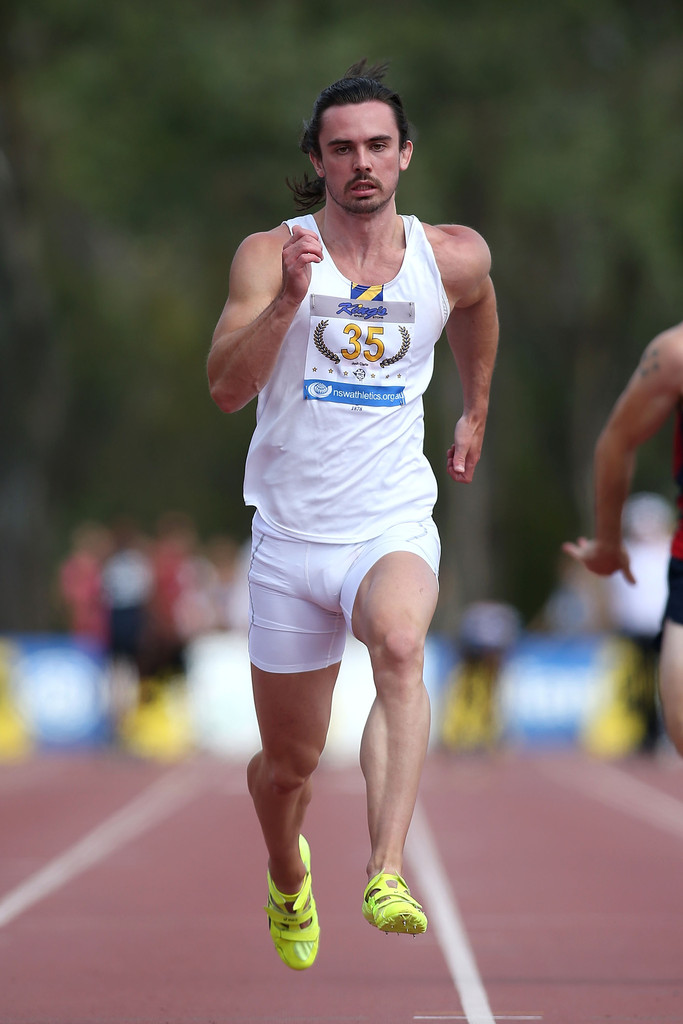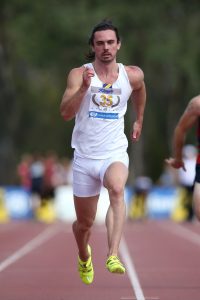 There is something about this 21 year-old sprinter that has all athletics fans within Australia holding their collective breaths every time he gets down on his blocks. It's a combination of 'can he really break 10 seconds' and also will he get through the race without blowing out his hamstring.
We have already seen glimpses of his full potential, with times of 10.15s from 2016 and a SB of 10.22s in 2017. We have also seen him completely miss the start of his latest race in Canberra (March 11) and still cross the line in 10.32s – that's just how much talent he has. In between his PB from 2016 and this years domestic season, Clarke missed the Rio Olympics when he couldn't come back from injury in time. We can only cross our fingers that he can (1) run the required 10.12s qualifier for London and (2) keep his body injury free for a real push towards being only the second Australian to break the 10 second barrier.
The Race
The real test should actually come from the New Zealand star sprinter in Joseph Millar. He has already set a NR of 20.37s in the 200m, while in the 100m he has run a PB of 10.18s. Millar has looked really sharp in 2017, and will certainly push Clarke all the way in the final.
Looking at the Australian contingent it looks as though there will be no shortage of athletes lining up for the minor medals. Aaron Bresland, Nicholas Andrews, Alex Hartmann, Jin Su Jung and Trae Williams are all capable of running in and around 10.30s.
Did You Know?
Fastest time at the Australian Championships since 2000: Josh Ross 10.08s (+1.9) in 2007
Ross went onto win 7 National titles
Josh Clarke won the National title in 2015 running 10.19s (+1.1)
[TS_VCSC_Title_Flipboard title="#2 Peter Bol (800m)" size="medium"]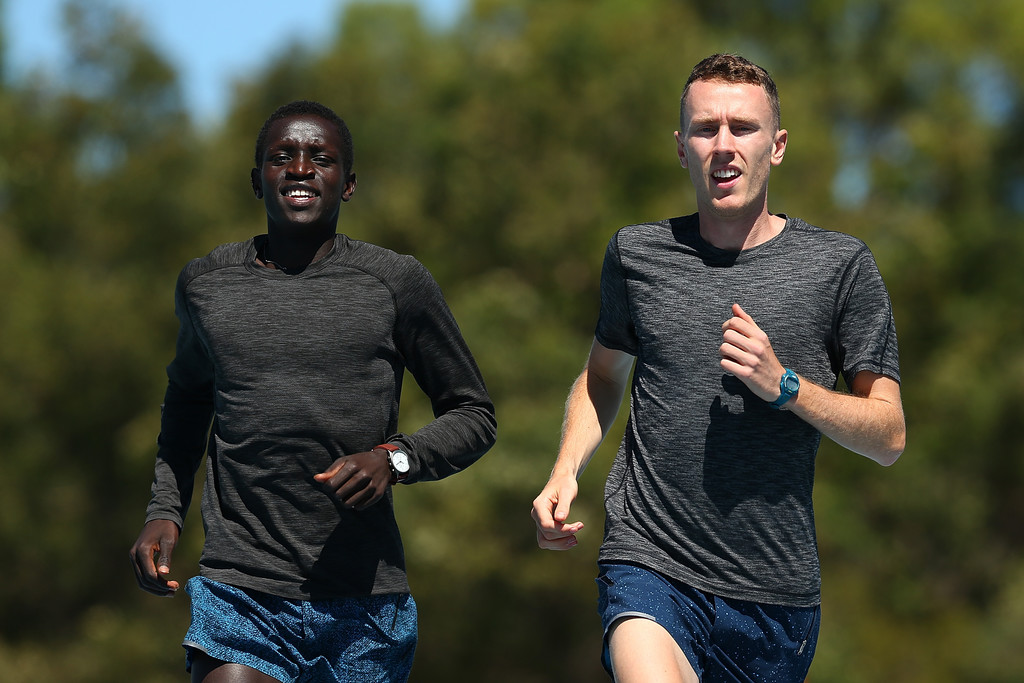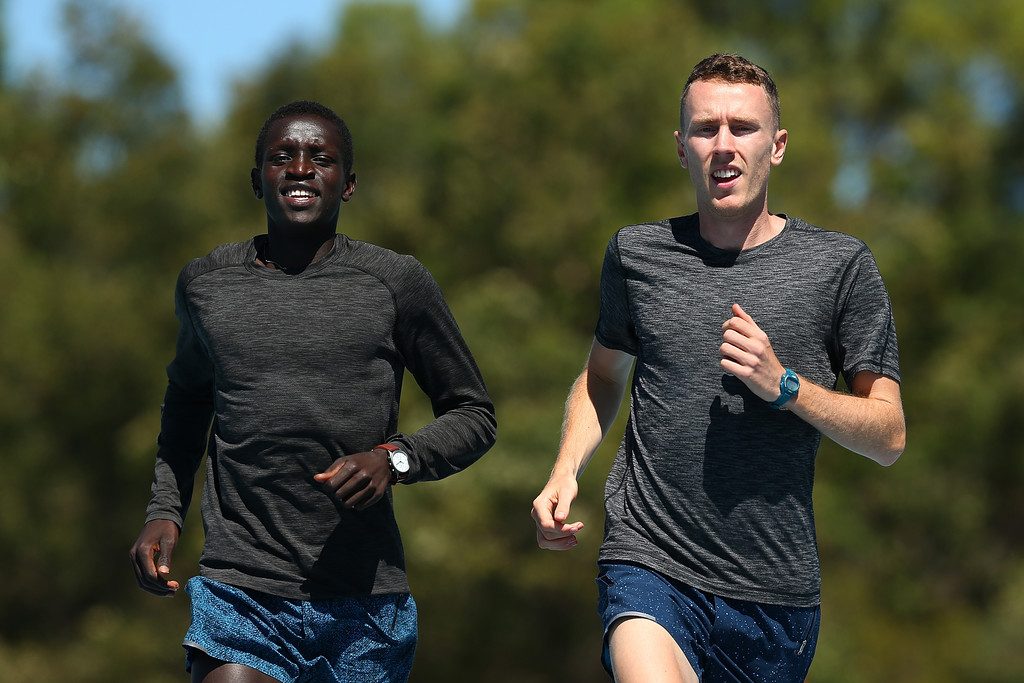 When you look through the line up for the men's 800m in Sydney there doesn't look to be a true standout. There is an Australian record holder in Alex Rowe, 2016 Olympians in Peter Bol and Luke Mathews plus the surprise packet of 2017 Stephen Knuckey. Only one of these athletes has broken 1.47.00 in this year, and this makes Bol somewhat of a favorite entering the final.
Bol has enormous talent, and is starting to show us all that he has what it takes to one day make a final at a major championships. This year he hasn't had the chance to produce a super quick time over the two laps (SB of 1.46.98), and if history repeats it would be highly unlikely that a quick time will be required to take out the National 800m title.
Overall Bol has only ever run under 1.46.00 twice in his career (including his 1.45.41 PB in July 2016), although there looks to be so much upside for the 23 year-old entering  a World Championship year. Bol has certainly learnt from his Rio experience, and is now looking to take home his first ever National title.
The Race
It's really hard to line up any form for this race, which included a 'DQ' for Bol in his last race in Canberra on March 12. Joshua Ralph won a race over in Auckland in 1.47.75 (defeating Mathews and Jordan Williamsz), while in the same race where Bol ran 1.46.98, Knuckey produced a 'massive' PB of 1.47.23 (and a WUQ), while Mason Cohen ran 1.47.94. Then you have Rowe who is always going to push for the win, so picking a winner is a difficult task.
Did You Know?
Fastest time at the Australian Championships since 2000: Luke Mathews 1.46.20 in 2016
Rowe has won the title once in 2013, but has also won four silver medals!
In 1982 Peter Bourke ran a Championship record of 1.44.78, but since then only two athletes have ever run under 1.46.00 to win the title (Mike Hillardt 1.45.74 in 1983 and Kris McCarthy 1.45.91 in 2000).
[TS_VCSC_Title_Flipboard title="#3 Matt Ramsden (1500m)" size="medium"]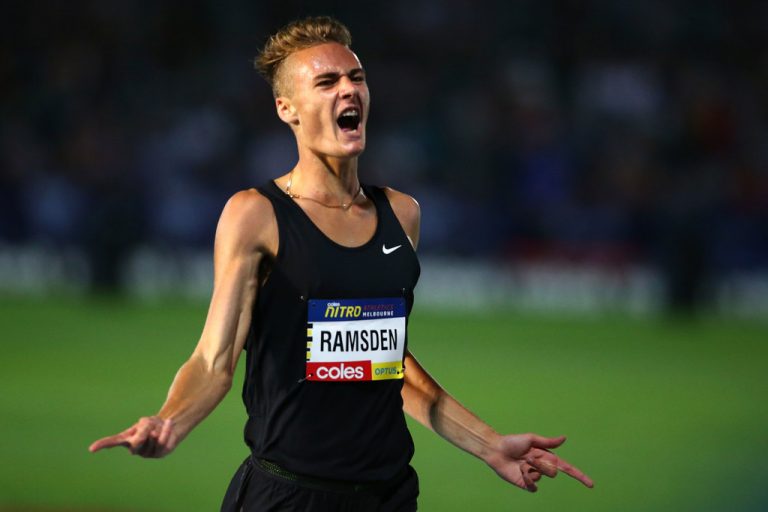 The men's 1500m looks to be one of the most intriguing races of the meeting. This will be largely due to the fact that 19 year-old Matthew Ramsden has so much 'x factor'.
The young Western Australian was the talking point from both the 2016 Zatopek meeting (where he blitzed the U/20 field in the men's 3000m) and then the Nitro Series in February (where he took victory in one of the mile races in emphatic style). Although he hasn't run any 'fast' 1500m races in his career to date (PB of 3.42.97), there would be an expectation that something 'big' is just around the corner.
Ramsden placed 6th at the World U/20 Championships last year in the 1500m, a result very similar to Ryan Gregson's performance (when placing 5th at the 2008 World U/20 Championships). There is also a suggestion that he is very similar to the great Craig Mottram, so there is definitely no shortage of external expectations. In saying this there is no doubt that whatever Ramsden does in Sydney there will a lot to look forward to over the coming years.
The Race
You can't go past the simple fact that Gregson is Australia's number one middle distance runner, and will surely be odds on favorite to add to his two National titles from 2010 and 2016. The ever improving Jordan Gusman will surely be one of the biggest threats if he can produce the form that has seen him already run a 3.39.85 1500m and 3.57.9h mile this year. Then you have Ramsden, Williamsz and Mathews all pushing for the medals – making for a very interesting event.
Did You Know?
Fastest time at the Australian Championships since 2000: Jeff Riseley 3.35.71 in 2009
Riseley has won 5 titles but will be missing from the 2017 event.
In 1984 Mike Hillardt defeated the legendary Steve Ovett (3.36.26 to 3.36.60) in a year that Ovett made the Olympic 800m final.
[TS_VCSC_Title_Flipboard title="#4 Chris Mitrevski (Long Jump)" size="medium"]
It's hard to think of a time when we didn't have quality and depth in the men's long jump. Although this year we will be missing the likes of Fabrice Lapierre and Henry Frayne, the names on the start list will surely make this one of the top events to watch.
One of the top contenders will be 20 year-old Chris Mitrevski, who really only came to notice after his big efforts on the track, not in the sand pit. In 2015, still a junior, Mitrevski ran a 10.65s/21.17s 100m/200m double. In the long jump his best was still a modest 7.45m. Then in 2016 his jumping took over, and by the end of year he had jumped 7.92m and a 5th place finish at the National Championships (7.75m).
In 2017 he's taken it to a new level with a new PB of 7.97m in Canberra while also jumping a 'windy' 8.05m. His series in Canberra included a 7.90w (+2.1), 8.05w (+2.7) and 7.97m (+1.5) PB. This consistency is starting to suggest that maybe London isn't completely out of the question, with the qualifying mark required set at 8.15m.
The Competition
There is clearly going to be some great competition, with no fewer than five athletes on the start list with SB's of 7.70m+. This includes recently crowned U/20 National Champion Darcy Roper, the up and coming Queensland jumper in Liam Adcock (7.90m PB in 2017) and a third Queensland jumper in Shemiah James (recent PB of 7.88m).
With such quality at the top, you would expect (weather permitting) that at least one of the above mentioned athletes will produce an 8m+ jump for the win.
Did You Know?
Longest jump at the Australian Championships since 2000: Fabrice Lapierre 8.78m (+3.1) in 2010
Lapierre has won 5 titles, which started with a win at the 2006 National Championships.
Australian record holder Mitchell Watt only ever won one National title, winning in 2011 with a massive jump of 8.44m.
[TS_VCSC_Title_Flipboard title="#5 Matt Denny (Discus)" size="medium"]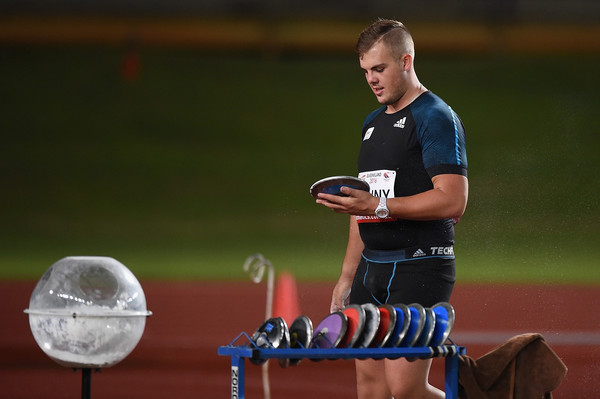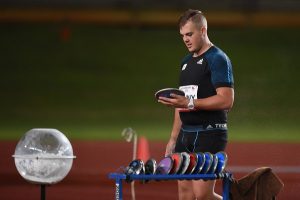 When you are looking for the next generation of star field athletes it's fairly hard to go past 20 year-old Matt Denny.
The 2013 World Youth Champion has already cemented himself as one of the best Australian junior throwers in history, and is well on his way to making his mark at senior level. This was clearly evident when he made the Rio Olympics in 2016, and thew the discus out to a distance of 65.37m. To think that most throwers reach the peak well into their late 20's or early 30's this is simply astonishing.
Although Denny has had a sow start to 2017, he has still managed a SB of 63.15m in Geelong on March 19 and looks again to push hard for a spot on the Australian team for the London World Championships – requiring 65.00m to qualify.
There is every indication that he is gaining confidence with every competition, and if the conditions are kind in Sydney then the WQ is well within reach.
The Competition
Denny's good friend and training partner in Julian Wruck (58.45m SB) will put some pressure on him for the win, but ultimately this competition will be about how close Denny can get to the WQ mark of 65.00m.
Did You Know?
Biggest throw at the Australian Championships since 2000: Julian Wruck 66.13m in 2013
Werner Reiterer won 8 straight titles between 1988 and 1995.
Denny took out the 2016 National title when he threw 60.47m
Our Other 'Big Watches' in Sydney – Men
It's hard to know what to expect with Tom Gamble in the 200m after he pulled out of the recent Canberra meeting. If he is fully fit then he will push hard to improve on his PB of 20.61s set back on February 19. Great head to head clash with Alex Hartmann.
Great to see Steve Solomon on the start list for Sydney after his disappointment of missing selection for Rio last year. Has already run a 46.18s in the US back on March 4, so is in good form heading to the 400m in Sydney.
Nick Hough (110m hurdles) has already shown form this year (13.59s) to suggest that the WQ time of 13.48s is well within reach. As with Solomon he was unlucky not to make it to Rio, so will be driving hard to make the team for London in 2017.
The men's pole vault should be a great competition between the new NSW record holder in Angus Armstrong (5.45m) and soon to be 20 year-old jumping sensation in Kurtis Marschall. In Adelaide in February 18 Marschall cleared 5.70m for the second time in his career, and earned himself a WQ for London.
Damien Birkinhead and Hamish Peacock have already qualified for London in 2017, with both athletes in career best form. It looks only a matter of time before Peacock launches the javelin over the 85.00m mark (PB currently at 84.39m).
Cedric Dubler also has a qualifier for London and will again be looking for a score well over the magical 8,000pt mark in Sydney. Recently cleared a PB of 5.00m in the pole vault, so will be heading into the decathlon with great confidence.
Next Up!
We take a look at our Top-5 female athletes to watch out for in Sydney. Stay tuned!