Nitro Athletics: Will it be a success? 
Written by Grace Kalac – Runner's Tribe
On February 4th, 9th and 11th, Australian athletics will receive a facelift as Lakeside Stadium opens its gates to the three-day extravaganza of Nitro Athletics. Modelled in a similar fashion to Twenty20 cricket, it's going to be track and field as we've never seen it before. The event will feature novel disciplines, international superstars, and a team emphasis.
This world-first event is attempting to revolutionise track and field into a team-orientated and fast-paced sport. Spicing up the sport aims to attract new spectators and further track and field media exposure. Channel 7 has broadcasting rights for the event and has already aired a collection of pre-Nitro segments. Ultimately, the government-supported initiative hopes to create a more prosperous commercial future for track and field. And there's no better way to catch the attention of Australians than by beckoning the world's fastest man, Usain Bolt, to endorse the spectacle.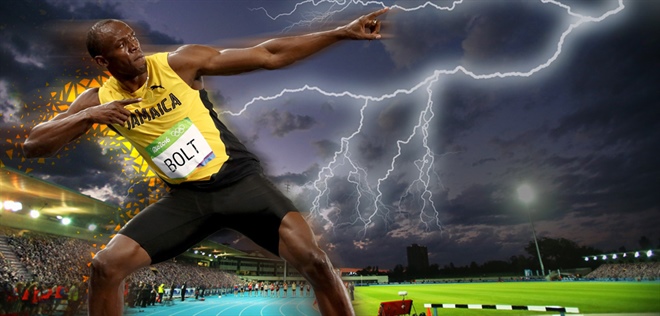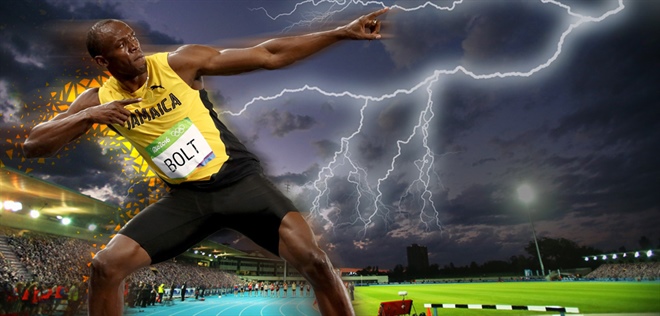 Nitro Athletics will feature six international teams, Australia, Bolt's All Stars, China, Japan, New Zealand and England, each containing 12 females and 12 males. Each night of Nitro Athletics will see the six teams contest 12 events with a twist on the traditional track and field disciplines. These events will test the principles of power, technique, endurance and teamwork. A point score system will determine each team's position. There will also be an array of strategies and tactics in play, including Nitro Power Plays, Turbo Charges and Steals.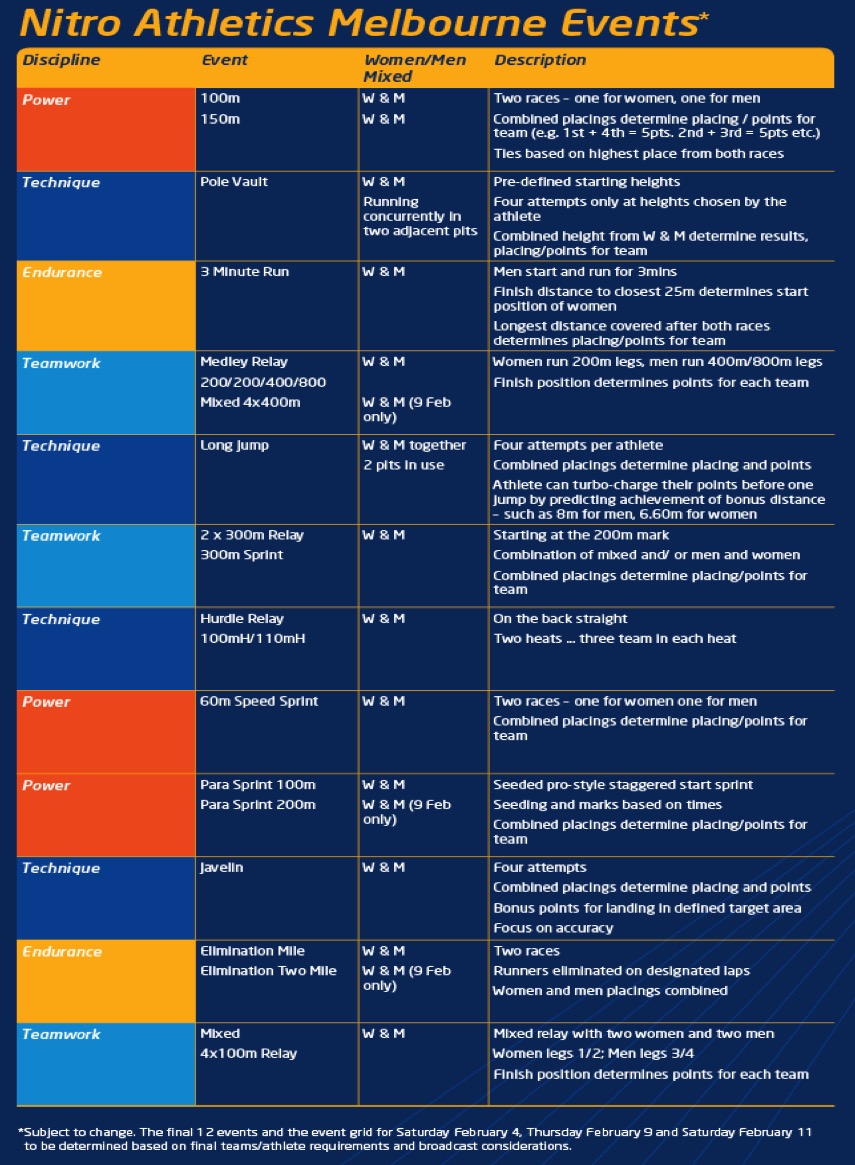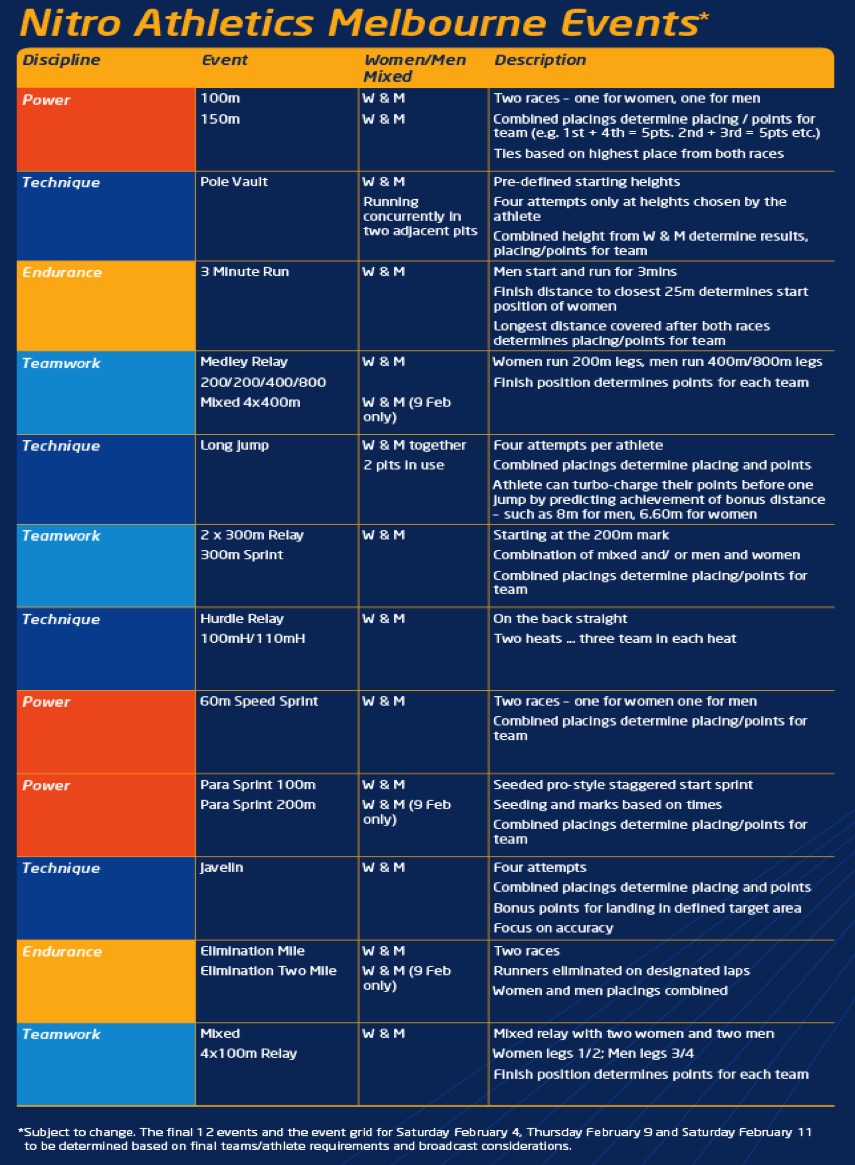 This innovate way of presenting the sport allows spectators the opportunity to barrack for a team and follow their progress. After engaging in the Nitro series, spectators will hopefully form ties to the athletes competing and the sport as a whole, continuing to spectate future events such as this year's World Championships and the 2018 Gold Coast Commonwealth Games. The event hopes to allure a wider domain of audience, which currently ceases to exist within track and field. Events such as the Melbourne 2006 Commonwealth Games were able to momentarily attract spectators, but longevity of supporters is an overarching goal.
Team Australia incorporates a mix of seasoned international performers and fresh faces. Sixteen Olympians/Paralympians and multiple World Junior representatives make up the prosperous squad, which has a mean age of 22.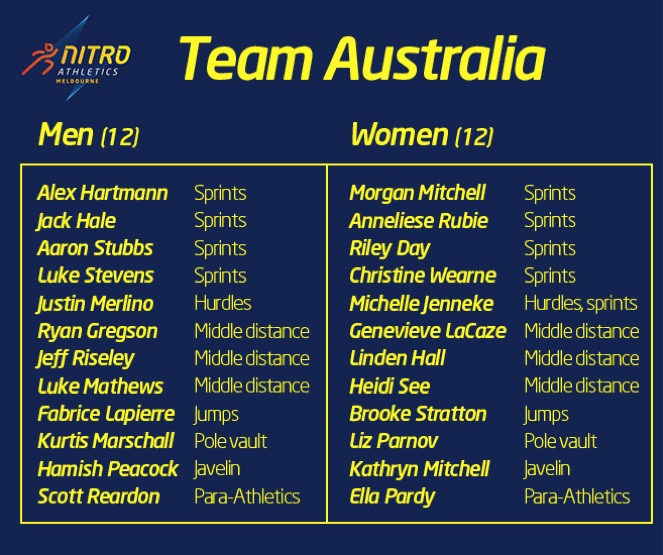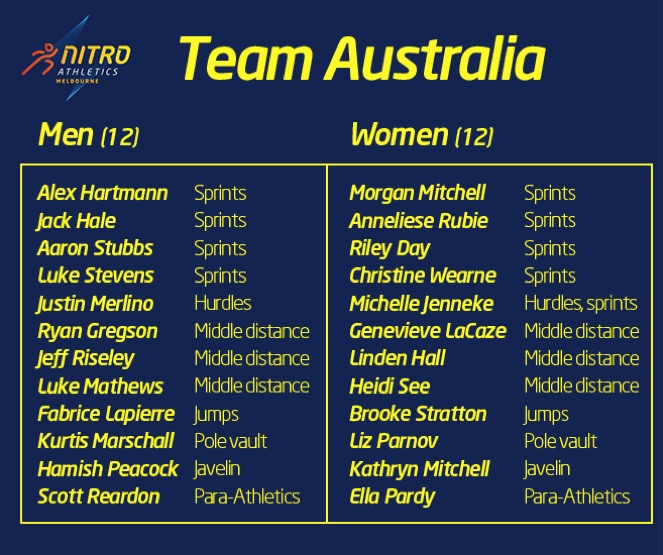 The remaining Nitro teams will feature a flock of international superstars, including Asafa Powell, Kerron Clement, Michael Frater, Jenna Prandini, Dawn Harper-Nelson, Christine Ohuruogu and Jerrison Lawson. It's both a rarity and a privilege to have such a talented assemblage of international athletes down under. Inter-nation rivalry is already building in anticipation, with the event being dubbed as a 'track-ashes' between Australia and England. The long-standing rivalry between the Aussies and the Kiwis is also expected to deliver heat to the series.
Australian Nitro team member and Rio Olympian Linden Hall (1500m), is adamant that this shake-up of athletics will reap positive benefits.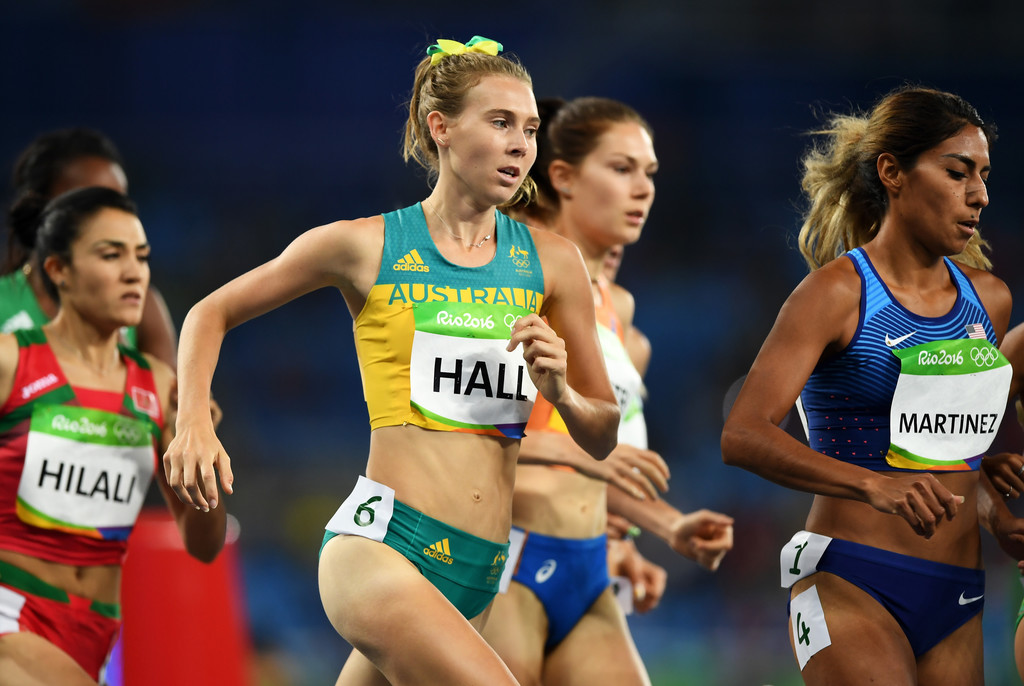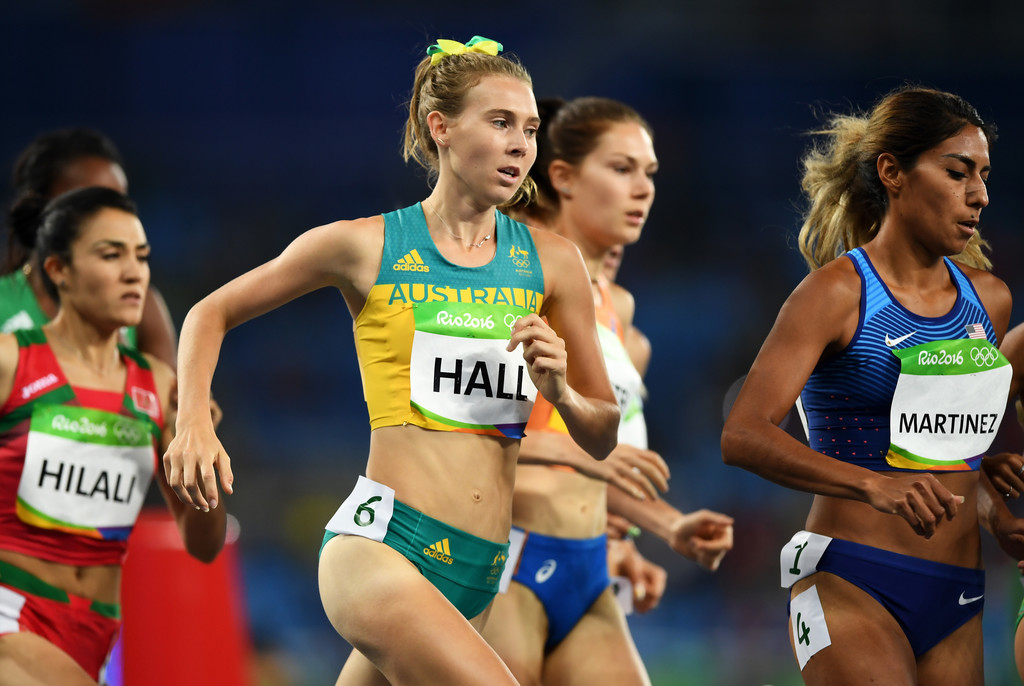 "We've seen success with similar approaches in other sports so I can't see why we can't make it work for athletics. By having teams from so many other countries, it will really help to increase the global exposure of the concept," Hall said.
To the dismay of many athletes, the past Australian competition model has been noticeably culled in place of Nitro. In particular, the popular nation-wide Track Classic events. Hall, however, does not think this will hinder Australian athletics.
"There are still plenty of meets around and they can be as good as us athletes make them. I know in the distance world there has been a lot of communication between different groups as to what races will be targeted and set up to be quick. If anything, this might even create high quality racing if people feel there are less opportunities this year," said Hall.
Hall is looking forward to the alternate style of competing. She believes the experience will assist athletics tactically for the future.
"I think we will take away different winnings than usual. Rather than being focused on time, there will be a focus on place and points. This is something we usually don't get to practice until the major championships, so I see this as a real bonus," Hall said.
Fellow Team Australia member and Rio Olympian Morgan Mitchell (400m) has been a headline athlete throughout Nitro's media promotion. Mitchell can't wait to step foot on the track come February.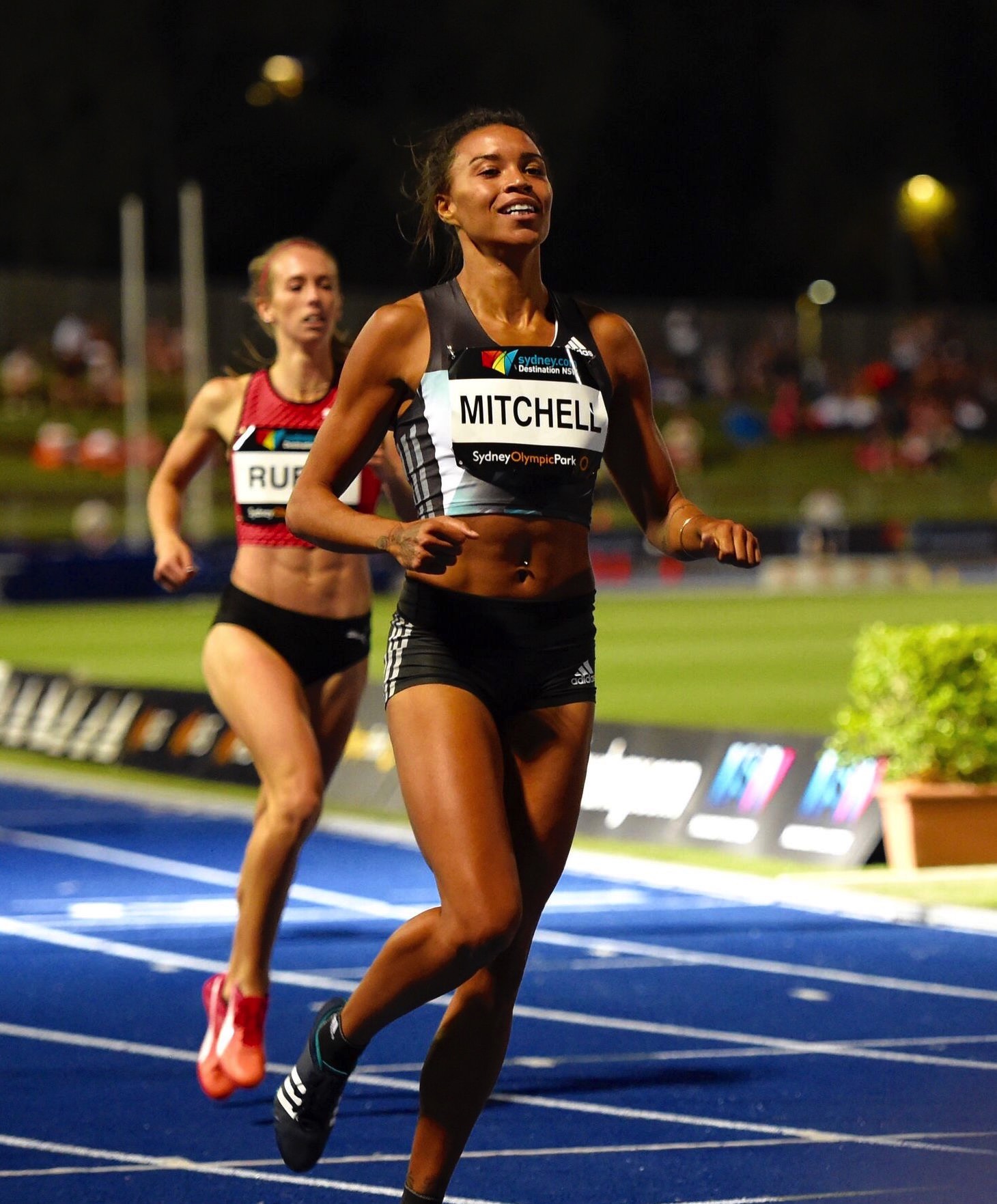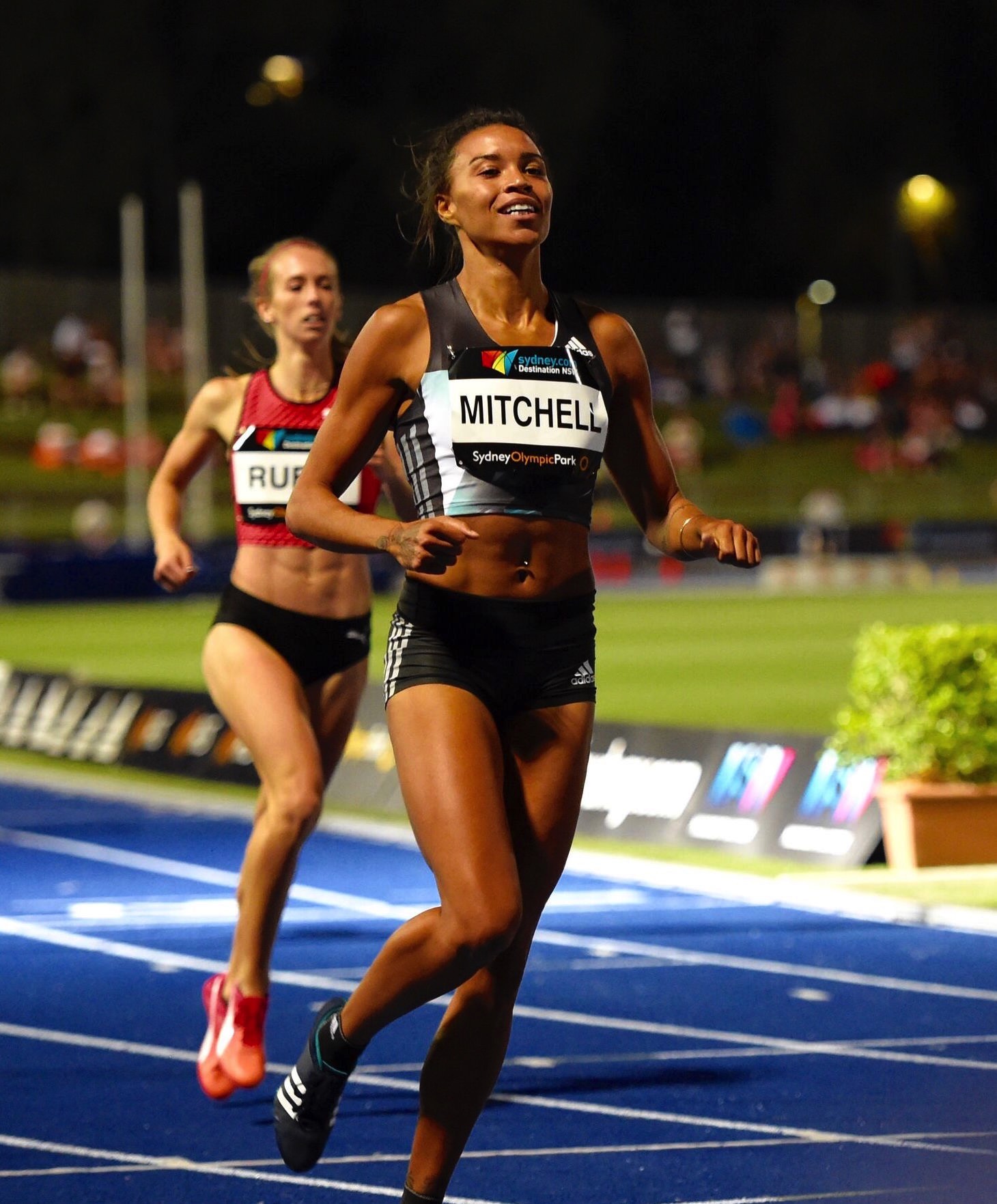 "I'm looking forward to a new brand of athletics," Mitchell said.
"The team based concept may make it more competitive, and the fact that it is different to what we are used to i.e. having to throw a javelin at a target or having a 3-minute knockout race is pretty different but it will be heaps of fun and keep things interesting."
The inaugural event has the nod of approval from IAAF President Seb Coe, Victorian governing bodies, notable past and present track and field athletes, and Usain Bolt himself. It appears that the general consensus is that Nitro, albeit a risk, is a step in the right direction towards making a change in track and field. Although many remain resistant and apprehensive of this unconventional twist, it's hard to ignore the positives. For the first time in years, an Australian athletics event will be broadcast on national television, with the lead up to the event already obtaining a significant amount of media coverage. For the first time in years, spectators who are not regular track and field goers will flood to the track. For the first time ever, Lakeside Stadium is close to selling out. Young athletes will have the opportunity to witness Usain Bolt in the flesh, inspiring our next generation of superstars. It is also the first championship where para and able-bodied athletes will compete together, once again demonstrating Nitro's focus on camaraderie.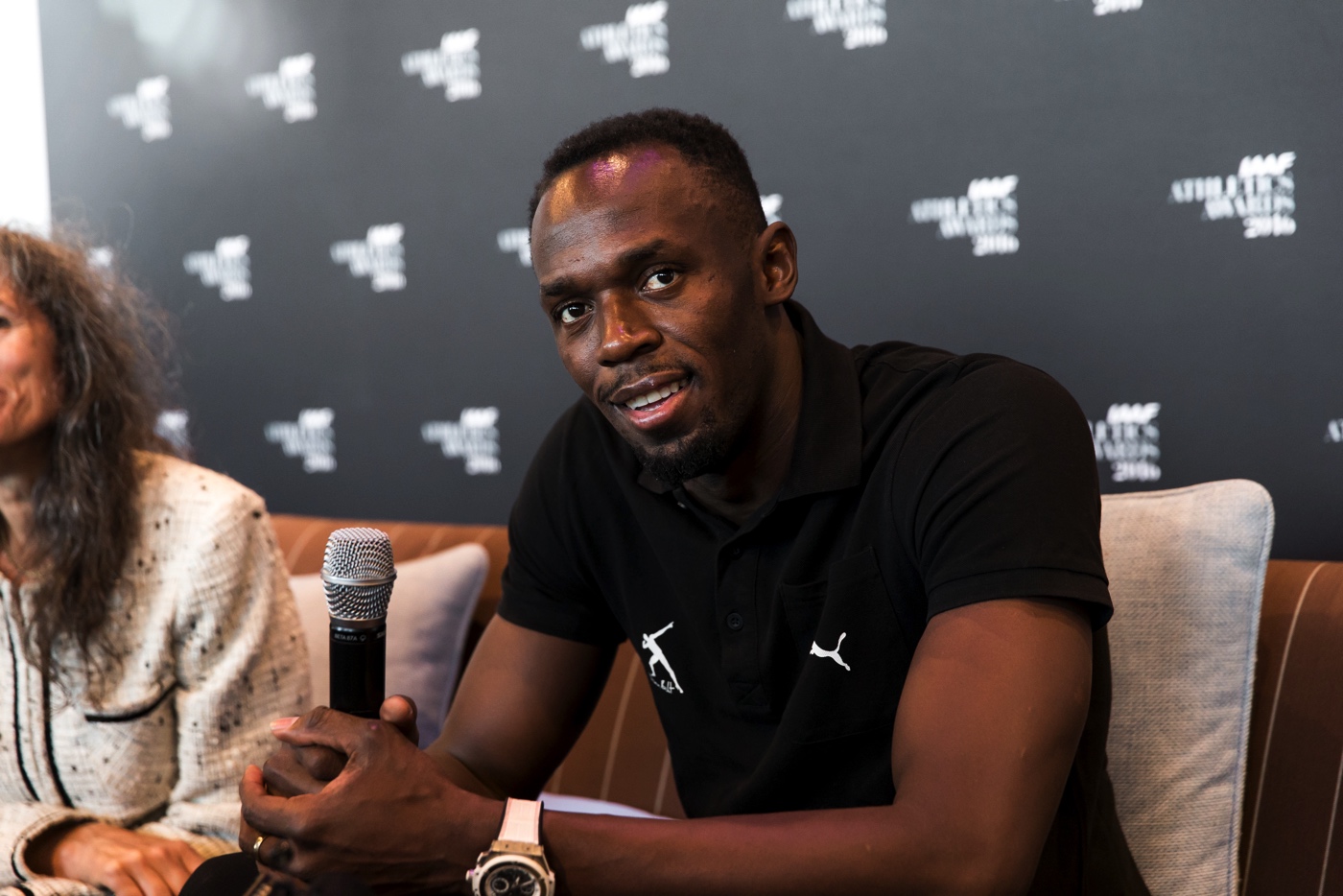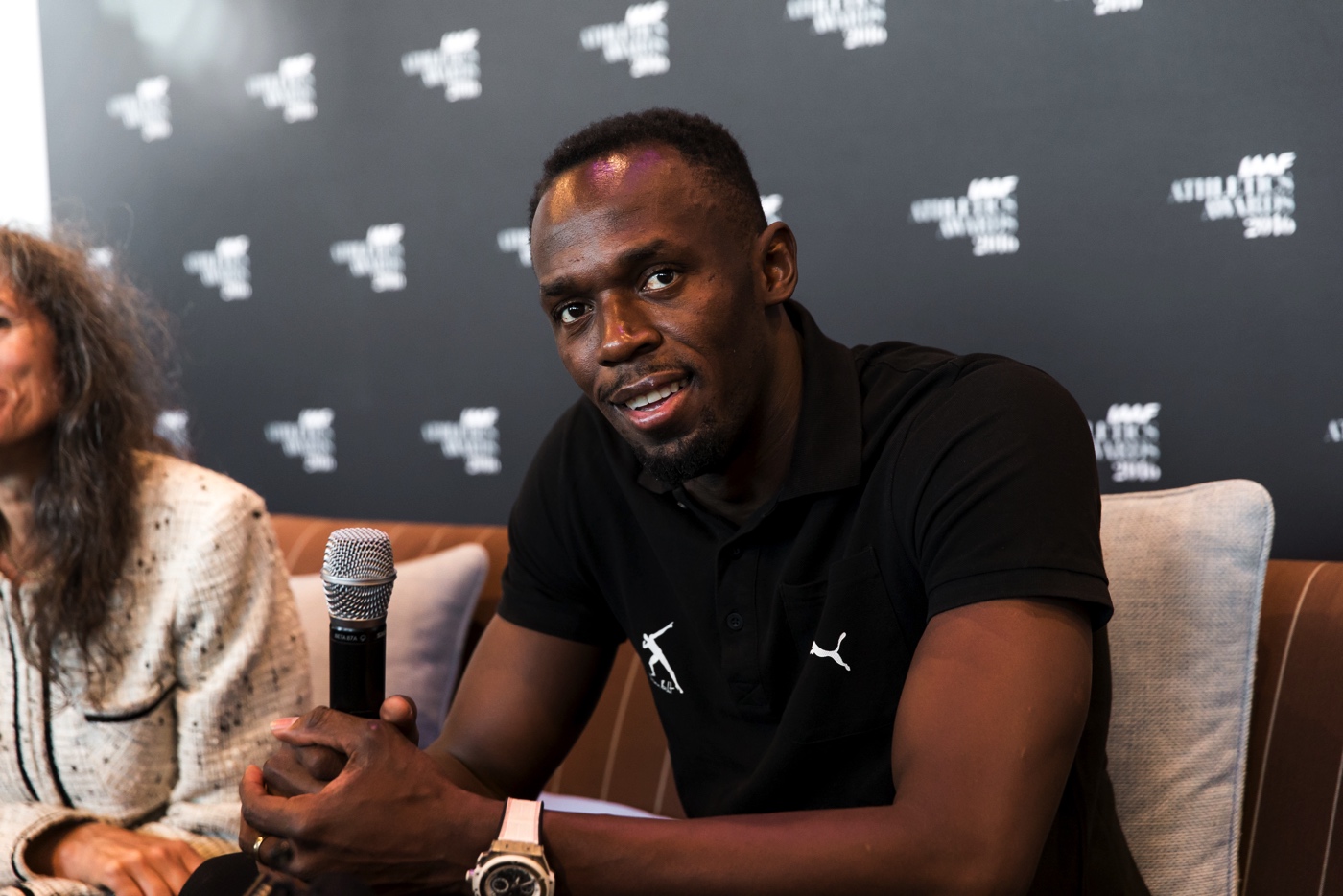 For now, the future of track and field in Australian and worldwide, and the potential influence of Nitro Athletics, is unclear. Yet, the concept has significant potential. For example, the team-orientated model could be adapted and implemented in other sectors, such as school programs. Next month will determine whether the series, contracted for the next three years, is successful. There is no doubt that some events may run more cohesively than others. However, this is a year of trial and error, however, and there can be alterations to the format of the competition in the future. Ultimately, we should be both comforted and excited by this attempt to re-inject athletics into the media scene. We are in the midst of an invigorating time for track and field, and have the opportunity to watch history in the making. The idea of change can be uneasy for some. Yet, we should remain open-minded and understand that perhaps a cycle of monotonous track and field championships needs to be broken. The individual major championships will remain the primary focus of our athletes. But, within Nitro Athletics we may discover a complimentary event to rejuvenate the sport.
End
Fans can engage with Nitro Athletics via the event's social channels:
Twitter: @Nitro_Aths
Facebook: NitroAthletics
Instagram: Nitro_Aths